Should Zuma Resign Over Nkandla Scandal? ANC Leaders Urge South African President To 'Do The Right Thing'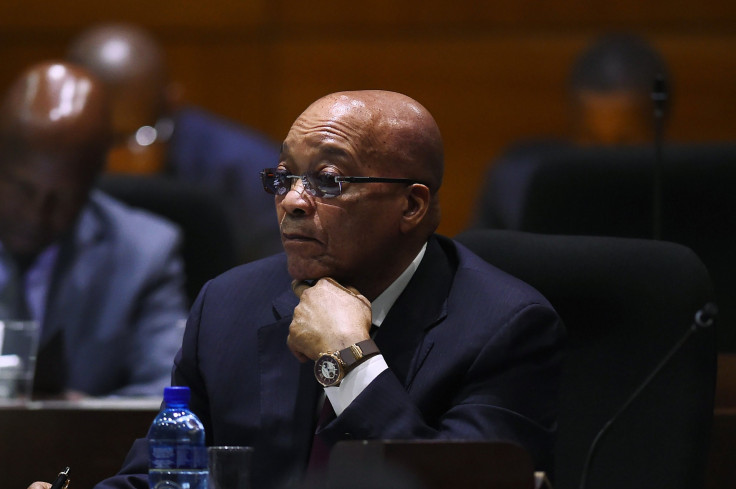 The leadership of South Africa's ruling party in the country's richest province has all but urged President Jacob Zuma to resign, saying he should "do the right thing" amid a scandal over his failure to repay taxpayers' money spent on his private home. The provincial executive committee of the African National Congress (ANC) chapter in Gauteng said Tuesday the case has damaged the party's image and trust of its supporters.
"Our president, comrade Jacob Zuma, should reflect deeply and do the right thing to resolve the unprecedented crisis that the ANC currently faces," the committee said in an online statement.
South Africa's highest court ruled March 31 that Zuma violated the constitution when he failed to repay millions of dollars in state spending on upgrades at his personal residence near the town of Nkandla. The 74-year-old president survived an impeachment vote in the Legislature last week, but calls for him to step down by veteran ANC members — as well as church, civil society and business leaders — have intensified.
Zuma, who has denied any wrongdoing, has pledged to obey the scathing verdict and repay the public funds, but he maintains he acted in "good faith." He also apologized for the "frustration and confusion" caused by the long-running scandal.
"I wish to emphasize that I never knowingly or deliberately set out to violate the constitution," Zuma said in a televised address to the nation April 1. "I did not act dishonestly or with any personal knowledge of the irregularities by the department with regards to the Nkandla project."
The provincial executive committee, or PEC, of the ANC Gauteng chapter said Zuma's apology was "just the beginning" of resolving the crisis.
"In this regard, the PEC noted and accepted the public apology of President Jacob Zuma," the committee said in an online statement Tuesday. "However, the PEC believes that the apology is just the beginning of dealing with the political damage and mistrust caused by the mismanagement of the Nkandla matter."
The ANC branch in Gauteng, which encompasses the capital of Pretoria and the commercial hub of Johannesburg, did not back Zuma's re-election as party leader in 2012. The Western Cape office of the ruling party, which has various chapters in South Africa's nine provinces, announced last week it will meet this month to decide whether to back Zuma going forward.
Meanwhile, the ANC chapter in Zuma's home province of KwaZulu-Natal said Tuesday it supported the embattled president.
"We strongly reject with contempt it deserves the call by our legendary opponents and those within our ranks, including some religious leaders, for the president to step down," Super Zuma, the KwaZulu-Natal party provincial secretary, who is not related to the president, said in an emailed statement to Bloomberg.
© Copyright IBTimes 2023. All rights reserved.