Sinosteel's Debt Troubles Test China's Willingness To Bail Out Its Dinosaurs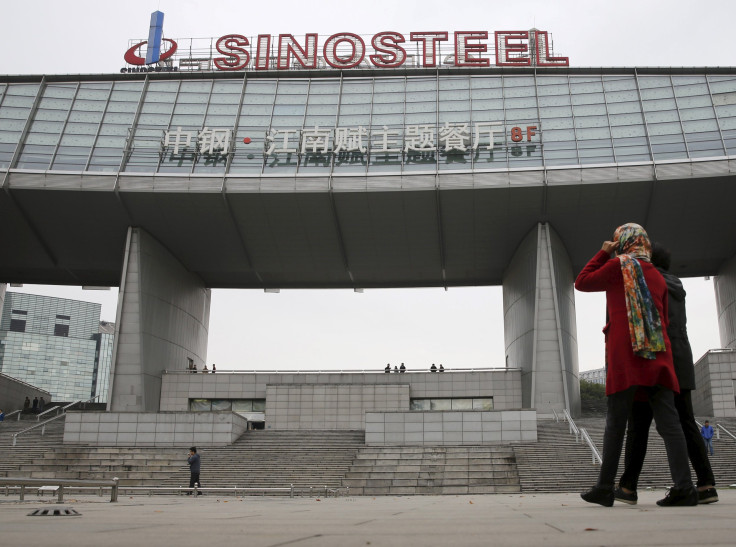 The Chinese government knows full well that its state-owned behemoths belong in the dustbin of history. But it also knows that, with an uncertain economic outlook despite numerous attempts to kick-start the country's economy, the question of whether to trash companies like Sinosteel doesn't have a simple answer.
The metals giant has defaulted on $315 million in bond obligations twice in the last two months, with payments now rescheduled for Dec. 21. Hammered by a global glut of steel thanks to the faltering construction sector in China, Sinosteel has lurched from crisis to crisis during a turbulent year for the country's financial markets.
"The government wants to cut state-owned businesses loose," Carl Weinberg, chief economist with High Frequency Economics, said. "However, a Sinosteel failure could rock a domestic financial sector that does not need any more rocking."
China Overview | FindTheData
In better times, the challenges facing Sinosteel would offer China's increasingly vibrant free market a chance to do its work. Assets could be sold at fire-sale prices to roll back the company's debt burden, and to further Beijing's goal of winding down what were once the commanding heights of the economy.
But the recent dip in the pace of China's growth is derailing those plans.
Debts at state-owned firms rose 11 percent to 71.76 trillion yuan ($1.12 trillion) in the first eight months of 2015, according to data from the ministry of finance. And servicing those loans is getting more expensive, with financing costs up 12.1 percent over the same period, according to Reuters.
Other large Chinese companies are facing a cash crunch. Baoding Tianwei, a power equipment manufacturer, became the first default of a state-owned company on a domestic bond in April. China Yurun Food Group warned it might default before cobbling together a payment in September. And China National Erzhong Group Co., a state-owned maker of ore-smelting equipment, only met its obligations that same month thanks to a bailout from its state-owned parent company.
This month, China Shanshui Cement Group, a major cement producer, defaulted on a bond payment and filed for liquidation, suggesting official attitudes toward more bailouts are evolving.
"Sinosteel's default means we will see more and more real bond defaults, in which investors may not get full repayment, in China," Ivan Chung, an associate managing director at Moody's Investors Service in Hong Kong, told Bloomberg News. "The government may want to reduce its intervention in default cases and let market forces play a bigger role."
Chinese media have said the country's state-owned enterprises might be reduced to 40 through mergers and acquisitions, but a recently announced plan for reforms was seen as relatively cautious, with few specifics, since regional and municipal officials are reluctant to accept the job losses that would go with a streamlining of the industry.
"A decade ago the biggest dream of Chinese private entrepreneurs was to set up a steel factory -- they could make so much money," said Gary Liu, executive deputy director of the China Europe International Business School's Lujiazui Institute of International Finance in Shanghai. "Now if half our steel firms went bankrupt we could still meet the demand. But the problem is that no local government in China wants its own steel companies to go bankrupt. They all want other people's factories to close."
Created in 1993 with steelmaking assets from the era of Chinese central planning, Sinosteel is one of China's remaining 112 centrally controlled state firms, specializing in steel trading. It is the country's second-largest importer of iron ore, although it is also involved in mining. Since 2007, it has supplied iron ore and other raw materials -- including chromium, ferrochrome and ferronickel -- to China's largest steel maker, Shanghai-based Baosteel Group. The company has long had an international focus, investing in projects in Africa, India and Australia.
Sinosteel's liabilities are roughly 100 billion yuan, or about $15.7 billion -- a debt load equal to 98 percent of the company's assets over the 2011-2013 period, according to a report from credit rating agency China Cheng Xin.
Chinese Imports and Exports over Time | FindTheData
In headier times, Beijing encouraged companies to lock up raw materials, and Sinosteel did just that. Since then it has been backpedaling, and in April it shut down a major mining project in Australia due to low global prices.
Sinosteel is now selling steel at below-market prices, according to Weinberg, a solution that might raise cash in the short term but risks inflaming trade tensions with the United States and Europe, where the cheap product is landing. Chinese steel production, at about 68 million tons per month, has either remained stable or has increased over the last three years.
The effort to prop up Sinosteel -- it's negotiating with creditors -- is unfolding against the backdrop of a Chinese economy that is ever-more driven by the sustained, and sometimes hair-raising, boom in the country's private sector, said Nicholas Lardy, a senior fellow at the Peterson Institute for International Economics in Washington, D.C.
In the mid-1990s, about two-thirds of Chinese exports flowed from government behemoths of all types, a number that has since shrunk to about 10 percent, Lardy said. "I think we exaggerate the role of state-owned enterprises in China," he added. "They are fading, and they are fading quickly."
A slowdown in China's real-estate construction sector -- with new projects predicted to grow at only 2.5 percent in the coming years after years of double-digit growth until 2013 -- has weighed on the steel industry, along with falling demand for Chinese exports and a slowdown in state-backed infrastructure spending.
Some economists believe infrastructure growth will pick up next year as the government seeks to stimulate the economy. But few believe the government will fund infrastructure spending on the scale of the years after the 2008 global financial crisis. And that means tougher times are ahead for the likes of Sinosteel.
© Copyright IBTimes 2023. All rights reserved.