Ski Season: For Resorts In The Northeast, Warm Winter Weather Brings Headaches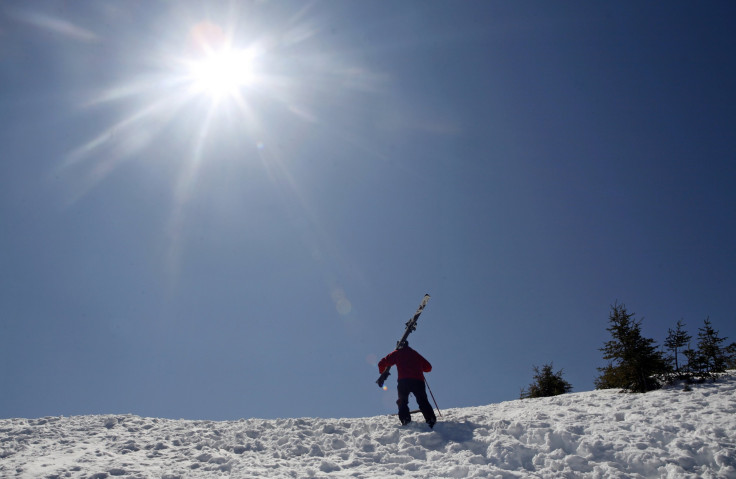 Sam von Trapp, grandson of Maria from "The Sound of Music," helps run the Trapp Family Lodge in Stowe, Vermont. His family has rented out rooms on the scenic, mountainous property since the 1950s, shortly after they fled Nazi-occupied Austria. Guests flock to the inn throughout the year — but especially around Christmas and New Year's.
Fifteen minutes to the north sits the sprawling Stowe Mountain Resort, one of the largest ski areas in New England.
This year, eerily warm weather has put a damper on the crowds. Like much of the Northeast, Vermont has seen record high temperatures this month: On Christmas Eve, the mercury hit a balmy 68 degrees in the state capital of Montpelier, beating the previous record by a whopping 17 degrees.
"There's no question it's had a significant impact," von Trapp said. Occupancy at the Trapp Family Lodge is down 20 percent and total revenue is down roughly 25 percent for December, he said. Many of the property's popular cross-country trails remain closed.
Meanwhile, at Stowe, less than a quarter of the resort's 116 ski trails were open Wednesday.
Von Trapp expects business to recover as the weather returns to normal, but "when you start in a hole, it's hard to play catch-up," he said. "Having good snow in early December really helps people make their plans."
From the Rocky Mountains to California, ski resorts are enjoying strong starts to the season. East of the 100th meridian, however, "it's a little more complicated," said Michael Barry, president of the National Ski Areas Association . Abnormally high temperatures this December are hurting the ski industry and appear to be impacting closely tied sectors like hotels and restaurants in tourist-heavy parts of the Northeast.
In Europe, it's a similar story, with unusually warm December weather leading to snowless ski resorts that are weighing on local economies that rely on snow tourism.
Ski resorts divide the season into thirds. In the U.S. Northeast, where temperatures have been much higher than usual, "it's been a very difficult first third," said Barry. "Snow-making is ubiquitous in the industry, but it's particularly important in the eastern part of the country."
Some of the Northeast's largest resorts are operating well below capacity. At Killington Resort near Rutland, Vermont, just 25 of 155 trails were open Wednesday. At Gore Mountain in upstate New York, just eight of 103 trails were open. At Okemo Mountain Resort in Ludlow, Vermont, 27 of 121 trails were open.
"It certainly has been a challenging start to the season," said Okemo spokeswoman Bonnie MacPherson, who noted the resort has seen a decline in reservations. "Visitors are definitely lower than we'd like."
Vermont Ski Resorts | WanderBat
MacPherson did not disclose any figures on the decline. The National Ski Areas Association does not publish statistics before the season ends.
"Tourism is incredibly important to our state," said Lisa Ventriss, president of the Vermont Business Roundtable. If weather patterns don't change, it could start affecting seasonal employment levels, Ventriss said.
The state hasn't seen any spike in unemployment claims just yet — although struggling employers could, in theory, simply respond to slow business by cutting workers' hours.
Still, MacPherson said early season weather is often unpredictable, and this year is no exception. "December is traditionally a month that can offer all sorts of weather," she said. "It may not be a record-breaking season, but I think we'll see a strong season."
Michael Barry of the National Ski Areas Association said skiers and snowboarders tend to be a loyal, dedicated bunch and will start flocking to resorts once temperatures start dropping. In other words, while this ski season might not be an enormously profitable one so far for East Coast resorts, it's far from a disaster.
"In order to have a spectacular year, you have to have all three thirds," Barry said. "It's been a very difficult first third, but that in no way impacts the other two thirds."
In the meantime, all businesses can do is wait.
"This is usually one of our busiest weeks of the year," said Michael Morrano, innkeeper at the Vermont Inn, a rustic 19th-century establishment near Killington Ski Resort. The week between Christmas Eve and New Year's is usually fully booked, Morrano said. However, this season, business has been down between 25 and 30 percent, he added.
Sam von Trapp said the Trapp Family Lodge in Stowe benefits greatly from being diversified, with cross-country skiing, snowshoeing, hiking trails and a brewery available to visitors. "If we weren't as diversified, [the weather] would affect us more," he said.
Hiking trails on the property remain popular, he said. As do visits to the von Trapp Brewery, which has the capacity to churn out 2,000 barrels a year. "When people are skiing less, they tend to drink more," he said.
Earlier this week, northern New England saw some modest snowfall. According to forecasts, parts of Vermont could see some snow showers this weekend.
© Copyright IBTimes 2023. All rights reserved.