Small Farms, Big Investment For Food Security: Syngenta To Invest $500 Million In African Agriculture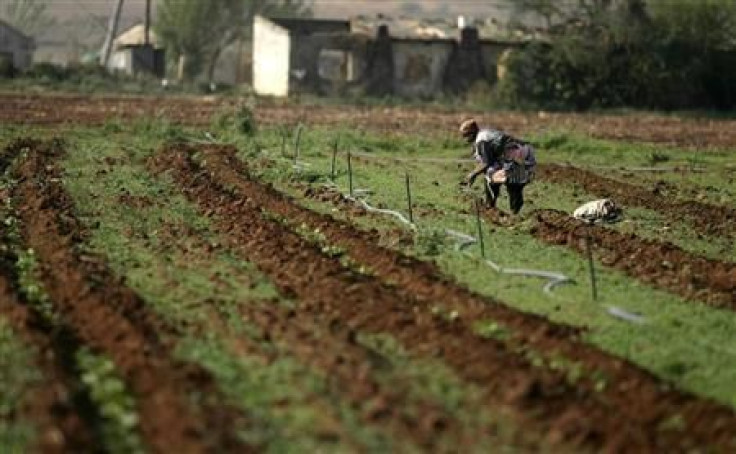 Low agricultural output in Africa is a big problem, but some investors see the wisdom in starting small. Earlier this year, the Swiss-based corporation Syngenta AG (NYSE:SYT), an agribusiness, announced that it would invest $500 million in Africa, in order to boost its own sales there and to promote more efficient food production. But this week, the company's CEO Mike Mack, promised not to overlook the importance of small-shareholder farming, which makes up the bulk of Africa's agricultural output.
"I disagree that there is a need to be big... Private enterprise must respond to the needs of small farmers," he said, according to South Africa's Business Day Live. "Yes, a small farmer cannot buy an expensive tractor, for example, but businesses or co-ops can provide tractor services, as well as planters and harvesters. It's done all over the world."
Syngenta is the world's biggest producer of crop chemicals like herbicides and pesticides, but demand for those products in Africa is currently low; the market is worth around $1 million. But Syngenta -- and other big agriculture-focused corporations like DuPont (NYSE:DD) and Monsanto (NYSE:MON) -- are betting on explosive growth over the next few decades. Syngenta is focused on the market outside of South Africa, where its competitors have already carved their own niches. Bloomberg reports that the company's $500 million investment will be steered toward some of the continent's fastest-growing economies: Kenya, Tanzania, Ghana, Ethiopia, Ivory Coast, Mozambique and Nigeria.
According to European Union data, agriculture accounts for almost two-thirds (65 percent) of all employment in Africa and nearly one-third of its total GDP. Most of the men and women in this field make their living on small farms where production is often strictly for subsistence. This is due in part to low yields, which could result from any number of problems including unpredictable weather patterns or a lack of access to useful technologies. Then there are logistical constraints; some farmers see no point in producing a surplus because they lack the infrastructure -- like storage facilities or paved roads -- to get their products to market.
Investments like the ones Syngenta proposes have the potential to address these endemic problems, and the potential payoff is huge. Africa is home to about 700 million of the world's 1 billion food-insecure people, but the continent also boasts at least 50 percent of the world's uncultivated arable land. It has all the resources it needs to become the breadbasket of the world, if only production could be made more efficient.
Of course, private investment alone won't be enough. Governments must also play a role, especially in the area of international trade. As it stands, restrictive exchange policies are stifling agricultural output across the continent. A World Bank report last year found that Africa could feed itself, rather than rely on overseas imports and food aid, if trade policies could be streamlined so as to bolster production. "Common problems include: export and import bans; variable import tariffs and quotas; restrictive rules of origin; price controls; government tenders for the import of crops and flour that are then sold at subsidized prices," said the report.
The necessary policy-level changes have been slow to materialize -- but in the meantime, private companies will be building up their African presence in anticipation of a boom. Syngenta said in a statement that its $500 million will go toward the "recruitment and training of over 700 new employees with a high level of agronomic specialization [as well as] the development of distribution channel networks, logistics and local production facilities, in collaboration with local partners, [which] will increase access to technology for both smallholders and large scale farms."
Its goal is to increase productivity by 50 percent for over 5 million farmers.
© Copyright IBTimes 2023. All rights reserved.
FOLLOW MORE IBT NEWS ON THE BELOW CHANNELS