Socially Responsible David Battles Monsanto (MON) Goliath on GMO Reporting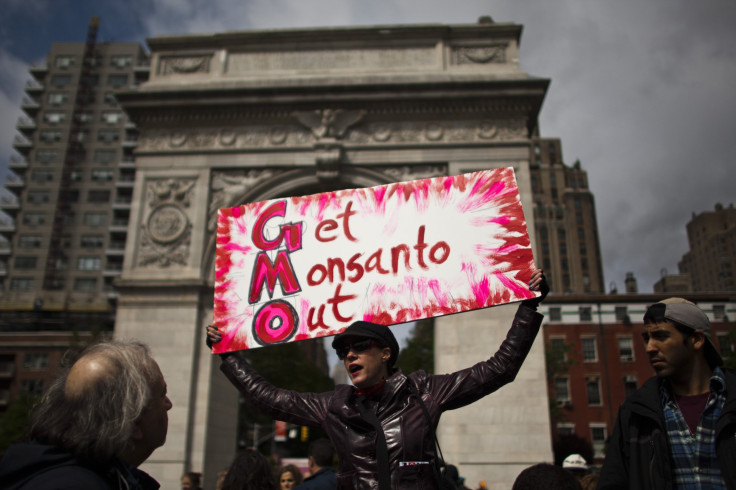 Social investor Harrington Investments Inc. is staging a long-shot bid to have agribusiness giant Monsanto Company (NYSE:MON) break out its risks and costs related to its genetically modified organism (GMO) business.

Monsanto's annual meeting is scheduled for Tuesday, Jan. 28, at its corporate headquarters in St. Louis, Missouri. There shareholders will vote on Harrington Investments' resolution, which urges Monsanto's board to report on "actual and potential material financial risks or operational impacts on the Company related to…GMO issues."

"Monsanto's business model is based on keeping us in the dark, keeping shareholders in the dark, and other stakeholders and consumers," said Harrington research analyst Tracy Geraghty during a media briefing on Monday. "The company has spent hundreds of millions of shareholder dollars over the years in legal fights, campaigns and lobbying expenses, fighting against disclosing these risks in operations and products."

"Basic economics tells us that this is not a sustainable model," she continued.

Monsanto has set aside $271 million for environmental and litigation liabilities, according to its latest annual report, though it's unclear if these litigation expenses are related to its GMO work. (The company doesn't mention any GMO-related lawsuits specifically.) The $56 billion market-cap company is often viewed as the corporate poster child for the use of GMO seeds. It has lobbied vigorously against mandatory GMO labelling, a regime now in force in most European countries.

Harrington Investment's proposal seems doomed to failure, even though the investment advisor says hundreds of Monsanto shareholders have indicated they'd support the measure. John Harrington held only 30 shares of Monsanto stock as of August 8, 2013, according to Monsanto's 2013 proxy statement.

Monsanto's board of directors urged voters to kill the Harrington proposal. The company said it already reports material financial risks in its disclosures, as required by securities rules, meaning that a GMO-specific report would be "redundant."

The company also already participates in a U.S. Department of Agriculture system regulating the import, flow and environmental release of GM crops.

"Farmers should have the freedom to choose the production method best suited to their environment, markets and needs, whether organic, conventional or GM technology. All of these agricultural systems can and do work effectively side by side," said the company in its official rejection of the proposed resolution.

Monsanto shareholders of record as of Dec. 2, 2013 are eligible to vote on the proposal, Monsanto spokesman Tom Helscher told IBTimes.

Harrington has won small victories on corporate sustainability and human rights issues at Intel Corporation (NASDAQ:INTC) and the Hewlett-Packard Company (NYSE:HPQ), according to Geraghty. It has filed numerous shareholder resolutions at giants like Google Inc (NASDAQ:GOOG), Yahoo! Inc. (NASDAQ:YHOO) and Target Corporation (NYSE:TGT), among others, asking for better corporate behavior. Most of these have failed to gain traction.

Proxy fights at shareholder meetings tend to carry more weight when influential investors like hedge funds or activist investors leverage their significant shareholdings. Harrington manages $183 million in assets, much less than many Wall Street money managers.

Farmers caught in the crossfire between environmental critics and Monsanto may feel mixed about GMO crops.

"It's tough, in a commercial environment – chemicals are a necessary evil," said Indiana farmer Troy Roush, who farms organic, GMO and non-GMO crops, on the media call. "We don't like these things. They're poison, they're expensive."

"But as an organic farmer I can tell you it's not practical to try to feed the world organically. We just can't do it," he said.

Scattered scientific studies have indicated that GMO crops could have long-term health consequences. Defenders of GMO techniques point out that GMO crops haven't been around long enough for scientists to credibly establish negative health impacts.

Commercially, about 90 percent of U.S. soybeans and 80 percent of U.S. corn contains a Monsanto trait, according to investment advisor Morningstar, Inc. (NASDAQ:MORN). Monsanto is a dominant global player in genetically modified seeds. In its latest quarter, though, the company reported lower sales in its seeds and genomics units, down to $1.67 billion for the quarter compared to $1.75 billion a year earlier. The company took home $2.4 billion in profits in its fiscal 2013, 21 percent more than a year ago.

The company also rejected a resolution asking Monsanto to work with the Food and Drugs Administration to develop mandatory GMO labelling. If shareholders don't explicitly specify otherwise, votes will automatically count against the two resolutions.

View other long-shot shareholder proposals here, as compiled by the Securities and Exchange Commission. Companies often ask the SEC to exclude proxy proposals from shareholder votes on technical grounds.

Activists will be on hand at Monsanto's meeting tomorrow, delivering petitions in person.
© Copyright IBTimes 2023. All rights reserved.