GMO Answers: Monsanto, DuPont And Other Biotech Companies Launch New Website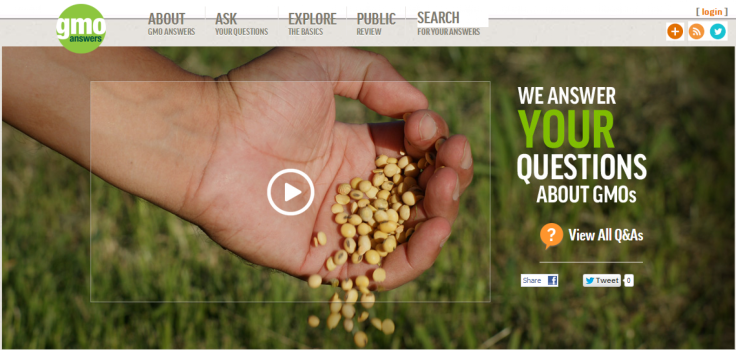 In the face of growing criticism toward genetically modified organisms, or GMOs, the Biotechnology Industry Organization, which includes companies like Monsanto, launched a website Monday that it hopes will help sway the opinions of consumer groups and activists. The website GMOAnswers.com has information on GMOs and how they are used in agriculture.
Along with Monsanto, the website is backed by DuPont, Dow AgroSciences and several others that produce genetically altered seeds. GMO Answers is just one part of a multi-year, multimillion-dollar campaign to change public opinion toward GMOs that has become increasingly negative. The biotech will also allow visitors to some fields and offices and host town hall forums with consumers.
"The biotech industry stands 100 percent behind the health and safety of the GM crops on the market today, but we acknowledge that we haven't done the best job communicating about them -- what they are, how they are made, what the safety data says," the group says on GMO Answers.
Lawmakers in the U.S. have started calling for labels on GMO foods and tighter regulation on the biotech industry. Monsanto has withdrawn requests for new GMO crops in Europe after opposition became too strong, according to Reuters.
Anti-GMO advocates have been much more efficient at using the Internet to spread their message. The companies in the biotech group claim that the information isn't always factual but insist that they appreciate the dialogue.
"Ask tough questions," GMO Answers says. "Be skeptical. Be open. We look forward to sharing answers."
© Copyright IBTimes 2022. All rights reserved.
FOLLOW MORE IBT NEWS ON THE BELOW CHANNELS