Solar Impulse 2: Plane Departs For Six-Day Pacific Crossing From Nanjing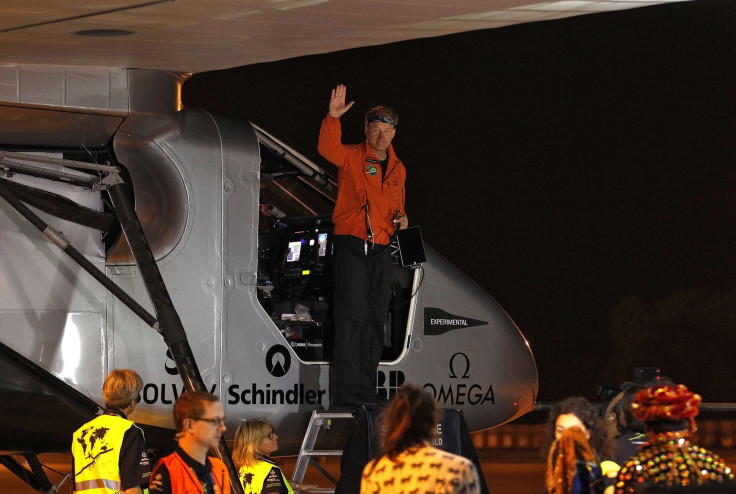 The Swiss-built Solar Impulse 2 aircraft departed Nanjing, China, Saturday, embarking on what is expected to be the most taxing leg of the round-the-world trip. Pilot Andre Borschberg, the co-founder and CEO of the project hopes to fly for six days straight, crossing the Pacific Ocean to Hawaii, on the seventh leg of a historic 12-part journey.
NBC News reported Borschberg will be restricted to his single-seat cockpit. The plane stocked with energy bars, drinks and other necessary supplies for the six-day stint, and the cockpit seat can recline and convert into a toilet.
"Our challenge is to attempt the first round-the-world solar flight … to demonstrate how pioneering spirit, innovation and clean technology can change the world," the Solar Impulse website says. Though the flight will be a milestone for solar-powered aircraft and new energy alternatives in general, it will also be a mentally challenging experience. Prior to the Pacific crossing, flight times for previous legs of the trip did not exceed 22 hours. In preparation for the grueling trip, Borschberg says he turned to yoga and meditation to help cope with psychological challenges he will face.
The Solar Impulse 2 is a fully solar-powered plane, fueled by more than 17,000 solar cells in the fuselage, wings and tail, and is an upgraded version of the plane that flew across the United States in 2013.
The Solar Impulse 2 has already completed several legs of the global tour, which began March 8 in Abu Dhabi. With the help of fellow Solar Impulse co-founder and pilot Bertrand Piccard who has been alternating flying the aircraft with Borschberg, the plane has since touched down in countries like Oman, India and Myanmar before arriving in China.
Solar Impulse's aircraft is being lauded by the renewable energy industry as an example of the strides that have been made in photovoltaic panel technology. "We're able to do something we weren't able to even 10 years ago," Neil Abrams, a professor and solar energy researcher at the State University of New York's College of Environmental Science and Forestry in Syracuse, told IBTimes in a previous interview.
© Copyright IBTimes 2023. All rights reserved.