Solar Impulse 2: Solar-Powered Plane Grounded In Hawaii Until 2016 Due To Busted Batteries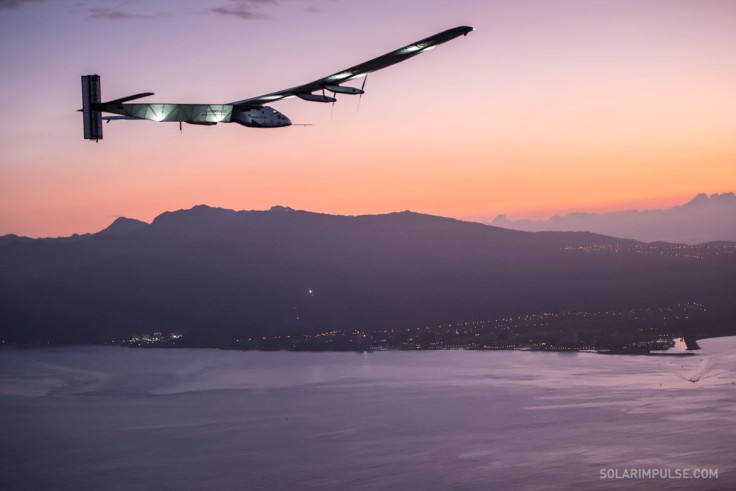 The attempt to fly a solar-powered plane around the globe is now grounded. The aircraft will be stuck in Hawaii until April 2016 as engineers repair its busted batteries, the pilots said Wednesday.
The Solar Impulse 2 took off in March from Abu Dhabi in the United Arab Emirates, passing through India, Myanmar, China and Japan before a flight of nearly 4,500 miles to Kalaeola, Hawaii. The plane landed on Oahu July 3 after flying nonstop for 120 hours -- a record-breaking feat that ultimately overheated its batteries.
Swiss pilots Bertrand Piccard and Andre Borschberg said the aircraft will remain in the University of Hawaii's hangar until spring. Ordering, testing and reassembling new parts for the custom lithium-ion batteries will take two to three months to complete. Weather conditions and shorter days in the fall and winter will further delay the process, the pilots explained in a series of tweets.
The 12-stop mission was initially scheduled to fly from Hawaii to Phoenix, an unspecified city in the U.S. Midwest and New York City before crossing the Atlantic into Europe on its way back to Abu Dhabi. Pilots had hoped to complete the trip by the end of this summer.
U.S. solar energy experts have said the Impulse mission is more than just a stunt: It demonstrates just how far the solar industry has advanced in recent years. Rooftop solar systems now cost around 80 percent less today than in 2008, and their photovoltaic technology is becoming more efficient at turning sunbeams into clean electricity. Batteries likewise are becoming a cheaper, more efficient way to store solar power for a cloudy day or nighttime.
Piccard and Borschberg insisted the damage to the Impulse's batteries "is not a technical failure or a weakness in the technology," but rather the result of human error. "The temperature of the batteries in a quick ascent-descent in tropical climates was not properly anticipated," they wrote on the mission's website.
© Copyright IBTimes 2023. All rights reserved.