Some Conservative Groups Anticipating John Boehner's About-Face On Immigration Reform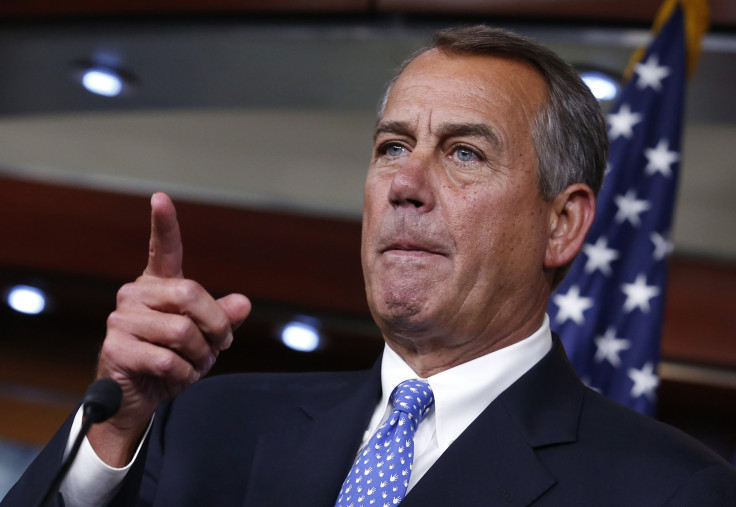 As hopes of a 2014 immigration reform begin to wane amid House Republicans' distrust that President Barack Obama wants to properly enforce the existing immigration laws, some conservative groups are doubting House Speaker John Boehner, R-Ohio, can provide leadership on the issue.
The Tea Party Patriots, among several groups to have claimed victory for pressuring Boehner to put immigration among low-priority issues, are anticipating the speaker to change course again.
After a retreat with House Republicans last month, Boehner and others in the GOP leadership unveiled a one-page document listing the party's standards for restructuring the nation's immigration system. It offered undocumented immigrants an opportunity to get right with the law through legalization -- but no pathway for citizenship, which the far-right opposes as "amnesty." But days after those principles were released, Boehner said the chances of an immigration bill leaving Congress this year was slim.
"Frankly one of the biggest obstacles we face is trust [for the president]," Boehner said at a press conference last Thursday. His problem is with Obama's unilateral action on the Affordable Care Act.
"The American people, including many of my members, don't trust that the reform we're talking about will be implemented as it was intended to be," Boehner added. "Listen, there is widespread doubt about whether this administration can be trusted to enforce our laws, and it's going to be difficult to move any immigration legislation until that changes."
Jenny Beth Martin, co-founder and national coordinator of Tea Party Patriots, said those words serve only to temporarily soothe conservatives.
"[We] fully expect him to change his mind again," she said in a statement. "This is not leadership in any sense of the word and clearly demonstrates that Speaker Boehner's ability to speak for the House of Representatives, the Republican Party, or even the American people is over."
The conservative group also began circulating a petition to fire him as speaker.
Boehner's office declined to comment for this article. However, his relationship with conservative groups has been strained since he publicly scolded them last December for criticizing a budget deal that reopened the government last fall after the first shutdown in 17 years. The federal government temporarily experienced a funding gap for 16 days, and hundreds of thousands of federal employees were furloughed.
The speaker blamed some conservative groups for insisting Republicans defund Obamacare last October, which gridlocked Congress and shut down the government.
"Frankly, I think they are misleading their followers," Boehner has said. "I think they are pushing our members in places they don't want to be and frankly, I just think they've lost all credibility."
But exactly who is pulling the strings in the Republican Party, especially on immigration reform, is growing increasingly murky, especially as it tries to rebrand itself to minorities and young people.
"We need a modern immigration system," Heritage Action CEO Mike Needham told MSNBC's "Meet the Press" on Sunday. "I think the American people are bored of these kind of fights between Republican and Democrats about how to change the status quo, which is broken on the margins, and are instead looking for big bold ideas."
Still, conservative groups aren't the only Republican voices disagreeing with Boehner. Republican strategist John Feehery blogged last week that he understands why there is hesitation on the part of Republicans to move forward with immigration reform now but doesn't agree that the issue should be delayed a year. "To deal with the matter of not trusting this president, I have a pretty simple solution: Make the major provisions of the law go into effect after he leaves office," Feehery wrote. But whether another president can be trusted to enforce the law as it is written is another question.
"It's hard to predict the future with great exactitude," Feehery continued, "but I will tell you this: If we don't pass immigration reform this year, we will not win the White House back in 2016, 2020 or 2024."
© Copyright IBTimes 2023. All rights reserved.