Source of Senator Mitch McConnell Recording Revealed? Report Says Progress Kentucky Is Behind Recording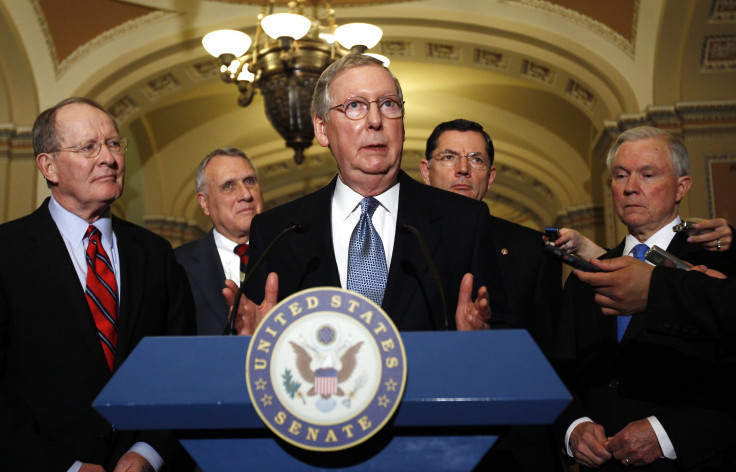 Progress Kentucky, a liberal group in Kentucky, was reported Thursday to be behind a secret recording of Senate Minority Leader Mitch McConnell, R-Ky., which discussed ways to attack actress Ashley Judd and other potential Democratic candidates.
The tape of a McConnell campaign meeting was made public by Mother Jones, a liberal magazine, on Tuesday. The senator is up for re-election in 2014. Judd has since said she won't run.
On Wednesday, McConnell accused Progress Kentucky, a Democratic-leaning Super PAC, as the ones behind the recording, saying, "As you know last month my wife's ethnicity was attacked by a left-wing group in Kentucky and then apparently they also bugged my headquarters," reported Politico.
Progress Kentucky opposes McConnell's re-election and had gotten into trouble earlier for tweets focused on his Taiwan-born wife, former U.S. Labor Secretary Elaine Chao, which claimed that she sent jobs overseas to China.
WFPL, the NPR affiliate in Louisville, has confirmed the senator's suspicions, reporting that a "longtime local Democratic operative" identified Progress Kentucky as the source of the recording. Jacob Conway, a member of the executive committee of the Jefferson County (Louisville) Democratic Party, said he heard Progress Kentucky founders Shawn Reilly and Curtis Morrison boasting about the recording.
Conway said Reilly and Morrison did not attend the meeting held by McConnell, who invited media and GOP activists at his campaign headquarters in Louisville, but did arrive at the office afterward and were able to hear the senator discussing strategy. According to Conway, "They were in the hallway after the, I guess after the celebration and hoopla ended, apparently these people broke for lunch and had a strategy meeting, which is, in every campaign I've been affiliated with, makes perfect sense."
Later Thursday, Conway told Fox News Channel's Megyn Kelly that he didn't want the actions by Reilly and Morrison to hurt Democrats in Kentucky.
"The only reason that I came forward with what I knew was I was trying to protect the Democratic Party," Conway said. "I believe in our party's values, and I was doing what I thought was best for the party because I did not want their bad behavior, their poor mistakes — I shouldn't say "bad behavior" — their mistakes, their lack of judgment to hurt our party's efforts here in the state Kentucky and in Jefferson County, here in Louisville."
After the release of the audio, McConnell had asked for an FBI investigation, claiming his office was bugged. Mother Jones reporter David Corn published the audio recording of the meeting, which occurred on Feb. 2, on the magazine's website and said the source who gave him the recording wanted to remain anonymous. Last year, Corn revealed the infamous "47 percent" talk that helped doom Mitt Romney.
"I don't comment on confidential sources," Corn told Talking Points Memo in an email Thursday after the WFPL report. "Can't say much now."
After accusations of potential bugging, Mother Jones issued a statement saying, "We were recently provided with the tape by a source who wishes to remain anonymous. We published the article on the tape due to its obvious newsworthiness. We were not involved in the making of the tape, but it is our understanding that the tape was not the product of any kind of bugging operation. We cannot comment beyond that, except to say that under the circumstances, our publication of the article is both legal and protected by the First Amendment."
It is unclear if Reilly and Morrison, if they were indeed the ones who recorded McConnell, have run afoul of wiretapping laws in Kentucky. It is illegal to record a communication electronically without consent, but if the conversation could be overheard that could be a legal gray area, notes WFPL.
Meanwhile Thursday, a group called Citizens for Ethics and Responsibility in Washington called on the Senate Ethics Committee and the FBI to investigate McConnell for "misusing Senate staff or resources to conduct opposition research on potential campaign opponents."
© Copyright IBTimes 2023. All rights reserved.