South Africa Mining Strikes Spread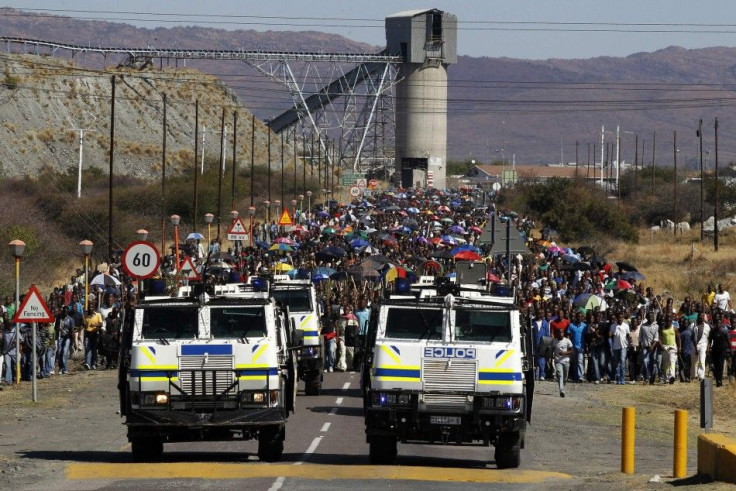 Unrest in South Africa's mining sector is nowhere near being resolved after Johannesburg-based Impala Platinum Holdings Ltd. (PINK: IMPUY), the world's second-largest platinum producer, said striking miners are demanding another 8 to 10 percent pay hike like the one they got in April that ended a six-week strike.
At least 44 people have been killed, including 34 gunned down by police on Aug. 16 near the Marikana platinum mine operated by London-based Lonmin Plc (LON: LMI), the third-largest platinum producer, in labor unrest that has struck the country's mining sector.
The few workers who showed up for work Tuesday at Lonmin's Karee mine were told to stay away due to unsafe conditions. On Monday, about 3,500 of striking workers, many of them armed with machetes, vowed to kill anyone who crossed the picket line.
On Aug. 10 about 3,000 rock drillers at Marikana put down their tools demanding a base salary of about $18,288 per year, up from the current salary of about $7,932. South Africa's gross national income per capita was $6,960 last year, according to the World Bank.
Meanwhile, gold miners working the western section of the KDC mine for Johannesburg-based Gold Fields Limited (NYSE: GFI), joined workers from the mine's eastern portion that stopped working last week.
Analysts at RBC Capital downgraded Lonmin shares to Underperform on Tuesday while JPMorgan Chase & Co. (NYSE: JPM) reaffirmed Anglo American's shares at an Underweight rating.
Impala Platinum's ADR share price was down in Tuesday trading 3.05 percent to $17.15, down 28.5 percent from its 52-week high.
Anglo American shares were trading down 3.32 percent to $31.03. The price is down 34 percent from its 52-week high.
Lonmin was trading down 1.29 percent to $9.80, down nearly 51 percent from its 52-week high of $19.85
Gold Fields was up 0.69 percent to $13.15, down nearly 27 percent from its 52-week high.
© Copyright IBTimes 2023. All rights reserved.