South African Court To Review 783 Corruption Charges Dropped Against Zuma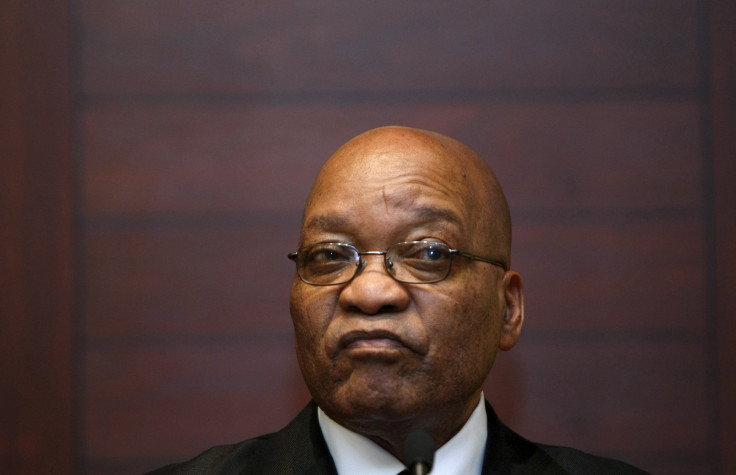 South Africa's High Court ruled Friday that a 2009 decision to drop 783 corruption charges against President Jacob Zuma should be reviewed and set aside, marking yet another setback for the embattled leader. Judge Aubrey Ledwaba said the chief state prosecutor at the time, Mokotedi Mpshe, acted "alone and impulsively," making his decision "irrational," according to South Africa's News24.
Mpshe's decision was based on phone-tap evidence presented by Zuma's legal team that suggested the timing of the charges may have been part of a political conspiracy against the president. But Mpshe failed to divulge his decision to prosecuting authorities until the very moment he announced it to the nation at a news conference, according to Reuters.
"If the decision had been rational and above board, why the secrecy?" Ledwaba said in the capital Pretoria.
The charges were dropped just weeks before the 2009 elections, which allowed Zuma to run for president and ultimately win. The National Prosecuting Authority of South Africa and its current head, Shaun Abrahams, must now decide whether it will recharge Zuma with the original 783 counts of corruption.
Zuma's office issued a statement on the court's decision, noting that there are no current pending charges against the president. But it was not immediately clear whether Zuma would appeal. He has always denied the allegations, which are linked to a 1999 government arms deal worth billions of dollars.
"These charges were formally withdrawn by the High Court in Pietermaritzburg during April 2009 and as such there is no pending litigation before court against President Zuma," said the statement from the presidency, which was obtained by International Business Times.
Mmusi Maimane, leader of the opposition Democratic Alliance, whose party brought the court application in late 2007, called for the charges to be reinstated.
"In and out of court for almost seven years, the Rule of Law has prevailed. No one is above the law. Jacob Zuma must have his day in court," he wrote on Twitter Friday.
Zuma is already facing calls for his resignation, even from within his ruling African National Congress, since South Africa's constitutional court dealt him a scathing verdict last month. He subsequently survived an impeachment vote in the legislature. Friday's ruling intensifies the pressure on the scandal-ridden leader.
© Copyright IBTimes 2023. All rights reserved.