South China Sea: Clinton Calls For ASEAN Unity; Chinese Reports Slam US For 'Reinforcing Mistrust'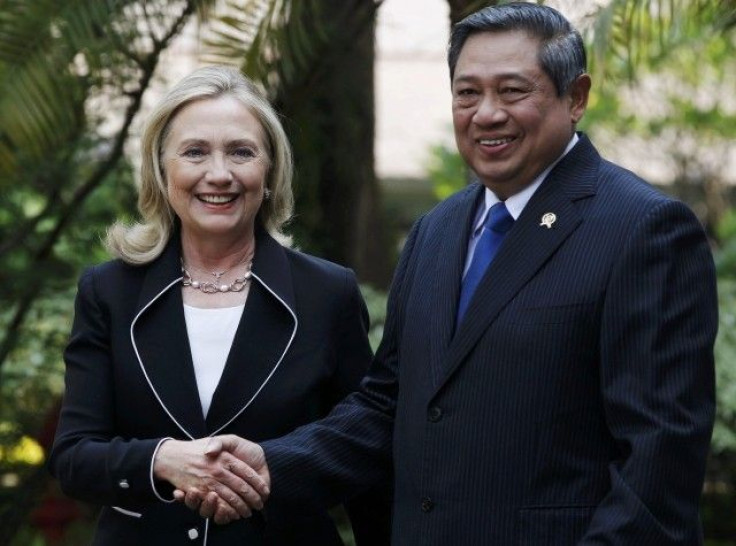 Southeast Asian nations and China must make "meaningful progress" in drafting a code of conduct to deal with territorial disputes in the South China Sea, U.S. Secretary of State Hillary Clinton said Tuesday.
Speaking in the Indonesian capital Jakarta, Clinton urged all parties involved in the dispute to reach a resolution "without coercion, without intimidation and certainly without the use of force" by November, Associated Press reported.
Offering Washington's support for a regionally endorsed six-point plan for the implementation of a code of conduct in the South China Sea, Clinton said: "The United States has a national interest, as every country does, in the maintenance of peace and stability, respect for international law, freedom of navigation, unimpeded lawful commerce in the South China Sea."
"The United States does not take a position on competing territorial claims," she said at a news conference with Indonesian Foreign Minister Marty Natalegawa.
Clinton met with Indonesian President Susilo Bambang Yudhoyono, ASEAN secretary general Surin Pitsuwan and Natalegawa.
Natalegawa reiterated Clinton's stance saying: "Absent a code of conduct, absent the diplomatic process, we can be certain of more incidents and tension for our region. Absent an ASEAN unity, the question will become like a loose cannon in the way the issue is discussed," AP reported.
Indonesia had earlier sought to unify the members of the Association on Southeast Asian Nations (ASEAN) who failed to reach a common ground over the sea dispute at a regional summit held in Cambodia in July.
Though the disagreement was attributed to the claims of overlapping maritime boundaries of the Philippines, Vietnam, Brunei and Malaysia in certain parts of the South China Sea, it also exposed how the Chinese pressure had polarized regional politics.
China claims sovereignty over almost the entire South China Sea, including what is recognized by the U.N. as the Exclusive Economic Zone of other neighbors, and would rather deal separately with the nations with which it has maritime tensions than confront the 10-member bloc.
The Philippines and Vietnam, which were involved in a dispute with China recently over the ownership of the Scarborough Shoal, have seeked ASEAN's support in compelling Beijing to accept the code of conduct.
The ASEAN Chair, Cambodia, which relies on China for billions of dollars in financial assistance, had rejected a proposal by the Philippines and Vietnam to mention their territorial disputes with China in the bloc's statement that was to be produced at the summit.
In July, Indonesia had slammed the disagreement within the bloc as "perplexing" and "utterly irresponsible."
Ahead of Clinton's Beijing visit, her next stop after Jakarta, China's official news agency Xinhua on Tuesday sharply criticized the U.S. of showing "little respect for China's sovereign rights" in the Asia-Pacific and for working with ASEAN "despite China's strong and perennial opposition."
"Though U.S. Secretary of State Hillary Clinton has said the Asia-Pacific is big enough to hold both China and the United States, Washington still need to take concrete actions to improve its ties with China," Xinhua said.
"The United States has promised a "neutral" stand in the disputes between Beijing and Tokyo over China's Diaoyu Islands, yet it constantly proclaims that the isles are covered by a security treaty Washington signed with Tokyo in 1951," the commentary said.
"Moreover, Washington has been trying to work with a number of Southeast Asian nations to force China into a multinational solution to territorial rows in the South China Sea, despite China's strong and perennial opposition," Xinhua said adding that the U.S. "fears that a rising China might ultimately challenge its leadership in the Asia-Pacific region and across the world."
China's communist newspaper Global Times said Tuesday that Clinton's "pivot" to Asia diplomacy policy could only raise "the mutual mistrust" between U.S. and China, while failing to bring "pragmatic benefits to the U.S."
Clinton will travel to Beijing Tuesday for talks on the South China Sea and other issues, including the Syrian crisis and the Iranian and North Korean nuclear programs, reports said. She is also scheduled to visit East Timor, Brunei and Russia's Far East during her 11-day trip.
© Copyright IBTimes 2023. All rights reserved.
FOLLOW MORE IBT NEWS ON THE BELOW CHANNELS