South China Sea Dispute: China Sends Nearly 300 Militia Vessels Into Philippines' Economic Zone
KEY POINTS
Manila is considering filing another protest against the incursions
Philippines officials said they will not yield an inch of their territory
President said its futile to approach the UN against China
As the Philippines girdles up to protect its realms in the disputed South China Sea, more Chinese militia vessels continued to breach the island nation's exclusive economic zone (EEZ).
The Philippines Wednesday reported incursions by 287 Chinese maritime militia vessels into its EEZ, reports Manila-based ABS-CBN News.
While "bigger groupings" were spotted in Chinese-built artificial islands, some were observed near islands occupied by Manila, according to a statement by the Philippines task force on the South China Sea.
"This incident along with continued illegal incursions of foreign vessels sighted near Philippines-held islands have been submitted to relevant agencies for the possible diplomatic actions," it added.
There has been no immediate response from the Chinese Embassy to Manila's claims. However, analysts think Beijing has always depended on its fleet of fishing boats and coast guard to further its strategic ambitions in the South China Sea.
China's earlier incursions had prompted Manila to file multiple protests with Beijing. In March, over 200 vessels, manned by militia, were stationed near the disputed Whitsun Reef, rocking the delicate relations between the countries.
The Philippines is considering filing another protest this time too. Foreign Affairs Secretary Teodoro Locsin told Bloomberg TV Wednesday that "this is essential because you never let any incident pass."
The National Task Force for the West Philippine Sea too vowed to protect the Philippines territory. "We reiterate that the Philippines shall continue to defend its sovereignty, sovereign rights, and jurisdiction over the West Philippine Sea, and shall not yield an inch of our territory," it said.
Though known to take a soft attitude towards China, Philippines President Rodrigo Duterte too reaffirmed Manila's stance, saying it will not withdraw its assets from the disputed parts of the West Philippine Sea. However, he insisted he does not intend to quarrel with China due to the country's "debt of gratitude" to them.
That said, Duterte brushed aside calls to rally the support of other nations against China. "When has the United Nations ever been useful? Please, spare me the... I will turn into comedy there," he said.
With its territories under threat, the Southeast Asian country had recently stepped up its defense measures. Besides boosting its presence in the South China Sea through "sovereignty patrols," the Philippines is also planning to convert its underdeveloped Thitu Island into a major military logistics hub.
Thitu Island, already a bone of contention between China and the Philippines, will see the installation of high-resolution cameras to monitor activities of rival claimant states, including China, reports Asia Times. Turning Thitu into a military hub will also suit the interest of the United States as it will give the country a new beachhead in the contested maritime area," the report added.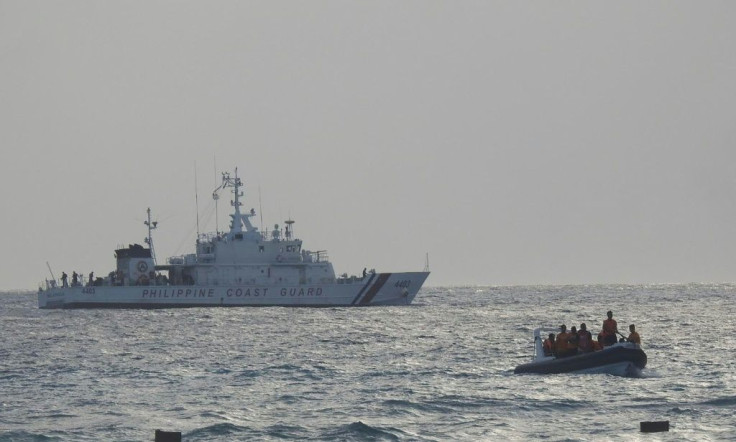 © Copyright IBTimes 2023. All rights reserved.