South China Sea Tensions: Philippines Ups The Ante, Tells Fishermen To Ignore China Ban
KEY POINTS
China's fishing moratorium from May 1 to Aug. 16 covers areas of South China Sea
Philippine foreign secretary had hit out at China with an expletive-laced tweet
President Duterte continued to appease Beijing by belittling Hague ruling
After years of putting up with Chinese belligerence, the Philippines has finally snapped back, telling its fishermen to ignore China's annual summer fishing ban in the South China Sea.
Encouraging its boats to keep fishing in the country's territorial waters, the Philippines' South China Sea Task Force said Tuesday that the "fishing ban does not apply to our fishermen," reported Reuters.
The fishing moratorium imposed by China since 1999 runs from May 1 to Aug. 16 and covers areas of the South China Sea and other waters off China. However, the task force has opposed the Chinese moratorium, amid escalating tensions between the two nations.
This comes two days after Philippine Secretary of Foreign Affairs Teodoro Locsin Jr. lashed out at China in an expletive-laced message on Twitter. He had opted for an undiplomatic language, asking the Asian giant to "get the f--- out."
The tweet did not go down well with Beijing or even within Manila. Philippines presidential spokesman Harry Roque reacted to the outburst, saying "when it comes to diplomacy, profanity has no place in it."
Locsin Jr later apologized to Chinese State Councilor and Foreign Minister Wang Yi. He claimed to have been "provoked by the latest grossest territorial violation." Chinese Foreign Ministry Spokesman Wang Wenbin too responded to the tweet saying "facts have proven time and time again that megaphone diplomacy can only undermine mutual trust rather than change reality."
However, President Rodrigo Duterte, who has always taken a friendly stance towards China, continued to appease Beijing. On Wednesday, he said the 2016 international tribunal ruling, which favored the Philippines against China in the South China Sea issue, was "just paper" fit for the wastebasket.
"That paper, in reality among nations, is just paper. It's nothing… In street talk, I will tell you to give it to me, and I will tell you it's just paper. I'll throw it into the wastebasket," a report by The Straits Times quoted Duterte. The report says the statement was aimed at mending relations with China, which currently meets the nation's vaccine needs.
The relations between the two countries have been frosty for the last few months after Chinese boats, manned by militia, stationed themselves near the disputed Whitsun Reef. The new Chinese Coast Guard Law which allows it to fire at foreign vessels was also met with protest in Manila.
Meanwhile, foreign ministers from the Group of Seven (G7) have come out against China on issues concerning Hong Kong, human rights violations in Xinjiang and military build-up in the South China Sea.
"We remain seriously concerned about the situation in and around the East and South China Seas. We underscore the importance of peace and stability across the Taiwan Strait, and encourage the peaceful resolution of cross-Strait issues," the G7 ministers said.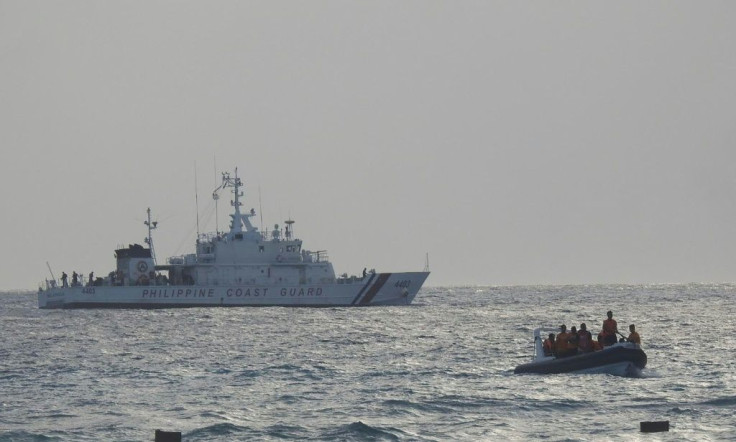 © Copyright IBTimes 2023. All rights reserved.