South China Sea: Philippines Accuses China Of Using Water Cannons On Its Fishermen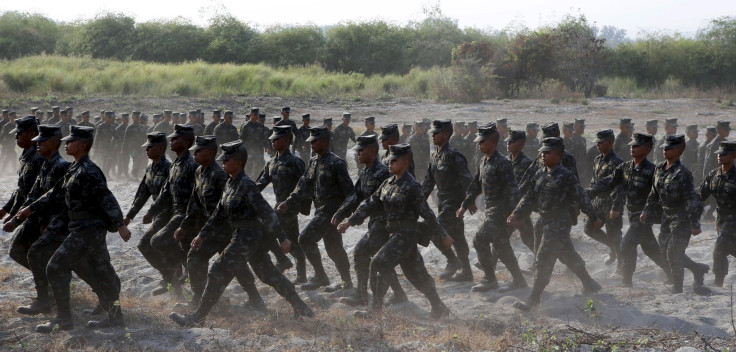 The Philippines condemned China's coast guard on Tuesday after the latter allegedly turned their water cannons against its fishing boats in disputed waters, as hundreds of Filipino and U.S. Marines held war games nearby.
The Manila government said China's coast guard used its water cannons to drive away Filipino fishermen at Scarborough Shoal on Monday, damaging some of their wooden boats, Reuters reported.
"China has no right to use water cannon on the poor fishermen," Renato Reyes, from the activist group Bayan said, according to Reuters. He also criticized the Philippines' dependence on U.S. military protection. "To stand up to China, we need to develop our economy and our capacity for external defense. We can't do this by hanging on the coat tails of Uncle Sam."
Local news station GMA aired footage reportedly from the incident.
China has claimed Scarborough Shoal, known in China as Huangyan Island, and in the Philippines as Panatag Shoal, as part of its territory. China took effective control of the island in 2012 after a tense standoff when the Philippines navy apprehended eight Chinese fishing vessels in the disputed area. The incident affected trade between the two countries and led to a considerable diplomatic fallout. A U.S.-led deal called for military forces from both nations to withdraw, but China strengthened its presence there, prompting Filipino President Benigno Aquino to compare China's actions to Nazi Germany's.
China claims most of the strategically important South China Sea and its resource-rich islands. The Philippines, Vietnam, Malaysia, Brunei and Taiwan have conflicting claims, which have often led to frequent diplomatic clashes in the area. In recent years, China has expanded its presence in the disputed territories by embarking on a campaign of construction and reclamation projects, turning some of the region's reefs and islets into islands large enough to host air bases and military equipment.
The water cannon incident came as Filipino troops and U.S. Marines continued their largest joint military games in over a decade on Tuesday. The Balikatan (shoulder-to-shoulder) games are the largest annual military exercise between the allies, and are seen as part of an effort to increase pressure on China by encouraging a stronger U.S. military presence on its soil. As the games went on, Filipino General Gregorio Catapang told Agence France-Presse that he was drafting a "wish list" of military aid to counter China's "aggressiveness."
Washington has also been critical of China's actions in the South China Sea, and has reportedly sought to enhance its military presence in the Pacific as part of its ongoing pivot to Asia strategy.
Philip Goldberg, Washington's ambassador to the Philippines, said the U.S. takes its regional commitments seriously. "Let us be clear: the US is committed to its alliance and in the case of the Philippines, our oldest in the region, that commitment is, as President (Barack) Obama has said, is ironclad," he said, according to AFP.
© Copyright IBTimes 2022. All rights reserved.
FOLLOW MORE IBT NEWS ON THE BELOW CHANNELS