South Sudan Begins 'New Chapter' With Rebel Leader As Vice President, But Conflict Persists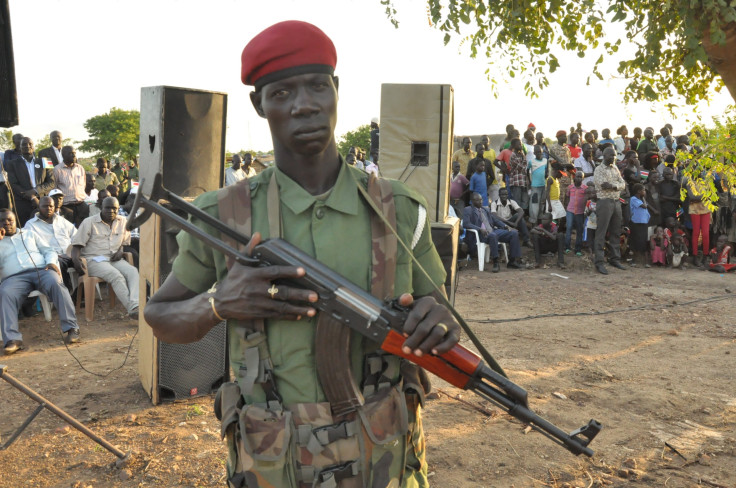 Prospects for peace and security in South Sudan remained precarious, even after the war-ravaged nation's rebel leader Riek Machar was sworn in as first vice president this week as part of a peace deal. Ahead of a U.S. House of Representatives hearing on the situation, Rep. Chris Smith, R-N.J., chairman of the Africa and Global Human Rights Subcommittee, said Wednesday that "South Sudan, the world's youngest country, is teetering on the verge of becoming a failed state."
That's putting it lightly.
The United Nations has already hailed Machar's long-awaited arrival in the capital of Juba to take the post in the new unity government led by President Salva Kiir as a "new chapter for South Sudan." But the country can turn the page only if the two men, whose personal falling out ignited the past 28 months of bitter conflict, put their differences aside and fully implement the tenuous peace agreement.
Political and economic experts said it's up to the international community to maintain pressure on the new government to follow through with its promises. And if fighting stops, they said, South Sudan then faces another daunting task of reviving an economy that's on the brink of utter collapse.
"The hurdles to overcome are really humongous," said David Shinn, a lecturer in African affairs at George Washington University in Washington, D.C., and a former U.S. ambassador to Ethiopia and Burkina Faso. "This is a start. It opens the possibility of success, but nothing more."
South Sudan, which became independent from neighboring Sudan in 2011, plunged into civil war after Kiir sacked his then-deputy Machar and accused him of plotting to overthrow the government. Conflict exploded in December 2013 between forces loyal to the president and rebels allied with Machar. The fighting has reopened fault lines between two of the nation's largest ethnic groups — Kiir's dominant Dinka and Machar's Nuer people. Tens of thousands of people have lost their lives in the conflict and another 2.2 million have been displaced, with hundreds of thousands of South Sudanese seeking refuge in neighboring countries.
Refugees Seeking Asylum From South Sudan | FindTheData
Power-Sharing Agreement
Under immense pressure from the international community and facing sanctions, the warring sides signed a power-sharing agreement in August of last year brokered by the Intergovernmental Authority on Development, an East African bloc that mediated the peace talks. The deal gives Kiir's ruling Sudan People's Liberation Movement the positions of president and vice president, a majority in the legislature and 53 percent of ministerial positions in the transitional government.
Machar in turn has the newly created post of first vice president, alongside the current vice president, until the conclusion of the transition period. His faction will have the second-largest number of seats in the National Assembly, along with 33 percent of ministerial portfolios. In the Upper Nile, which hosts the country's lucrative oil fields and has been hit hardest by war, the rebels will select the powerful post of governor and get 40 percent of minister positions in the region. The remaining parliamentary seats and ministerial portfolios would be shared among other opposition groups in the new unity government.
The agreement also requires elections to be held 60 days before the end of the transitional government's mandate and the completion of a permanent constitution no later than 18 months following the start of the transitional period.
Machar's return to Juba is seen as a step in the right direction for South Sudan. Kiir welcomed his new deputy, whom he called "brother," during Tuesday's swearing-in ceremony and apologized for delays in the implementation of the peace accord. U.S. Ambassador to the United Nations Samantha Power described Machar's arrival as "the best hope that South Sudan has had in a very long time." But there are doubts as to whether the two can put their personal interests aside and form a functioning government.
"Time is running out for them," said John Mukum Mbaku, a nonresident senior fellow with the Africa Growth Initiative at Brookings Institution in Washington. "They really don't have any choice but to cooperate because if they don't, they'll plunge the country into another civil war."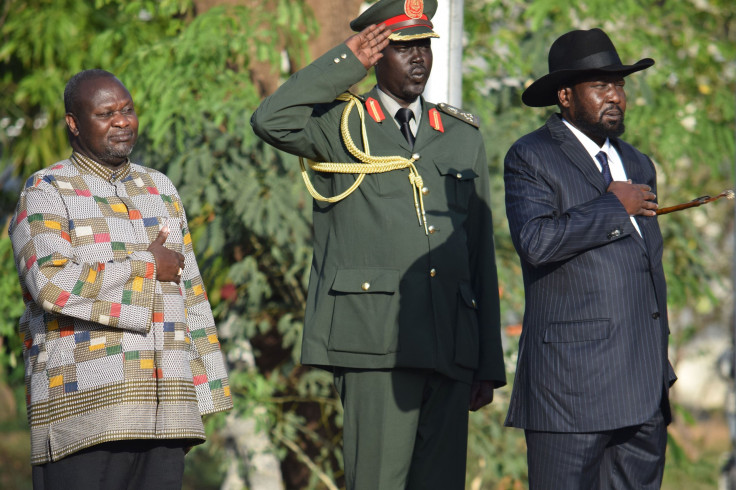 Despite the peace agreement calling for both sides to lay down arms immediately, fighting has not yet stopped. A dozen human rights organizations that operate in South Sudan released a joint statement earlier this week urging serious and sustained actions to end the violence that has created one of the world's worst humanitarian crises.
"The agreement that was signed in August hasn't brought peace. It hasn't ended the suffering of the South Sudanese people," said David Abramowitz, managing director of Humanity United, one of the 12 groups that signed the statement.
Shinn, of George Washington University, said it's imperative that Sudan, Ethiopia, Uganda and Kenya take strong, coordinated stances against the continued fighting in neighboring South Sudan. The United States and its European Union partners, which played key roles in South Sudan's independence, must also keep applying pressure on the new unity government to carry out terms of the signed agreement. If peace holds, he said, only then can South Sudan begin addressing its economic situation.
"This is going to require a concerted effort with virtually everyone in agreement with how to move forward from here," Shinn said.
Inflation in South Sudan as Measured by the Consumer Price Index | FindTheData
Little Existing Infrastructure
The more than two years of civil war has devastated South Sudan's economy. Although the country is rich in oil and natural resources, it relies heavily on imports because it's using its own resources to sustain conflict. Its economy is also largely undeveloped, with little existing infrastructure and high unemployment. That means life in South Sudan is increasingly difficult and expensive, with many of the nation's 11 million people facing famine. The United Nations estimates that grain shortages in the country are up over 50 percent from last year's already low level.
"South Sudan is one of most economically sad places there is," said Paul Sullivan, an expert on South Sudan who is also an economics professor at National Defense University and an adjunct professor of security studies at Georgetown University in Washington. "There is so much to do it is baffling to think of where to start."
For one, South Sudan could ramp up oil production once peace is secured. The government's coffers are running dry as crude production, its top source of revenue, has halved since fighting broke out. Some oil fields have been seized by rebel forces or damaged by war. The South Sudanese government also must pay neighboring Sudan for the oil pumped through its pipelines, as part of the deal reached during independence negotiations. This, coupled with the falling price of oil, means South Sudan isn't getting much for the 160,000 barrels per day it's still producing. Economic experts said the young nation is currently receiving less than $5 per barrel after transit fees and paying oil exploration companies. Meanwhile, global oil benchmark Brent crude settled at $47.19 a barrel Wednesday.
"They need to get the government to start functioning," said Mbaku, who is also an economics professor at Weber State University in Ogden, Utah. "Once they receive money from oil, they can provide critical services like education and health."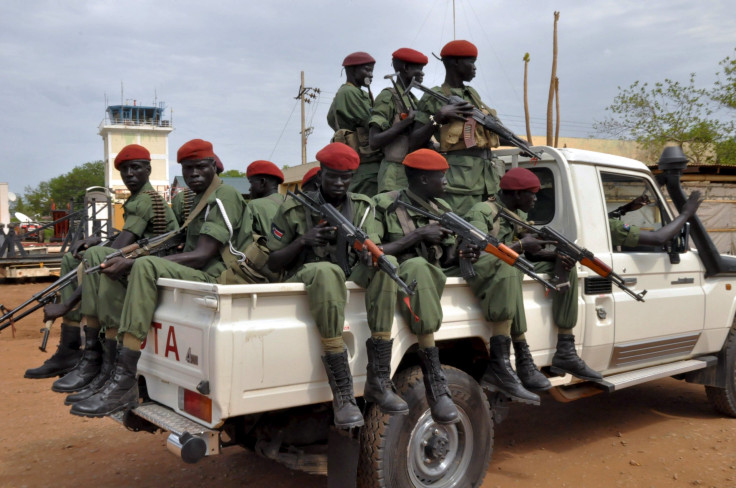 However, the oil sector is riddled with corruption and is often used as a political weapon with Sudan. If South Sudan shows the international community it is cracking down on corruption, it could start seeing more foreign aid and investment.
Of course, oil and aid dollars are by no means solutions to South Sudan's economic crisis. Political and economic experts said the government must gradually diversify the economy beyond oil by investing in other industries, like agriculture and manufacturing. South Sudan currently depends on oil for 95 percent of its foreign currency revenues. The United States, which has given nearly $1.6 billion in humanitarian aid to South Sudan since December 2013, and organizations like the World Bank Group or the International Monetary Fund could provide financial backing to help bolster the country's economy.
But because there are constant disputes over land ownership and use, even simple agriculture is at risk of stunted development until nationwide peace and a rule of law is established. Kiir's recent decision to divide the country's 10 states into 28 without consulting all stakeholders has fueled ethnic violence. Political and economic experts said the transitional government should bring together the people of South Sudan, no matter their ethnic ties, in a robust national dialogue to construct the permanent constitution that will pave the way for good governance and a prosperous future.
"Leadership will be either a massive, impenetrable barrier to development," Sullivan said, "or the one thing that will save South Sudan from a future hell of poverty and violence."
© Copyright IBTimes 2023. All rights reserved.