South Sudan: United Nations, MSF and Red Cross Evacuate Staff Amid Increasing Violence In Oil-Rich Unity State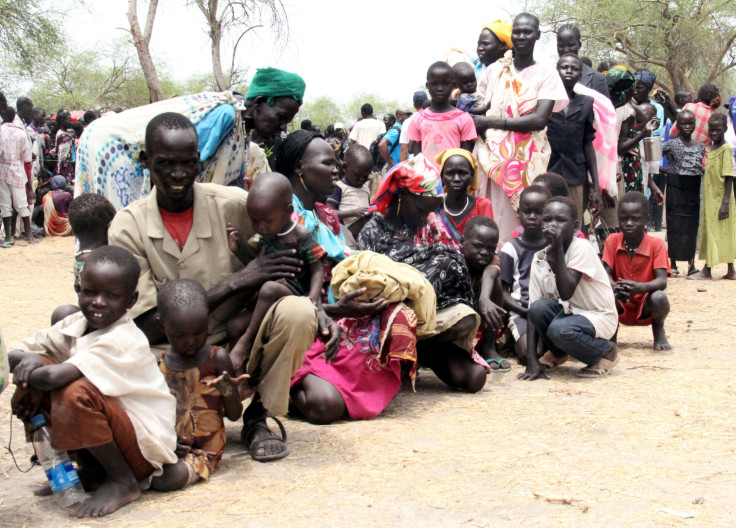 Aid groups are pulling staff out of a conflict-ridden state in South Sudan amid increased fighting between government and rebel groups, a foreboding sign of what's ahead for Africa's newest country.
The United Nations, Doctors Without Borders and the International Committee of the Red Cross have temporarily evacuated their international staff from the oil-rich Unity state. Clashes between those loyal to the country's president, Salva Kiir, and his former vice president, Riek Machar, have intensified to a point that staffers no longer feel safe.
"Ongoing hostilities in Unity state have now obliged all nongovernmental organizations and U.N. agencies to evacuate staff from Leer and other locations," Toby Lanzer, the U.N.'s humanitarian coordinator in South Sudan, said in a statement. "The humanitarian response south of Bentiu in Unity state has, as such, come to a stop."
The withdrawal comes at a time when hundreds of thousands are in desperate need of help amid violence and growing food insecurity throughout the country. According to Lanzer's statement, "Over 300,000 civilians who are in need of emergency relief, including food aid and medical services, do not currently have access to such life-saving assistance."
Doctors Without Borders (MSF) also decided to pull out its staff this weekend, and evacuated its hospital in the city of Leer in fear that it would be attacked and looted.
South Sudan is the world's youngest country, having gained independence from Sudan in 2011. Much of its newly written history is ridden with conflict.
A growing conflict between Kiir's ethnic Dinka community and Machar's ethnic Nuer community continues, despite a series of ceasefire agreements. Fighting initially broke out in the capital city of Juba in December 2013 and has since spread.
The violence has killed more than 50,000 people, according to the International Crisis Group, and displaced more than 1.5 million people, with another 500,000 fleeing to nearby countries
The United Nations has had a presence in South Sudan since the country formed in 2011 and has at least 12,000 employees on the ground. Last month, it warned that the number of South Sudanese people seeking shelter and protection at its outposts had reached its highest point since the war began. For instance, 4,500 people recently entered a base in Upper Nile state, bringing the total number to 26,000, which is just a fraction of the 115,000 who are staying with U.N. troops in the country and the 1.5 million who have been displaced. Despite a series of peace accords, fighting continues between both groups as each blames the other for violating them, as the Wall Street Journal reported.
Much of the most intense violence has taken place in oil-rich states like Unity, the home state of Machar. Last April, hundreds were killed there in attacks the U.N. said may be war crimes, since victims were targeted because of their ethnicity. The matter is being investigated by the African Union.
On May 4, U.S. Secretary of State John Kerry made comments harshly critical of South Sudan's leaders at a press conference in Nairobi, Kenya. He said the ongoing violence has put the country's "extraordinary" promise "at grave risk of being squandered."
"With each day, the ranks of the hungry and the malnourished grow," Kerry said. "And none of this had to happen, but it did happen because the country's leaders failed to act on behalf of the best interests of their people and their nation."
Oil fields in the state closed down when at the outbreak of violence as companies started pulling their workers out, sending South Sudan's crude exports down by a third, which in turn has left the government scrambling for resources to finance imports.
Doctors Without Borders also announced plans this weekend to evacuate medical personnel in Unity state, in fears of an "imminent attack" on the town of Leer.
"We must sound the alarm on the grim situation in southern Unity state," Peter Buth, deputy operations director for MSF, said in a statement.
The MSF hospital in Leer has operated for 27 years, but was burned and looted during fighting last year, and its staff fled to nearby bush regions with critically ill patients when vehicles were stolen. "We cannot stand by and watch as civilians and medical facilities are attacked again," he said.
The International Committee of the Red Cross delegation in South Sudan also announced plans to evacuate its staff in Leer temporarily "due to the intense military operations in the area."
The consequences of these groups leaving, experts say, create a "vicious circle."
"Food is already scarce and many people have little choice but to depend on food aid. That dependence will only increase now," Franz Rauchenstein, head of the ICRC delegation in South Sudan, said in a weekend statement."At the same time, aid groups are struggling to maintain a presence in the worst-affected areas due to insecurity."
"The situation is nothing short of alarming," he said.
© Copyright IBTimes 2023. All rights reserved.
FOLLOW MORE IBT NEWS ON THE BELOW CHANNELS