SpaceX Astronauts Preparing To Leave ISS To Return To Earth
KEY POINTS
Astronauts Doug Hurley and Bob Behnken will depart the ISS on Saturday
NASA will host live broadcasts for the astronauts' return trip to Earth
The astronauts are looking forward to seeing their families and colleagues
The astronauts who traveled to the International Space Station (ISS) through SpaceX's first crewed spaceflight are set to begin their journey back to Earth on Saturday. To mark the event, NASA will host live broadcasts of the astronauts' return.
On May 30, NASA astronauts Doug Hurley and Bob Behnken went to the ISS aboard SpaceX's Crew Dragon spacecraft, which has been officially named Endeavor following the launch. It was considered as a historic event as it served as the first time astronauts were launched from U.S. soil since 2011.
It was also an important milestone for SpaceX since it was the first crewed test flight for the Dragon spacecraft.
After spending about three months aboard the ISS, Hurley and Behnken are now preparing to return home. The return trip will take place on Aug. 1. It will begin once the Dragon or Endeavor spacecraft undocks from the ISS at 7:34 p.m. EDT. It is expected to reach Earth on Aug. 2 at 2:42 p.m. EDT.
Those looking to watch the upcoming event live may do so through a special coverage on NASA TV and the agency's website. The broadcast will begin at 9:10 a.m. EDT on Saturday and will feature a farewell ceremony for Behnken and Hurley on the ISS. The preparations for the astronauts' departure will start at 5:15 p.m. EDT.
NASA will also broadcast various media events related to Dragon's return flight to Earth. These include news conferences with the astronauts and officials from NASA and SpaceX.
According to Hurley, he and Behnken are looking forward to coming back to Earth after spending a couple of months in space. Aside from seeing their friends and families, the two astronauts are also looking forward to seeing the people from SpaceX and NASA who made the entire mission possible.
"It's going to be incredible," Hurley told KPRC-TV. "Obviously, to see our families again and all our co-workers, as Bob said, from a distance. Ideally, to see all the people whether it be at SpaceX or at NASA that contributed to this mission over the last several years."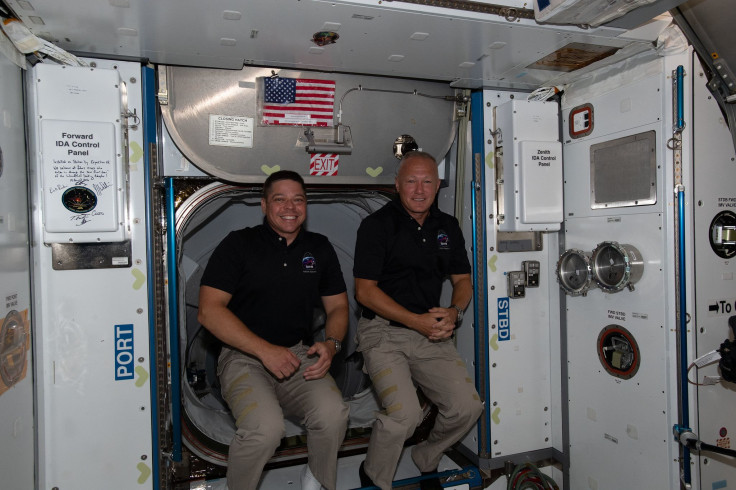 © Copyright IBTimes 2023. All rights reserved.