SpaceX Crew Dragon Has A New Toilet For Astronauts; How Does It Work?
KEY POINTS
SpaceX's first human spaceflight for NASA will take place on Wednesday
The Crew Dragon capsule is equipped with an onboard space toilet
A former astronaut thinks the mission's crew will not be able to use the toilet
In preparation for the historic flight to the International Space Station (ISS), SpaceX equipped the Crew Dragon capsule with various features to make the astronauts' trip as comfortable as possible. One of the features that SpaceX added was a working toilet.
Crew Dragon's mission, dubbed as Demo-2, is scheduled to take on Wednesday (May 27) at 4:33 p.m. EDT. It will mark the first time that NASA astronauts are launched into space from U.S. soil since the last Space Shuttle mission in 2011.
The Crew Dragon is expected to reach the ISS on Thursday (May 28), which means NASA astronauts Bob Behnken and Doug Hurley will spend about a day inside the capsule as they travel through space.
Since the astronauts will spend a lot of time inside the spacecraft, SpaceX made sure that it has several features that cater to Hurley and Behnken's comfort. One of these is a waste removal system, also known as a space toilet.
According to NASA, Crew Dragon's toilet features a new system, which means it might look different compared to other waste removal systems currently being used in space.
Although SpaceX has not yet released a statement explaining the exact mechanics of the Crew Dragon's toilet, its overall function could still be similar to other space toilets, which mainly rely on a vacuum system to get rid of waste.
In a previous news conference, Hurley noted that he would talk about his experience using the space toilet once he has completed the mission.
"We'll let you know how it works out," he stated, according to The New York Times. "We'll let you know when we get back."
According to SpaceX consultant and former NASA astronaut Garret Reisman, Hurley and Behnken might not get the chance to use the onboard toilet during their trip to the ISS. As noted by Reisman, trips in space can have an effect on the body's digestive system.
"I can tell you from personal experience, and data collected by NASA — it's kind of like going on a camping trip, in the sense that, for the first 24 hours, your body kind of shuts down a little bit as far as the digestive system goes," he told Space.com.
"So, I guess where I'm going with this is, I don't think there's going to be a whole lot of pooping on Dragon," he added.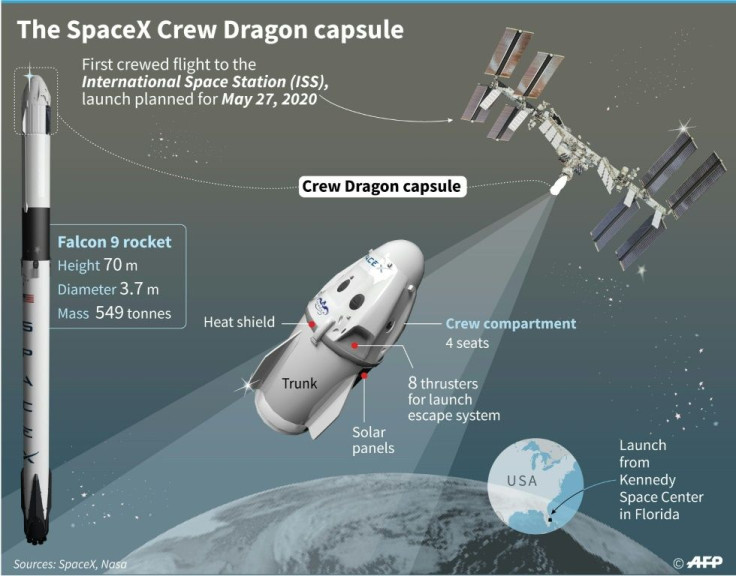 © Copyright IBTimes 2023. All rights reserved.
FOLLOW MORE IBT NEWS ON THE BELOW CHANNELS