Spain Gag Law: Protesters Rally Against New Public Demonstration Laws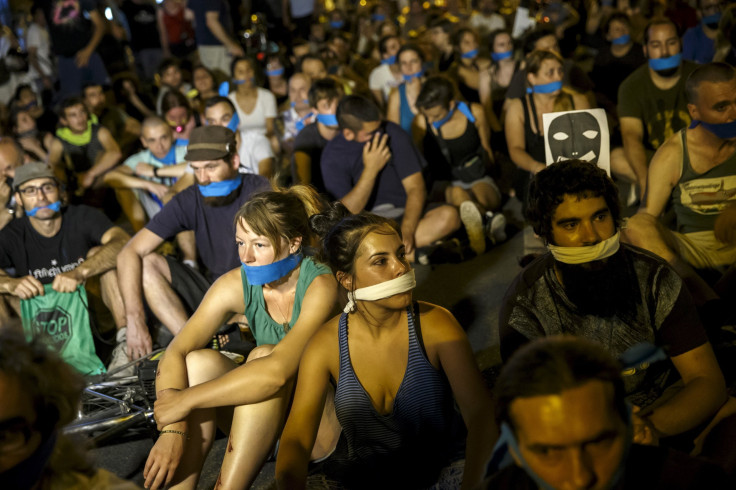 Spain's so-called "gag law," which limits the right to public protest through massive fines, took effect Wednesday amid widespread demonstrations. The Citizen Safety Law, passed through Parliament by Prime Minister Mariano Rajoy's conservative Popular Party (PP) on March 12, will allow law enforcement officers to deliver fines and sanctions for people breaking public demonstration laws.
The law will create fines of up to 30,000 euros for protests near Parliament and other government buildings classified by law enforcement as a "disturbance of public safety," and fines of up to 600,000 euros for unauthorized protests near infrastructure, including transportation hubs and nuclear plants. The law also bans citizens from "unauthorized use" of images of any form of law enforcement on duty, effectively limiting rights of the media.
With many comparisons to the limitations on civil liberties passed during the dictatorship of Francisco Franco throughout the twentieth century, activists began protesting late Tuesday night with members of Greenpeace draping a banner saying "Protesting is a Right" on a construction crane next to Spain's Parliament building, reports the Associated Press. The law will also allow law enforcement to immediately deport migrants caught illegally entering Spain from North Africa.
In April, the editorial board of the New York Times wrote that "the law's main purpose...is to help the ruling party maintain its hold on power by discouraging the anti-austerity protests that have snowballed into widespread support for the populist Podemos party." A panel of United Nation human rights experts and the Human Rights Watch advocacy group have both condemned the law, reports the Associated Press.
The legislation was created in response to largely peaceful protests that have occurred since the financial crisis in 2008 when the housing bubble burst in Spain, causing massive evictions throughout the country.
"The law will criminalize and penalize the actions of the movements for the right to housing," said Carlos Macias of the Mortgage Victims' Platform, to the Guardian. "These are actions that are simply being carried out as a form of self-protection."
A December poll by Metroscopia for Avaaz.org found that 82 percent of the population said the legislation should be modified or abandoned, the Guardian reported back in March.
© Copyright IBTimes 2023. All rights reserved.