Spanish Princess Cristina De Borbon Faces Trial On Tax Fraud Charges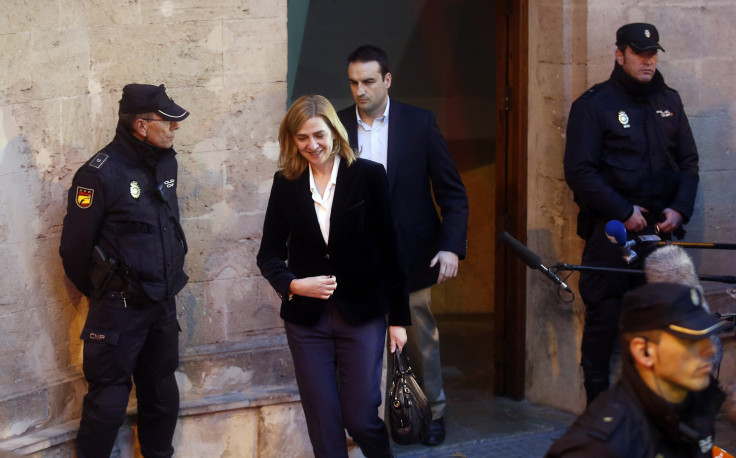 Spanish princess Cristina de Borbon, sister of King Felipe VI, has been ordered to stand trial on tax fraud charges, reports said, citing the Court of the Balearic Islands. This is the first time that a member of the royal family will be asked to stand trial in the country.
Judge José Castro ordered the 49-year-old princess to be tried, along with 17 others, in connection to the Noos Foundation charity belonging to her husband Inaki Urdangarin, a former Olympic handball player. The princess has been accused of two tax crimes while her husband has been accused of embezzling funds, breaching legal duty, fraud, influence-peddling and money-laundering, Reuters reported. The princess was part of the foundation's board when Urdangarin was heading it, and the couple denies the allegations.
The court has now ordered the princess to deposit 2.6 million euros ($3.2 million) and told Urdangarin to deposit 15 million euros within 20 days, according to Reuters.
Authorities currently suspect that Urdangarin, along with a business partner, embezzled 6 million euros ($7.4 million) in public funds. They also allege that he used his contacts to win government contracts through the Noos Foundation, Deutsche Welle reported. Prosecutors also accuse Urdangarin of preparing false documents and committing fraud. The investigation against the couple began three years ago and focused on whether the couple lived an extravagant lifestyle by diverting public funds.
The Manos Limpias trade union had also brought a civil-action case against the couple demanding an eight-year sentence for the princess and 26.5 years for the husband, according to BBC.
The case comes at a time of when the country's monarch is witnessing increasing opposition. Juan Carlos, the princess' father, abdicated after a series of scandals and poor health. Princess Cristina is sixth to the throne and married Urdangarin in 1997, BBC reported.
© Copyright IBTimes 2023. All rights reserved.