Special Report: Singed by Solyndra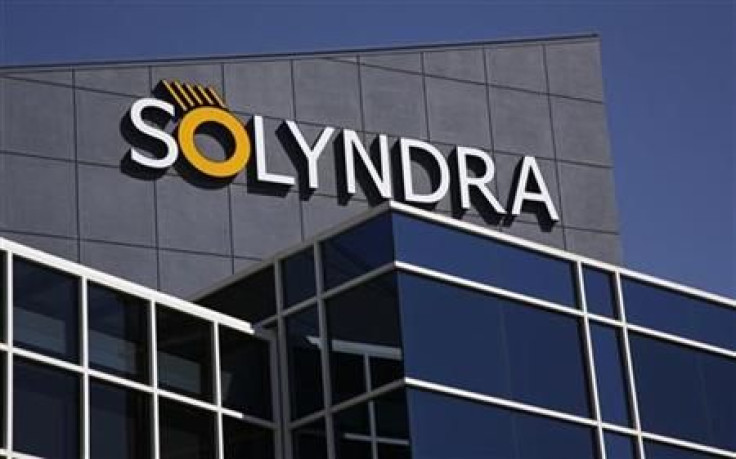 David Prend is one of the most respected investors in green technology - but even he picks some losers.
Like the Department of Energy, Prend thought Solyndra, an innovative solar company, was a good bet. His venture capital firm, RockPort Capital, began investing in the company three years before the federal government gave the start-up a loan guarantee. RockPort eventually put more than $63.5 million into Solyndra.
As revealed in emails released by the White House, Prend, who sat on the company's board, also touted the company to President Barack Obama's staff as a stellar example of green job creation and urged the president to visit its California plant.
But the Solyndra bet went bad - for Prend, the DOE, and other investors such as Henry Kravis and Richard Branson. That's not so unusual in the field of green tech. A closer look at Prend's portfolio, which consists entirely of clean energy firms, reveals the high-risk nature of this young sector. The RockPort funds have also had investments sour on solar panel company Soliant, electric car maker Think, and battery maker Ener1, among others.
In alternative energy, no one expects every gamble to pay off due to the staggering capital costs and long lead times associated with manufacturing new technologies. The federal government's inconsistent commitment to promoting alternative energy has only complicated the picture.
Prend declined to be interviewed, but he did answer a few questions via email. It is our experience that these down cycles become up cycles, and we have almost 40 plus companies in our portfolio that we believe are well poised to produce strong returns for our investors, he said.
THE GURU OF GREEN
Brought up in California, with a passion for science, Prend majored in engineering at the University of California at Berkeley and later earned a Master's of Business Administration from Harvard. He worked as an engineer at Bechtel and Amoco before making the leap to finance. He ran Salomon Brothers' energy investment banking practice for years before co-founding RockPort in 1998.
At the time, venture funds focused exclusively on green technology were rare, and Prend's pioneering role in this emerging field eventually led to his appointment as an adviser to the Department of Energy's National Renewable Energy Laboratory and a seat on the board of the National Venture Capital Association.
Prend's funds have invested in a range of green tech ventures, from efficient diesel-engine maker Achates to an insulation company called Aspen Aerogels. Because the funds are still active, their final returns aren't yet known.
Prend clearly is an advocate and a champion for his companies, said Terry McGuire, co-founder of Polaris Venture Partners, who sits with Prend on the board of energy storage startup SustainX. Prend often takes a board seat at these new ventures and offers guidance on everything from customer relations to cost structures.
He's a very cerebral kind of guy, said Mark Heesen, president of the National Venture Capital Association. But you'd better listen when he talks, because it's usually something important.
But this advocacy brought unwelcome notice when emails supplied to the congressional committee investigating the Solyndra bankruptcy revealed that Prend had pressed the president to visit the company and it was further discovered that RockPort had helped Solyndra compete for a lucrative U.S. Navy deal.
LONG TUBES, HIGH HOPES
Prend made his first $16 million investment in Solyndra in 2006, just as alternative energy was beginning a big run-up. By then storied venture-capital funds such as Kleiner Perkins Caufield & Byers were entering the field where Prend had already been a player for years. Electric-car company Tesla won funding in 2006 from some big-name backers, including Google's Sergey Brin and Larry Page.
Solyndra caught the eye of VC funds with a new technology for turning solar rays into electricity using long round tubes rather than flat panels in order to absorb more sunlight.
There were two reasons these were expected to be cheaper than traditional photovoltaic panels: first, the tubes, shaped like fluorescent light bulbs, could be made in a highly automated factory, which would offset the cheap-labor advantage of Chinese plants. Second, Solyndra's recipe for converting sunlight to electricity didn't require expensive silicon, relying instead on a mixture of copper, indium, gallium and selenide, or CIGS.
Prend bought it. He invested another $6 million in 2007, around the same time a number of other private investors, including Henry Kravis's KKR, Madrone Capital Partners, which invests on behalf of Wal-Mart heirs, and Argonaut Private Equity, a fund attached to Obama fundraiser George Kaiser, put in cash. Solyndra raised $215.9 million that year. In October that year, President George W. Bush's Department of Energy announced its final rules for a green-tech loan-guarantee program, listing Solyndra as one of just 16 companies already approved to apply for the loans. Others on the eligibility list included Tesla and solar company BrightSource Energy.
At first things seemed to be going well. In 2008, Solyndra started shipping its tubular panels and announced it had $1.2 billion in orders. RockPort put more than $30 million into the company over 2008 and 2009. The next year, Solyndra's $535 million DOE loan came through, and the company quickly filed for an initial public offering.
But behind the scenes, the situation was deteriorating. The global economic crisis deflated the sky-high valuations of clean-tech startups. Solyndra, for instance, fell from a valuation of $1.4 billion in July of 2008 to $791 million in little more than a year, according to Thomson Reuters data. Even established players such as publicly traded solar panel maker First Solar suffered big declines; its stock dropped 43 percent in this same time frame.
Sales lagged, too. Customers held off buying anything they didn't absolutely need, including solar energy. And those who did invest often chose cheaper products from China, where the government was aggressively subsidizing solar companies. Silicon prices were falling fast, which meant Solyndra's silicon-free technology lost its cost advantage.
By last year Solyndra was running low on cash. In June, 2010 it withdrew its IPO filing, saying it was borrowing $175 million from investors instead; in November it closed down its first plant; and in early 2011 it sought another loan from its backers, including RockPort. It received a loan of $75 million, and at the same time renegotiated the terms of its loan guarantee with DOE. But that wasn't enough to turn things around. In September, the company filed for Chapter 11 bankruptcy and laid off hundreds of employees.
GOVERNMENT'S ROLE
Now Solyndra has become both a symbol of wasteful government pork and a good reason, in some lawmakers' view, to challenge federal support for green energy. Congress has been sending mixed signals, creating green tech programs without clearly spelling out the future of its commitment. A program extending cash grants for commercial and industrial solar installations was almost allowed to expire in 2010 - then renewed at the last minute, but only for one year.
Prend was diligent about staying abreast of government policy. In February, 2009, he and several other board members of the National Venture Capital Association met with Carol Browner, then the top energy and environmental adviser at the White House, and White House staffer Greg Nelson. Prend says the meeting was to discuss venture capital investing in clean tech, energy legislation, and the cap and trade bill to limit carbon emissions.
The DOE Loan Guarantee program may have been mentioned in our meeting but it was not discussed at any length, he said in an email to Reuters. His meetings at the White House were related to his position with the NVCA rather than Solyndra. Later, Prend followed up with an email to Nelson, suggesting that President Obama visit Solyndra on an upcoming trip to California. Prend said his communication with Nelson was about the prospect of bringing attention to companies that were growing and hiring. Solyndra was, at the time, one of those companies.
None of my meetings in Washington DC were on behalf of any of my firm's portfolio companies, nor did I request any government loan approval for these companies at any time, he said. He declined to comment on Solyndra's participation in a pilot solar project for the U.S. Navy's Defense Venture Capital Initiative. (RockPort principal Kevin Kopczynski was a consultant to that program.)
SAME PROBLEMS, DIFFERENT COMPANIES
Currently, two of Prend's three green-tech funds, RockPort II and III, are showing negative returns, according to a person familiar with the firm. But that is fairly normal for funds in their stage of development, investors say. In venture capital generally, the early years are when bankruptcies tend to hit, while it's too soon to see big payoffs from the companies destined to succeed.
Moreover, many of the same forces that hurt Solyndra have been hitting other companies in RockPort's portfolio. Electric carmaker Think Global AS filed for bankruptcy in its native Norway in June, 2011, after massive startup costs outpaced its available cash. Competitors with deeper pockets, including Tesla, Nissan, and Chevrolet, were ramping up faster, and Think Global investors declined to re-up. RockPort had invested at least $21 million in Think over the years.
Shares in Ener1, a U.S. car-battery maker that supplied Think, are down 95 percent this year, and the company is the target of several investor lawsuits. The battery business, like solar, is reeling amid low-cost competition from Asia, and Ener1 failed to clinch several high-profile supply deals. RockPort exchanged an undisclosed amount of its stake in Think for shares in Ener1 late last year.
Competition from China also hit Soliant Energy, which manufactured special high-concentration solar panels for use on small areas such as home rooftops. The company's assets were sold to Emcore Corp for a paltry $450,000, reports said, after it raised millions in venture funding, including $9.4 million from RockPort, data from Thomson Reuters shows.
Even some of RockPort's early successes, such as solar cell maker Evergreen Solar, have been unable to compete with home-grown Asian rivals. RockPort put $2.3 million into Evergreen in a 2003 private placement, according to data from Thomson Reuters. The company shifted its production to China earlier this year to take advantage of the country's competitive advantages, but wound up filing for Chapter 11 protection three weeks before Solyndra imploded.
It is the nature of venture capital that some companies succeed and some do not, Prend said in his email, adding that RockPort got out of Evergreen years ago and was more than pleased with our return.
One of RockPort's successful exits is Eka Systems, which was acquired by Cooper Industries for an undisclosed sum last year and is part of the a red-hot sector known as smartgrid, which is aimed at managing energy use. According to data from Thomson Reuters, RockPort had invested an estimated $6.5 million in the venture.
BIG GAMBLES
Venture-capital funds typically hold mostly middling companies, along with a couple of outright duds and one or two that perform dazzlingly well, shoring up returns. With clean tech, it may take longer than usual to identify the winners, because many of these ventures require hundreds of millions of dollars and years of work before a single dollar of revenue comes in.
Brightsource, for example, a venture-backed solar company founded in 2004, just broke ground on its first major power plant -- a $2.2 billion project in the Mojave Desert -- last year. It won't be up and running until 2013.
But when an entire sector is languishing, a fund focused exclusively on that sector will have a problem covering its losses. Unlike RockPort Capital, other investors in Solyndra run diversified funds. Redpoint Capital, for example, can offset it Solyndra losses with a big payoff on Homeaway, Inc. The online vacation-house rental business, in which Redpoint invested early on, went public in June at $27 and is now trading in the $30s.
Prend, however, remains dedicated to clean tech. Whether he can still make a success of his two funds that held Solyndra, RockPort II and RockPort III, is open to debate. One company that might boost the firm is Enphase Energy, which manufactures a solar-inverter to convert the direct-current electricity from solar panels into the alternating current in common use. Enphase registered in June for an IPO, but may not go to market until the climate improves.
Prend declined to discuss returns or specific companies, but he struck an optimistic tone in his email. Clean tech is bigger than we ever thought it would be, and there are many macro factors that will cause it to continue to grow, he said, citing the electrification of transportation, green buildings, and the role of the Internet in energy conservation. The opportunities are varied, global and gigantic.
© Copyright Thomson Reuters 2023. All rights reserved.