A Split Among Jihadi Ranks As Al Qaeda In Yemen Rejects ISIS Caliphate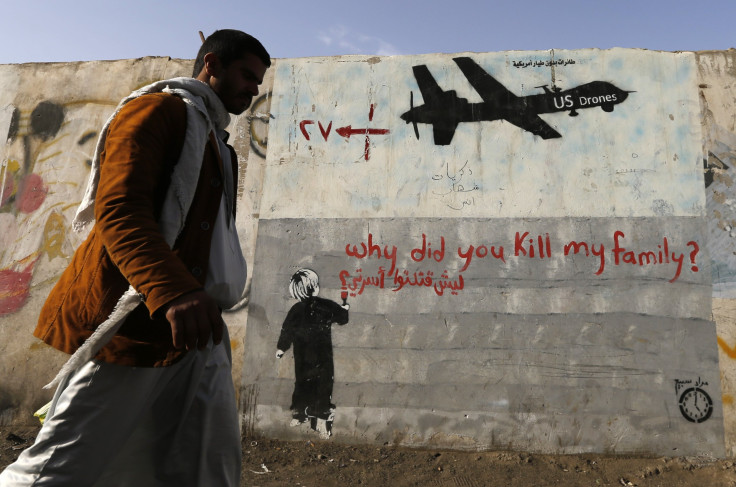 The two biggest Islamic terror groups in the world are at odds again. Al Qaeda's branch in Yemen publicly denounced the Islamic State group and declared its self-proclaimed caliphate illegitimate in a video released Friday. A senior al Qaeda leader condemned his militant competitors for "driving a wedge" in the ranks of the global mujahedeen.
"We do not see the authenticity of the establishment of such a caliphate, nor what follows it of consequences," said a senior member of the group's Shariah council, Sheikh Harith al-Nadhari, as quoted by ABC News.
"This war was and still is a Crusader war against all the honest mujahedeen," Nadhari said, according to Long War Journal. "We took the position incumbent upon us to support our brothers with what we can, and we still hold to that position, as we believe in the necessity to support our mujahedeen brothers, including all of their groups and entities, regardless of their inclinations." But despite this fundamental need to unite against the West, Nadhari denounced ISIS for demanding allegiance from Muslims.
Al Qaeda in the Arabian Peninsula's is one of the biggest and most powerful branches of the terror organization. (It also wrote one of the most detailed documents teaching fighters how to wage jihad.) It is considered to be al Qaeda's greatest threat to America and is consistently targeted by U.S. drone attacks. In Yemen, the militant group is currently battling the Shiite Houthi rebels, who recently seized the capital Sanaa, and the U.S.-backed government.
The nearly half-hour video may have been a response to ISIS Caliph Abu Bakr al-Baghdadi's most recent audio message, according to the Associated Press. AQAP was not pleased that Baghdadi announced the expansion of his caliphate to al Qaeda's strongholds in Libya and Yemen and "revoked the legitimacy" of other groups, without consulting them.
A decade before ISIS came under Baghdadi's leadership, it was born as Al Qaeda in Mesopotamia (Iraq) and was led by Abu Musab al-Zarqawi -- who launched his group with a videotaped beheading, just like ISIS would do later. Two years later, al-Zarqawi was killed in a U.S. airstrike in Iraq and months later the group evolved into the Islamic State in Iraq, led by Abu Omar al-Baghdadi and Abu Ayyub al-Masri, both now dead. Abu Bakr al-Baghdadi was appointed in 2010, when the group was going through a rough patch, and in 2013 he aligned with al Qaeda's Syrian branch, Jabhat al-Nusra, and rebranded the group as the Islamic State of Iraq and Syria. Less than a year later, al Qaeda central had had enough of ISIS and Baghdadi; leader Ayman al-Zawahiri said al-Nusra was its only branch in Syria.
Despite al Qaeda central's divorce from ISIS, AQAP in Yemen had originally said it supported Baghdadi's group in the battle against "the Crusaders." But now, it seems, it has chosen sides.
© Copyright IBTimes 2022. All rights reserved.
FOLLOW MORE IBT NEWS ON THE BELOW CHANNELS