Spray-On Tan Safety: Why Short-Term Beauty Is A Long-Term Risk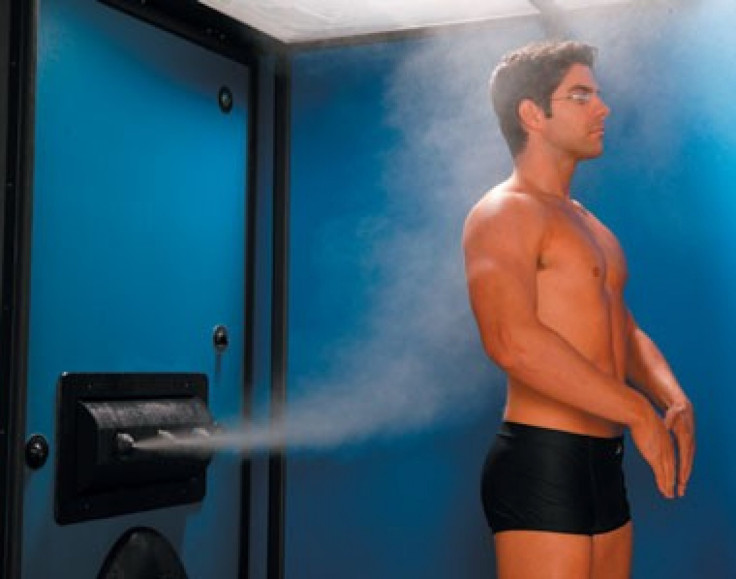 As long as it's been available, spray-on tans have always been considered a safe alternative to sun tanning, which exposes your skin to harmful UV rays that accelerate the aging of your skin and can ultimately create teratomas. Unfortunately, the spray-on tan may not be as safe as we once thought.
According to a panel of medical experts, the active chemical used in spray-on tans -- dihydroxyacetone (DHA) -- can potentially damage one's DNA and cause genetic alterations. The experts reviewed 10 of the most current, publicly-available studies on DHA, and turned over their results to the government. ABC News was able to acquire the report via the Freedom of Information Act (FOIA).
I have concerns, said Reynold Panettieri, a toxicologist and lung specialist at the Perelman School of Medicine at the University of Pennsylvania. The reason I'm concerned is the deposition of the tanning agents into the lungs could really facilitate or aid systemic absorption -- that is, getting into the bloodstream.
Panettieri was one of six medical experts in areas that ranged across several fields of medicine, including toxicology, dermatology, and pulmonary health. Having sufficiently reviewed the literature and reports about DHA, the team of experts believe the warning signs of serious health concerns exist in spray-on tans.
These compounds in some cells could actually promote the development of cancers or malignancies, Panettieri said. And if that's the case, then we need to be wary of them.
Spray-On Tans: Are They Safe, Or Not?
All of the medical experts agreed that more studies need to be done as the literature is still largely limited, but what they already know is enough to warrant a warning.
Lynn Goldman, the dean at George Washington University's School of Public Health, thoroughly reviewed the same group of papers and found that DHA had tested positive for mutating genes across to many studies to reject her concerns about the chemical.
The substance seems to have a potential for what they call creating mutations or changing DNA in living cells, which is a serious problem and needs to be further investigated, yet hasn't been, Goldman said. What we're concerned about is not so much that reaction that creates the tanning, but reactions that may occur deeper down with living cells that might then change DNA, causing a mutation and what the possible impacts of that might be. I'd be very concerned for the potential of lung cancer.
Researchers added that besides the cancer concern, DHA can create other negative health effects such as birth defects; this is especially the case if a pregnant woman allows the spray-on tan mist to get inside her body, according to Goldman.
I think a lot of people assume that because things are on the market that it means somebody has very carefully evaluated them and that they're safe, she said.
Goldman's concerns with DHA rest on two tentpoles: First, she believes the information we had to approve the drug back in the 1970s was wrong to begin with, and second, the explosive growth in spray-on tans in this generation means more people will be exposed to it, whether they walk into a salon or not.
The use is expanding and it doesn't prompt a re-evaluation, Goldman said. And I think that's a serious problem.
Panettieri agrees with Goldman. He added that the dose from a single spray or two wouldn't be enough to impact someone's health, but those who regularly spray tan, week after week, as well as the tanning salon workers that apply up to 20 spray-on tans a day without protection, should be concerned.
These compounds in some cells could actually promote the development of cancers or malignancies, and if that's the case then we need to be wary of them, Panettieri said. And in this case, there are more than just [one] instance that this compound was associated with toxicity. So when you put all the evidence together, the concern exists.
Panettieri said the lungs have an unusually large surface area to absorb oxygen, but it has the same capacity to absorb toxic chemicals like DHA; unlike skin, however, the lungs don't have a protective layer. Over the long-term, this can create some very serious risks.
Frankly, right now, given the evidence I've seen, it's time to pursue this question in a more rigorous fashion and really answer: Is it safe or not? Panettieri said.
Taking Responsibility
Ultimately, the studies on DHA are still incomplete. Even outside the U.S., the European literature did not contain information from peer-reviewed literature and is, therefore, not thorough, according to Goldman. Dr. Arthur Grollman, a toxicologist at Stony Brook University in New York, agreed with Goldman, saying the European review is flawed.
Here in the U.S., the FDA says no manufacturer has ever tried to present similar evidence or create a thorough safety review of DHA in spray-on tans. The FDA also says that it will not yet step into the unapproved use of DHA.
FDA does not regulate the operation of commercial enterprises such as indoor or sunless tanning salons, the firm said on its website. This would be a function for OSHA or state/local public health regulators, much as for hair or nail salons. FDA has oversight responsibility for the safety of the cosmetic products and the devices [UVA light sources and beds] in the indoor tanning salons.
But until the FDA decides to step in, and until more studies are released on the long-term effects of DHA, people should largely try to avoid spray-on tans and tanning salons, especially on a regular basis. Limited use doesn't appear to be too harmful, but regularly being in the presence of any kind of unnatural chemical can't be good for the body. Your skin may be able to take it, but your lungs may not, over time.
James Oliver, the CEO of Beach Bum Tanning, is doing it right. After an undercover ABC News reporter found the company's top trainer calling DHA super safe and great for pregnant women, the CEO has stepped in to ensure customers know about the health risks associated with spray-on tans.
We, at Beach Bum Tanning, are always striving to promote both customer and employee safety in the use of both UV and spray tanning equipment, Oliver wrote in a statement. As products and research evolve, it sometimes becomes necessary to revise and update our policies and customer standards. Although we have always made eyewear, nose guards and lip balm available to every sunless booth and airbrush tanning customer, effective immediately we are taking the following steps to better inform our customers on the FDA guidelines:
We have already started ...
Making available a copy of FDA Guidelines to all customers using sunless equipment;
Posting signs in every room stating 'As per FDA guidelines, we recommend the use of protective eyewear, nose plugs and lip balm during every sunless tanning session';
Updating our website to include the FDA recommendations on all pertinent pages: Sunless Booth page, Airbrush tanning page and Airbrush FAQ's;
Retraining our staff to more actively recommend the protective gear.
We know that our actions go above and beyond the FDA recommendations, Oliver told ABC News later, but we feel, in light of the unknown effects of the DHA mist, it is in everyone's best interest to take these proactive steps.
© Copyright IBTimes 2023. All rights reserved.
FOLLOW MORE IBT NEWS ON THE BELOW CHANNELS