St. Louis Unrest: Protesters Clash With Police, Start Fires, After Officers Kill Young Black Man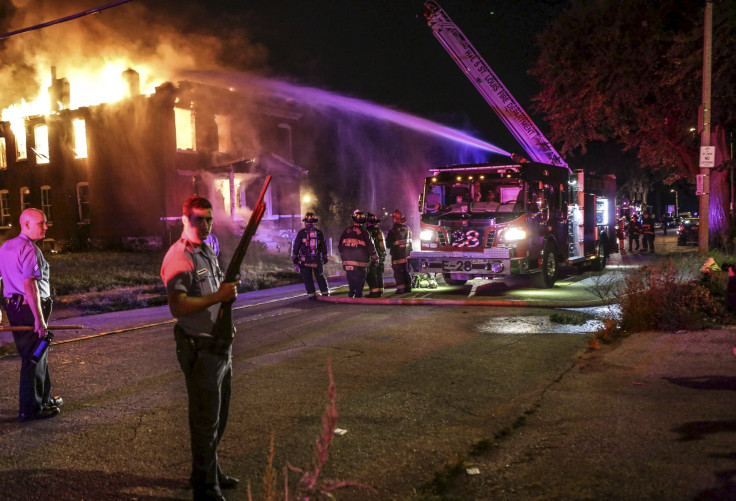 The killing of a young black man by police in St. Louis Wednesday has sparked racial anger and demonstrations in the Missouri city, with demonstrators clashing with police and starting fires.
The demonstrations began after police shot dead an 18-year-old black man, identified by the St. Louis medical examiner's officer as Mansur Ball-Bey, at about 11:30 a.m. EDT, by St. Louis police officers who were executing a search warrant in what media reports describe as a high-crime district.
Police officials said that the man who was killed was armed, and pointed a weapon at officers. Two white police officers fired on him four times, killing him, the St. Louis Post Dispatch reported. St. Louis Police Chief Sam Dotson told Reuters that Ball-Bey's gun was stolen, adding that officers recovered crack cocaine at the scene.
"Detectives were looking for guns, looking for violent felons, looking for people that have been committing the crimes in the neighborhood," he said.
Protesters quickly gathered at the scene of the shooting, and three people were arrested for blocking traffic. The protests escalated, with demonstrators throwing bricks and bottles at police, who responded with tear gas in an attempt to clear the streets, according to CNN.
Late Wednesday, images on social media showed at least one car and one building set on fire, and demonstrators piling burning furniture into the street.
Other images shared on social media showed St. Louis firefighters operating in the area, under heavy police guard.
St. Louis police tweeted late Wednesday that nine arrests had been made during the course of the day, including 2 females, all of whom were charged with impeding traffic.
The shooing came just 10 days after protesters in Missouri marked the one-year anniversary of the death of Michael Brown, the black teenager whose shooting death at the hands of a white police officer sparked nationwide protests, and ignited a debate about excessive use of force by police officers, particularly when dealing with black Americans.
© Copyright IBTimes 2023. All rights reserved.