St. Patrick's Day Facts: The History Behind 7 Irish Traditions, Like Wearing Green And Eating Corned Beef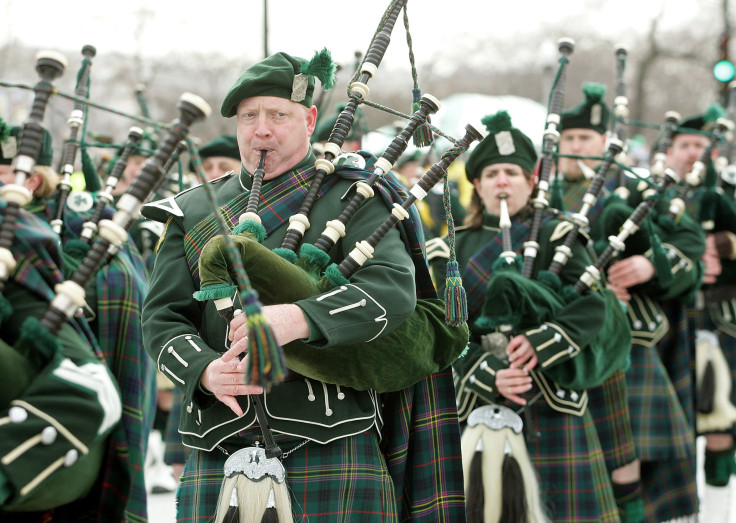 While the modern millennial way to celebrate St. Patrick's Day might revolve around green beer, the holiday actually has a rich history going back centuries. If you've ever found yourself wondering why Americans eat corned beef or discuss leprechauns every March 17, you might want to read up on the true meanings behind the traditions.
Everybody knows that if you don't wear green on St. Paddy's Day, you're going to get pinched. But the color is more connected to Ireland in general than St. Patrick, who was historically depicted as wearing blue robes. Green represents the verdant countryside in Ireland and is also on its national flag, according to Catholic Online. The pinching tradition dates back to the 1700s, when people believed that leprechauns couldn't see them — and tweak them — if they were wearing green.
Legend has it St. Patrick used a shamrock, a clover that has three leaves, to show the relationship in Christianity between the Father, the Son and the Holy Spirit. Whether this happened for real is unclear, but the tradition of wearing shamrocks on St. Paddy's Day persists, as does the transition of drowning your shamrock in whiskey at night, USA Today reported.
Parades are simply opportunities to recognize Irish Americans, history professor Timothy Meagher told USA Today. Some of the biggest St. Paddy's parades in the United States are located in New York, Chicago, Boston, Savannah, Georgia, and Kansas City, Missouri. They're "a statement of showing our colors, showing our numbers, showing that we are powerful and important," Meagher added.
The typical St. Patrick's Day meal of corned beef and cabbage is actually an evolution of another tradition. Originally, Irish families ate ham or bacon and potatoes, all of which were plentiful on the Emerald Isle. But when immigrants came to the U.S., corned beef and cabbage were found to be much cheaper replacements, according to IrishCentral. Plus, as the History Channel noted, it's "easy to cook and hard to overcook."
Leprechauns, often grumpy or mischievous shoemakers, became associated with St. Patrick's Day simply because they were associated with Ireland. TheFW reported the fairy creatures appeared in the 1831 book "Legends and Stories of Ireland." If you catch one, you may receive good luck — but only if you keep close watch on the wily little man. Mental Floss reported they're quick to disappear.
The "Kiss me, I'm Irish" quip can be traced back to the Blarney Stone, a block of limestone at the Blarney Castle in Ireland. Legend has it that kissing the stone gives the kisser eloquence. Nowadays, "if you can't make it to Ireland to kiss the actual stone, convention says the next-best option is to kiss an Irishman," glo.com wrote.
And finally, one thing that's definitely not an Irish tradition: green beer. While drinking alcohol is a popular way to celebrate St. Patrick's Day, "if you dyed beer green in Ireland, they'd punch you," Irishman Martin Fogarty told BustedHalo a couple of years ago. Maybe opt for Guinness instead.
© Copyright IBTimes 2023. All rights reserved.