St. Patrick's Day Playlist 2016: 17 Irish-Themed Songs To Celebrate The Holiday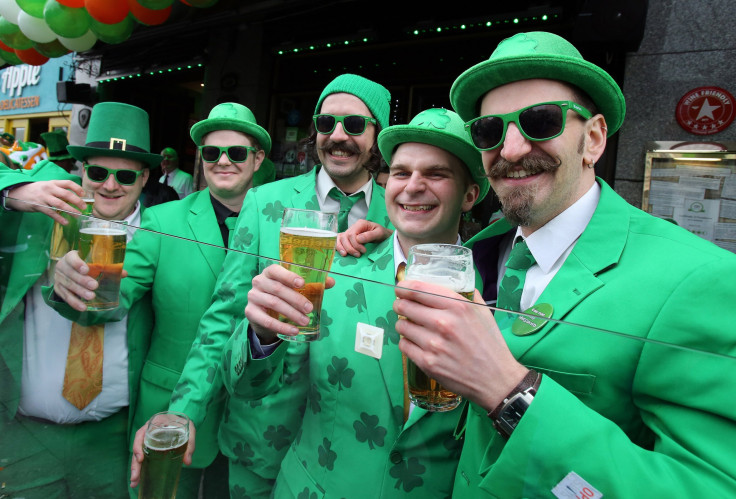 St. Patrick's Day will be here very soon and many people will dress in green, go to parades or maybe even head to bar to enjoy a cold beer. However, it wouldn't be St. Patrick's Day without a little bit of Irish music that may or may not feature some bagpipes. If you're looking for songs to get you in the spirit or bring you some luck on March 17, here are 17 songs to help you enjoy the holiday.
1. Dropkick Murphys - "I'm Shipping Up To Boston"
"I'm Shipping Up To Boston" has more or less become one of the unofficial theme songs of St. Patrick's Day. The song became popular thanks in part to Martin Scorsese's 2006 film "The Departed" and gave the Dropkick Murphys commercial success. The track will for sure get groups of people singing along with the band when it plays.
2. Metallica - "Whiskey In A Jar"
Metallica's cover of a cover was originally performed by The Dubliners, but the band decided to put their own spin on Thin Lizzy's version. The song was an Irish folk song about a man who pulls off a robbery and is later betrayed by a woman in his life.
3. Flogging Molly - "Drunken Lullabies"
The Dropkick Murphys have become a St. Patrick's Day staple, but the holiday wouldn't be the same if Flogging Molly wasn't also played. "Drunken Lullabies" is an upbeat, quality Celtic punk song that's bound to put a smile on your face for your holiday celebration.
4. U2 - "Sunday Bloody Sunday"
U2 has built a very successful career and the band from Dublin, Ireland, has gone on to make a name for themselves over the last four decades. The Irish band can't be left off a playlist for the holiday and "Sunday Bloody Sunday" is an essential track, even though St. Patrick's Day falls on a Thursday this year.
5. AC/DC - "Have A Drink on Me"
AC/DC is known for making hard rock songs that can be played at any bar or party. While they may not be an Irish band, the group has even incorporated bagpipes into their music before on their song "It's a Long Way to the Top (If You Wanna Rock 'n' Roll)." However, it's their song "Have a Drink on Me" that's more fitting for this playlist.
6. The Pogues - "If I Should Fall From Grace With God"
The Pogues were one of the first bands to blend the use of Irish instruments with guitars and create Celtic punk. "If I Should Fall From Grace With God" is one of the band's best tracks and a fun one for the holiday.
7. Dropkick Murphy's - "The Spicy McHaggis Jig"
An entire St. Patrick's Day playlist can easily be made of just Dropkick Murphys songs, which is why they are worthy of a second song on the list. "The Spicy McHaggis Jig" is one of the bands funniest songs and tells the story of a poor drunken decision by a man named Spicy McHaggis.
8. The Dubliners - "Rocky Road to Dublin"
This Irish folk classic has been an essential song of the holiday for years. You might also recognize this song from the boxing scene in the 2009 movie "Sherlock Holmes." The Dubliners are the inspiration behind bands like Dropkick Murphys, Flogging Molly, and The Pogues.
9. Flogging Molly - "Devil's Dance Floor"
Head out to the dance floor with this fast song appropriately called "Devil's Dance Floor." The track is one of the band's most popular and a fan favorite.
10. Frank Turner - "Photosynthesis"
While Frank Turner might be from England, his brand of folk rock fits right in with music you'd hear on St. Patrick's Day. Turner's "Photosynthesis" is a song about doing something with you life and not letting it pass you by.
11. Mychael Danna - "The Blood of Cuchulainn" ("Boondock Saints Theme")
Aside from being a great movie to watch on St. Patrick's Day, the movie's theme song "The Blood of Cuchulainn" is also a must listen. The score by Mychael Danna is a joyous one that will get you in the mood to celebrate the holiday.
12. The Bouncing Souls - "Ole"
New Jersey punk rockers The Bouncing Souls turned a soccer chant into a rock song. "Ole" is perfect for any bar or party this Thursday with its catchy chorus that echoes throughout the track.
13. House of Pain - "Shamrock and Shenanigans"
The "Jump Around" rappers made a St. Patrick's Day song of their own that's sure to get the party started. Fellow Irishman and comedian Denis Leary also makes a cameo in the music video where he talks a little bit about the holiday before the song kicks in.
14. Christy Moore - "Finnegan's Wake"
This is a drinking song about a group of people at a wake for their friend that passed away. The group starts to drink and eventually a brawl breaks out.
15. The Doors - "Alabama Song (Whiskey Bar)"
Whiskey is a drink people may turn to on St. Patrick's Day. Why not listen to this classic track by The Doors as you search for your "next whiskey bar."
16. The Pogues - "Sally Maclennane"
Another solid song by The Pogues which could describe how some people will get this Thursday as frontman Shane MacGowan sings "I took the jeers and drank the beers and crawled back home at dawn."
17. Dropkick Murphys - "Amazing Grace"
While the song can be sad when heard on bagpipes, the Dropkick Murphys kick things up a notch on their version. "Amazing Grace" begins like the regular version, before the guitars and drums from the rest of the band join in.
© Copyright IBTimes 2023. All rights reserved.