Stampede Near Baidyanath Temple In Jharkhand, India, Kills At Least 11, Injures Dozens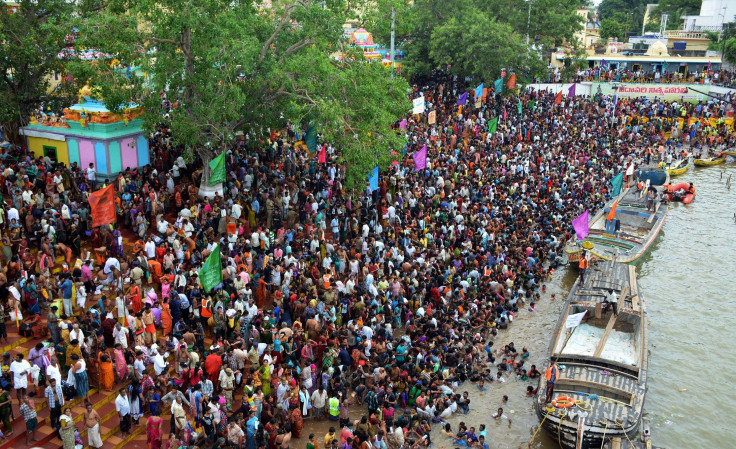 A stampede early Monday near a temple in India's eastern state of Jharkhand killed at least 11 people and injured nearly 50. The incident occurred near the Baidyanath Temple in Deoghar town, where thousands tried to force their way into the temple complex.
Officials said the injured are currently being treated at a local hospital, adding that the death toll is expected to increase, according to the Hindustan Times, a local newspaper. Thousands had reportedly lined up outside the temple since 2:00 a.m. (4:30 p.m. EDT, Sunday) for a ritual and, within two hours, the crowd reportedly grew up to 100,000, and the line was nearly 3 miles long. At about 5 a.m., as the temple gates opened, devotees began to push their way in triggering the stampede, NDTV, a local news network reported.
"Many tried to rush to the head of the queue which led to chaos and as some of them fell, the devotees got trampled," S.N. Pradhan, additional director general of police in Jharkhand, said, according to NDTV.
Every Monday, about 200,000 people offer prayers at Baidyanath Temple and over 3 million people visit the temple during the ongoing month of Shravan in the Hindu calendar.
Amit Kumar, deputy commissioner of police in Deogarh, said, according to Zee News, a local network: "Ten men and a woman died as the devotees tried to overtake each other at around 4 am."
Dr. Diwakar Kamat, a civil surgeon at the Deoghar Sadar Hospital, said, according to the Indian Express, a local newspaper, that "asphyxia is one possible reason" for the deaths.
Indian Prime Minister Narendra Modi expressed grief over the loss of lives in a tweet Monday.
A local political leader took responsibility for not making adequate arrangements to prevent the mishap.
"I take full responsibility of this. I find myself guilty.11 people have died. We all should be held responsible for not being able to make adequate arrangements. We will take lesson from this," Nishikant Dubey, a local minister from the ruling Bharatiya Janata Party, told ANI news agency, adding: "There is a strong need to create infrastructure and there should be a time slot for offering prayers and for crowd management. We would like to appeal to the centre and the state government to make a long term plan for the appropriate arrangements so that such incidents do not recur."
Officials reportedly announced a compensation of 200,000 rupees (about $3,200) for the families of the deceased and 50,000 rupees for those wounded in the incident.
Stampedes are common during religious events in India, according to the Associated Press, as large masses gather in small areas with few crowd control measures. In July, a stampede in the southern Indian state of Andhra Pradesh, killed 27 people who were among those waiting on a riverbank to participate in a Hindu religious festival. Last October, at least 33 people were killed in a stampede in Patna, while celebrating the Hindu religious festival of Dussehra. In October 2013, a stampede in India's central state of Madhya Pradesh killed 110 people.
© Copyright IBTimes 2023. All rights reserved.