'Star Wars: The Force Awakens' Spoilers: Captain Phasma May Be Darth Vader Without Force Powers Plus Stormtrooper Transport Design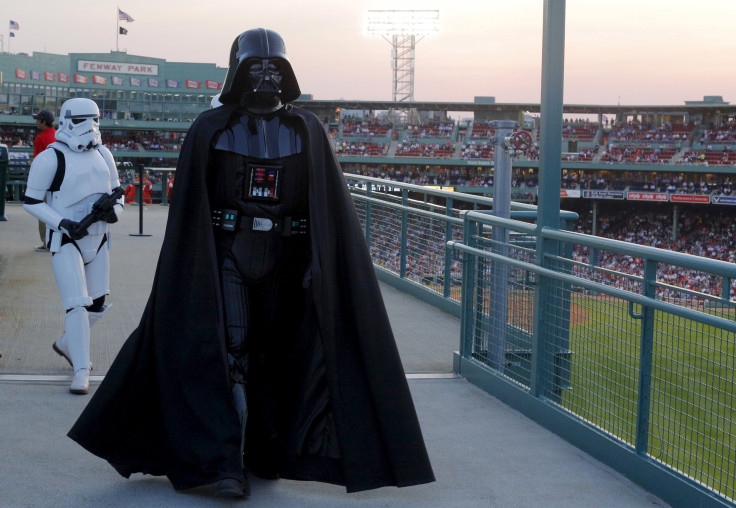 A new report explores Gwendoline Christie's mysterious character and the rise of female characters in "Star Wars: The Force Awakens." Another report drops hints about John Boyega's character, while the toys from the franchise reveal what the Stormtrooper transport vehicle looks like in the movie. [Spoiler Alert!]
The second trailer of the movie showed Captain Phasma, played by Christie, as one of the Chrome troopers working for the new Empire, which will be known as the First Order in the movie. A report by Mark Newbold in Metro suggests that the character may be an "agent" working for another character called the General, played by Domhnall Gleeson.
According to the report, the main task of Captain Phasma is to track down the soccer droid BB-8. The droid is said to be carrying the lightsaber of Luke Skywalker, played by Mark Hamill, and Christie's character has to get it for the villain Kylo Ren, played by Adam Driver. She will reportedly be able to find the soccer droid with the young heroes in the movie at the pirate castle of a character called Maz Kanata, a motion capture character played by Lupita Nyong'o.
The report notes that this is similar to the role played by Darth Vader in the very first movie from the franchise, where the villain went in search of the droids who had the plans for the Empire's superweapon, known as the Death Star. The report calls Christie's character as Vader "without the Force powers."
The two main characters in "Star Wars: The Force Awakens" are Rey, played by Daisy Ridley, and Finn, played by Boyega. The report notes how the upcoming movie has cast more actresses in major roles and contrasts this to the original trilogy, where Carrie Fisher was the only actress playing a major character, in that case, Leia.
Rey and Finn were seen in an action sequence in the second trailer of the movie, and they appear to be fighting the First Order together. A report by Entertainment Weekly confirmed a spoiler about the character, which stated that Finn will be one of the Stormtroopers at the start of the movie but will later abandon them.
Meanwhile, Hasbro will launch a set of new toys based on "Star Wars: The Force Wakens." This report by Entertainment Weekly includes photos of a Stormtrooper transport vehicle similar in design to the soldiers' costume. More details about the movie are expected to be revealed at the San Diego Comic-Con event, where the filmmakers' team will participate.
© Copyright IBTimes 2023. All rights reserved.