Statistics Show Only 77 Women Have Been To Space Compared To Over 500 Men [Infographics]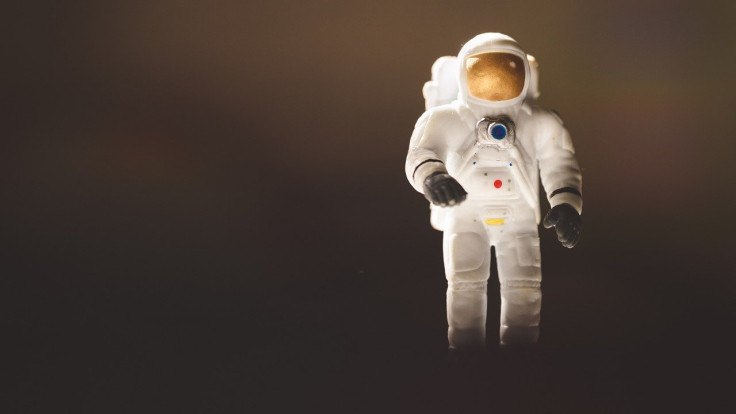 KEY POINTS
The U.S. has the highest number of women astronauts and orbital space tourists as of June
It is followed by Russia, Canada, China and Japan
Space4Women is advocating for more access to space for women
Only 77 women have been to space in the more than half a century since the first woman launched into space, according to a report.
Statista reported that decades after Russian cosmonaut Valentina Tereshkova became the first woman in space in 1963, women constitute less than 20% of all the people who have ever made it into space, as countries with space programs are sending more male astronauts than female ones.
Citing data from World Space Flight, the report said that as of June, more than 500 men had become astronauts or orbital space tourists, including 325 American men, 121 Russian men, 16 Chinese men, 14 Japanese men and 11 Canadian men.
But only 77 women had become astronauts or orbital space tourists as of June, including 59 from the U.S., seven from Russia, two each from Canada, China and Japan, and one each from the U.K., France, Italy, Saudi Arabia and South Korea, according to the report.
Of the 77 women, four were orbital space tourists, including three Americans and one Russian, according to World Space Flight.
"A significant gap exists between the number of male and female astronauts/cosmonauts," the report said.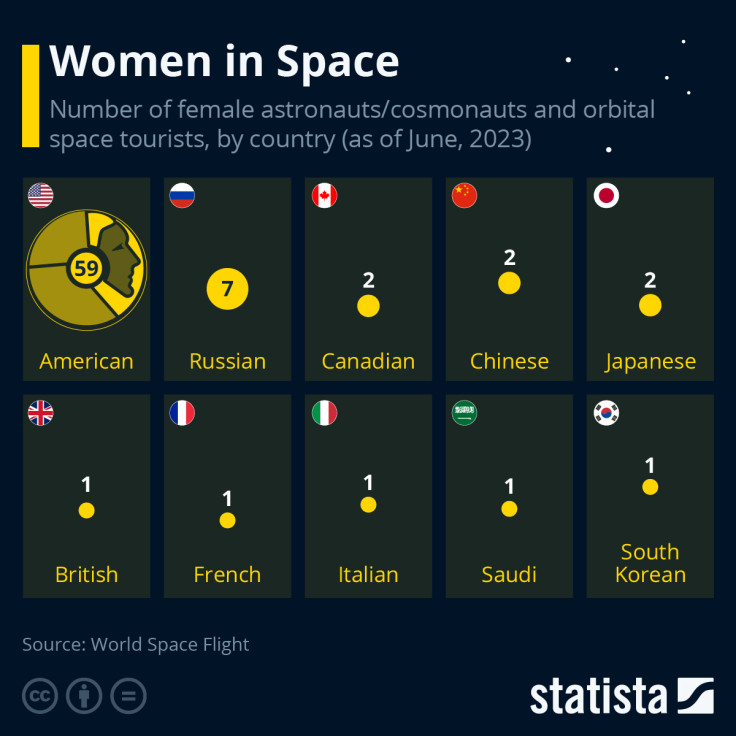 In 2020, NASA said that it aims to send the "first woman and next man" to the moon by 2024.
Tereshkova, who orbited the Earth 48 times from June 16 to 18 in 1963, was used by the Soviet Union as Cold War propaganda to demonstrate the superiority of communism, according to a 2020 The Conversation report.
Soviet Premier Nikita Khrushchev said at the 1963 World Congress of Women that Tereshkova's voyage was proof that the USSR had achieved gender equality.
But in the United States at the time, women were barred from the role as astronauts had to be military test pilots.
In the '60s, 13 women pilots, later dubbed the "Mercury 13," outperformed men on many tests to be an astronaut, but NASA wasn't convinced.
Jerrie Cobb, a Mercury 13 astronaut candidate, testified before Congress on whether women should qualify to be astronauts.
"I find it a little ridiculous when I read in a newspaper that there is a place called Chimp College in New Mexico where they are training chimpanzees for space flight, one a female named Glenda. I think it would be at least as important to let the women undergo this training for space flight," she reportedly said at the time.
It wasn't until some 20 years later that Dr. Sally Ride became the first American woman to fly in space on June 18, 1983.
A group run by the United Nations Office of Outer Space Affairs (UNOOSA), Space4Women, is advocating for more access to space for women.
The group said it aims to ensure that "the benefits of space reach women and girls and that women and girls play an active and equal role in space science, technology, innovation, and exploration."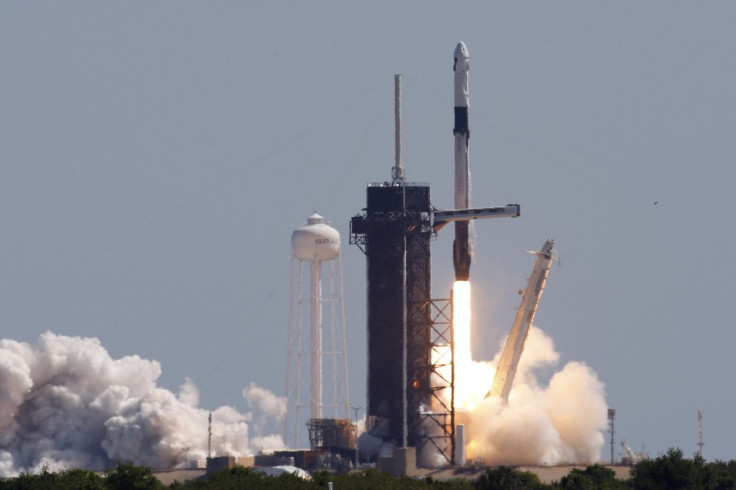 © Copyright IBTimes 2023. All rights reserved.