Steph Curry First Ever Unanimous NBA MVP: Golden State Warrior Makes History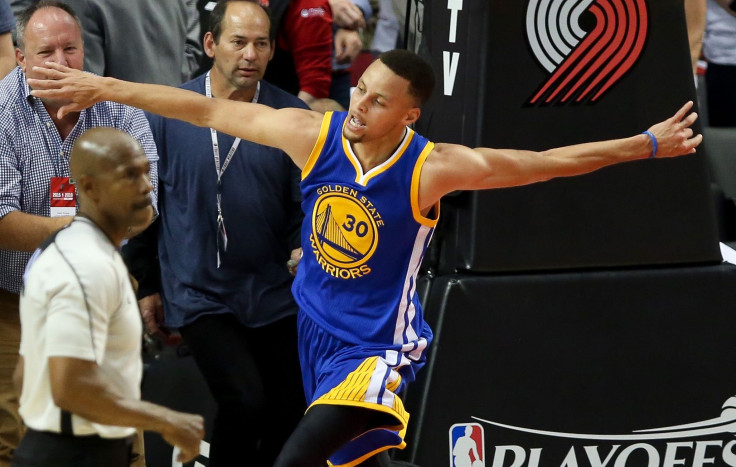 Stephen Curry of the Golden State Warriors was selected as the first-ever unanimous NBA MVP for his stellar 2015-16 season, the league announced Tuesday. With the win, Curry also becomes just the 11th NBA player to earn back-to-back MVP honors.
The point guard's season shattered expectations. Curry averaged 30.1 points and 6.7 assists per contest as the Warriors won a record-breaking 73 regular season games, surpassing the 72-win mark set by the 1995-96 Chicago Bulls. It was a record many thought to be unbreakable.
Curry, who regularly dazzles fans with long-range shots, is already considered among the greatest shooters of all time. This season he redefined what was considered possible. Curry flew by his own record for three-pointers in a season by more than 100. He sunk 402 threes while shooting above 50 percent from the floor, 45 percent from three and 90 percent from the free throw line. He also led the league in player efficiency rating, a metric used to measure overall value to a team.
Curry's MVP vote was just a formality, the only question being if he would be the first-ever unanimous winner. That can be hard to predict, since it comes down to personal preference. The voting is done by a panel of 130 media members, each person getting to choose fives players: one winner, then second through fifth place. There is also a single ballot allocated to fan voting. Each first-place vote is worth 10 points, second place seven points, third place five points, fourth place three points, fifth place one point. Every single ballot awarded Curry 10 points, giving him a grand total of 1,310.
Past MVPs have come close to unanimous wins. Chicago Bulls legend Michael Jordan was two votes short in 1995-96; Los Angeles Laker Shaquille O'Neal missed by one vote in 1999-2000; then-Miami Heat star LeBron James was one shy in 2012-13.
San Antonio Spur Kawhi Leonard finished second this season with 634 points, James, now with the Cleveland Cavaliers, third with 631 points and the Oklahoma City Thunder's Russell Westbrook finished fourth with 486 points.
© Copyright IBTimes 2023. All rights reserved.