Steve Irwin On Australian Money? Petitioners Want To Put Crocodile Hunter On Currency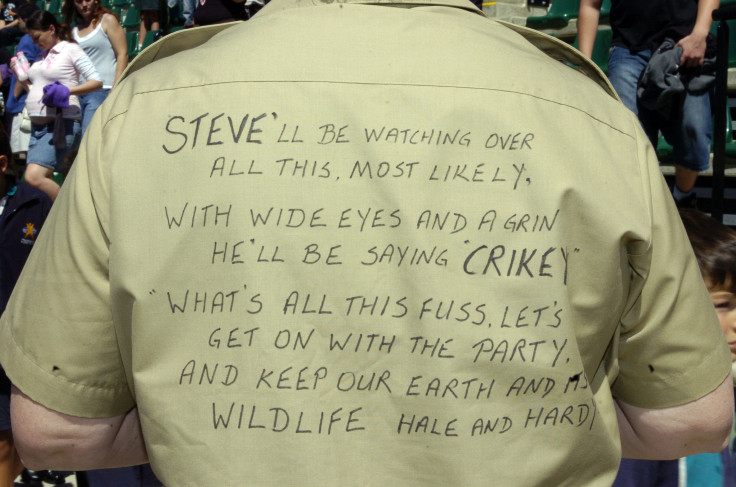 More than 22,000 people have signed an online petition over the past week requesting that the Royal Australian Mint put late crocodile hunter Steve Irwin on Australia's money.
"It's about time we paid our respects to the all time greatest Australian bloke, Steve Irwin. Let's make a change for something in the history of our country," petition founder Kyle Ryan wrote on the Change.org page. "With a list a mile long of all the good Steve had accomplished in our world, let's show our appreciation to a great, true blue Australian by putting Stephen 'Steve' Irwin on our country's currency."
Irwin, who died 10 years ago this month after being stabbed in the chest by a stingray, was — and remains — an extremely popular figure in Australia, where he and his wife owned and operated the Australia Zoo. He's already shown up on Australian money. The national mint issued a gold dollar coin in 2009 with a portrait of Queen Elizabeth II on one side and Irwin on the other, alongside a koala, crocodile, snake and Galapagos tortoise.
But Ryan told BBC News he thinks it's time the naturalist was further immortalized on Australian currency because "the newer generation barely knows who is representing our currency." Various versions of the $100 note currently include pictures of explorer Douglas Mawson, astronomer John Tebutt, singer Dame Nellie Melba and commander John Monash.
The idea of putting Irwin on Australian cash was apparently a popular one. In addition to the 22,000 people who had signed their names to the petition as of Thursday morning, 12,000 people were "interested" in a Facebook event supporting the cause. Irwin's daughter, Bindi, was on board, as well.
"It is such an honor that dad is being considered to be remembered forever on Australian currency," she told the News Corp Australia Network. "His legacy will continue to inspire us all. He truly changed the world."
Royal Australian Mint CEO Ross MacDiarmid told News Corp Australia that the petition's supporters should submit formal proposals on the subject. "The Royal Australian Mint prides itself on commemorating significant events and inspirational Australian icons through the art of minting coins," he said.
© Copyright IBTimes 2023. All rights reserved.