Steven Joel Sotloff Beheaded By ISIS: Reports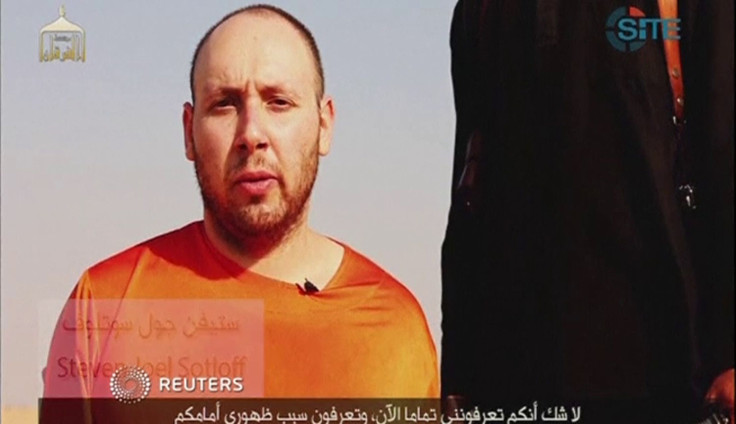 American journalist Steven Joel Sotloff has been beheaded by ISIS, according to a nearly three-minute video that purportedly shows his death. The SITE intelligence group said Tuesday afternoon that Islamic State, the militant group formerly known as ISIS, released the video, but it's unclear when Sotloff was killed. ISIS threatened last month to kill Sotloff if the U.S. continued its airstrikes in Iraq.
The two-minute, 46-second video shows Sotloff, 31, wearing an orange jumpsuit and kneeling on the ground as a man dressed in black takes a knife to his throat and begins slicing through it before the video fades. The next image is what appears to be Sotloff's decapitated head resting on his body.
The man in black appears to be the same figure in the James Foley beheading video, and he alludes to being the same assassin, saying, "I'm back, Obama." The British-accented man says Sotloff was beheaded because the U.S. continued airstrikes in Iraq.
"Just as your missiles continue to strike our people, our knives will continue to strike at the necks of your people," the man says. At the end of the video, the man holds up British citizen David Cawthorne Haines, and threatens that Haines will be the next to die if strikes against the Islamic State continue.
Before he was beheaded, Sotloff gave a "message to America" aimed at Obama that was most likely prepared by his captors.
"Obama, your foreign policy of intervention in Iraq was supposed to be for the preservation of American lives and interests. So why is it that I am having to pay the price of your interference with my life? Am I not an American citizen?" Sotloff says in the video. "You've spent billions of U.S. taxpayers' dollars and we've lost thousands of our troops in our previous fighting against the Islamic State. So where's the American people's interest in reigniting this war? From what little I know about foreign policy, I remember a time when you cannot win an election without promising to bring our troops back home from Iraq and from Afghanistan and to close down Guantanamo. Here you are now, Obama, nearing the end of your term and having achieved none of the above and exceedingly marching us, the American people, into a blazing fire."
Sotloff spent much of his life in Florida and became interested in journalism while attending boarding school in New Hampshire, according to a profile in the New York Times. After attending the University of Central Florida for three years, Sotloff embarked on a journalism career that took him to Egypt, Bahrain, Libya, Turkey and Syria, where he was captured while covering the civil war.
Josh Polsky, Sotloff's college roommate, said the journalist's friends have reconnected since Sotloff appeared in the James Foley beheading video that surfaced two weeks ago.
"This event has brought all of us back together," he said. "As soon as we learned of the circumstances, we all became in touch with one another again out of concern for Steve's well-being and to reminisce about our experiences of our collegial lives."
Media outlets reported the beheading Tuesday, citing the SITE report, but International Business Times could not confirm the reports:
SITE is a group that monitors jihadist news. It's unclear where or when they found the video.
Sotloff appeared last month in a video showing the beheading of American journalist James Foley. In that video, a masked figure said Sotloff's fate was in the hands of President Barack Obama's "next decision" concerning the U.S. airstrikes in Iraq.
© Copyright IBTimes 2023. All rights reserved.