Strike Disrupts São Paulo, Brazil's Biggest City, Three Days From World Cup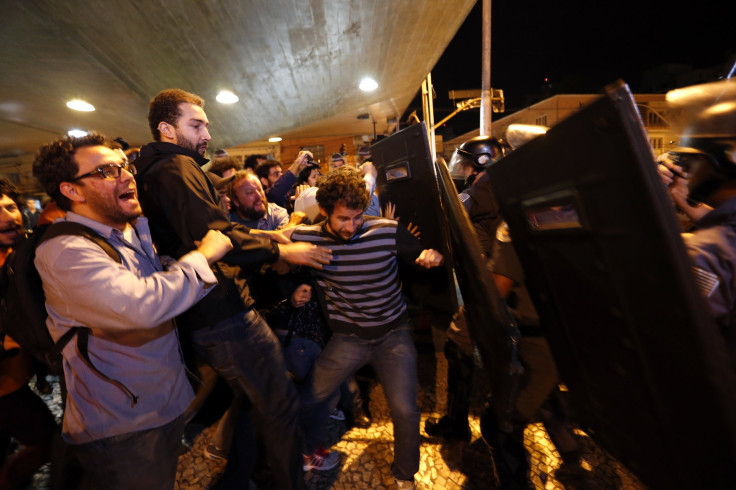 The Brazilian World Cup begins in three days, and Brazil's biggest city is in chaos and without a key part of its public transport on the fifth day of a subway workers' strike.
According to traffic statistics cited by local newspaper Folha de São Paulo, vehicular traffic was gridlocked in more than 20 percent of the city, where 20 million people live. Street protests by groups opposed to the World Cup are adding to the chaos, with police clashing with protesters and using tear gas.
Striking transit workers and homeless people are also demonstrating in the city's center and will vote Monday after the downtown rally whether they will continue the strike, Reuters reported.
The strike is threatening to disrupt the soccer tournament, for which Brazil spent an estimated $14 billion and which is already facing problems, with airports not ready in time for the event's kickoff on June 12 in São Paulo, where the host nation will take on Croatia.
Six out of 10 Brazilians polled recently said the Cup was bad for the economy, and protests last year that used the World Cup as a focal point of popular anger drew more than a million people to the streets. This year, unrest and organizational chaos are combining into a potentially disastrous mix that could lead to serious disruption at the monthlong tournament.
Transit workers with SPTrans, the city's transport agency, are demanding a 12.2 percent salary raise, about twice Brazil's yearly inflation. A local court ruled that they can get an 8.7 percent raise, which is what SPTrans was offering, Folha reported, and also imposed a fine on the workers for continuing a strike that the court had ruled illegal.
The São Paulo state metropolitan transport secretary, Jurandir Fernandes, said 61 strikers have been fired for taking part in the illegal strike and added, as quoted by Folha: "The strike must end tonight."
© Copyright IBTimes 2023. All rights reserved.