Strike! UK unions call for Day of Action.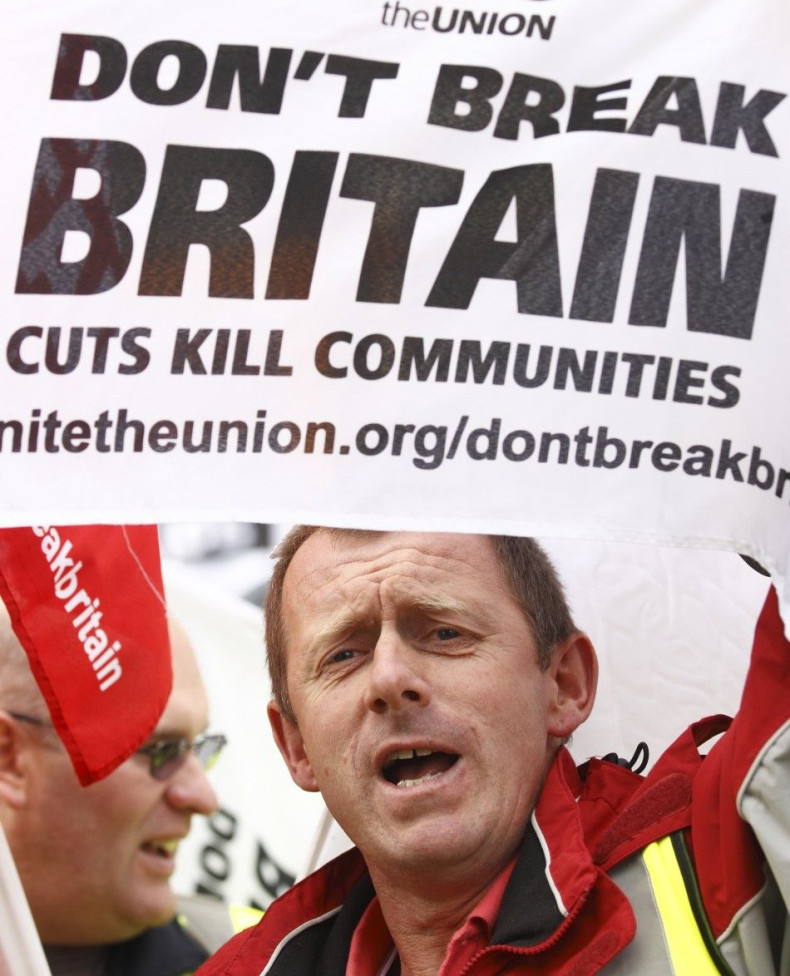 British trade unions have called a national day of action for June 30. Nearly one million public sector workers, including teachers, immigration officials and college faculty will strike for 24 hours and stage demonstrations and pickets across the island nation.
The United Kingdom announced large-scale public sector budget cuts last fall, and has continued to push their financial agenda despite widespread unrest. The most recent argument is over the UK public pension system, and British finance ministers are attempting to raise 2.8 billion pounds ($4.5 billion) by increasing workers' mandatory pension contribution.
The increase would mean that all public workers would have to put a higher percentage of their paychecks into their state-run retirement savings accounts.
Proposed austerity measures could also mean that teachers and other public employees will have to wait until they are 68 to retire, rather than 65, and that they will receive smaller pensions when they do.
There have already been a number of rallies against these and other deficit-reversing plans, but the June 30 demonstration will be the first 24-hour, national strike.
The strike is a collaboration between four large public sector unions: the National Union of Teachers; the Association of Teachers and Lecturers; the University and College Union; and the Public and Commercial Services Union, who says its members are essential to the day-to-day running of the country.
All of the unions would be affected by the government's budgetary measures, and in each case union members voted overwhelmingly to strike.
Our members are faced with everything they have ever worked for being taken away from them, PCS spokesman Richard Simcox told IBTimes. This can't be right and cannot go unopposed
An expected 750,000 people all across Great Britain will walk off from their jobs on the Thursday. British authorities are not yet sure how damaging the workers strike will be economically, but the government is attempting to negotiate with union leaders before June 30.
Chief Secretary to the Treasury and former cabinet minister Danny Alexander has threatened to deepen the cuts if the strikes go ahead as planned.
It is an outrageous suggestion that undermines the negotiations at a stroke and flies in the face of the government's media spin that they are committed to the process. It exposes the fact that the talks are a farce, said Simcox.
[Alexander's] actions, in line with the way the government has conducted itself from the outset, are totally unnecessary and are deliberately provocative, calculated to stoke a confrontation with public servants - which is a deeply irresponsible way for a government to behave. Frankly, it smacks of political immaturity, the union representative continued.
Alexander is currently in negotiations with union heads and is trying to convince them to agree to a plan proposed by former Labour cabinet minister, Lord Hutton.
People in this country are living longer - we're seeing longevity increase by 10 years since the 1970s, and that's predicted to go further in the future, Alexander told BBC Radio 4.
That's why we're increasing the state pension age - it will go up to 66 from 2020 - and that's why we're recommending there is an increase in pension contributions.
All other proposals aside, an increase in contributions would mean that pensioners would have more money during retirement. This is certainly a positive, but especially good if the pool of money needs to last for longer than expected. Many retirement companies in the United States push 401(k) and pension participants to contribute the maximum amount allowed each month in order to get the most out of their long term investment.
But, the National Union of Teachers says that a forced increase isn't financially possible for all professionals. NUT said that many of their members cannot afford to increase their contributions, and fear that many teachers will leave the retirement scheme or even the profession all together.
The Government should stick to the agreements made in 2007, not try to ride roughshod over them, NUT stated.
Both the talks and the demonstrations are expected to continue into autumn. It is likely that more strikes will take place as other unions take member-votes, and walk outs of one million or more workers may happen this summer.
The government are [sic] making everyone else pay for a crisis caused by the bankers. They've targeted students, pensioners, people with disabilities, the unemployed, NHS workers and patients, and now they are attacking teachers and other civil servants, British activist organization UK Uncut said in a statement.
UK Uncut is supporting the unions and all picketers with an event called The Big Society Breakfast. Volunteers will bring tea and breakfast food to strikers on the morning of the 30th. They are also planning a satirical field day, in which bankers and public sector workers will compete in a number of events, including a pillow fight, a water fight, a mud-slinging contest and a soccer game.