Student Protests in Montreal Turn Violent On 100th Day Of Protests Against Quebec Tuition Hikes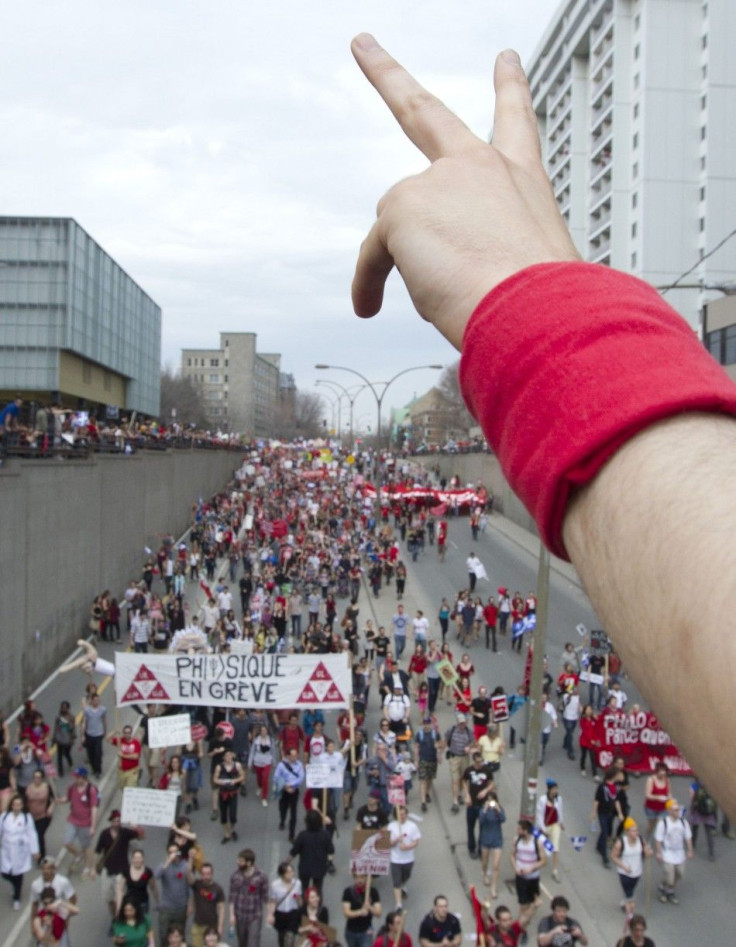 Thousands of Canadian university students in Montreal marked the 100th day of protests against tuition hikes Tuesday.
Student groups in Montreal and throughout university campuses in Quebec, which currently have the lowest tuition rates in Canada, have been protesting against a proposed increase of 80 percent over the next seven years, BBC reported.
An estimated 150,000 protesters appeared in the streets of Montreal Tuesday, bearing red banners and clothing, the chosen color of the student movement. They were joined by lawyers and labor unions, following the Quebec provincial government's passing of a controversial law last week designed to regulate public assemblies.
Bill 78 requires any protest group larger than 50 people to notify local authorities eight hours in advance with a detailed agenda and allows police to order protesters to change locations of public assembly, among other provisions. The law immediately drew criticism from the Quebec Bar Association and labor groups.
I believe this bill ... constitutes a violation of the constitutional and fundamental rights of citizens, said Quebec lawyer Louis Masson in a statement. The extent of the limitations to fundamental freedoms is not justified to achieve the objectives of the government.
The protest on Tuesday remained relatively peaceful, though many groups broke off from the main assembly in defiance of Bill 78's requirement that they adhere to a previously submitted agenda.
We don't care about the special law! some protesters chanted as they marched through the streets away from the larger procession.
The protest devolved into violence after police declared the assembly unlawful at 9:30 p.m., citing the deviation of splinter groups from the approved agenda and attacks on police officers.
They didn't share the route, demonstrators were wearing masks and projectiles were thrown at police officers, the Montreal Police posted on its Twitter feed.
Police used pepper spray against some protesters, making at least 100 arrests. Two police officers were reported injured, and at least four people were taken to the hospital, the Associated Press reported.
Over the course of three months of protests, more than 2,000 people have been arrested, 300 alone in the days following the passing of Bill 78 and other legislation meant to regulate protesters.
Quebec's Liberal Party government under Premier Jean Charest has blamed hard-line activists for inciting violence at protests, particularly the CLASSE student group and the Black Bloc anarchist contingent, and defended recent legislation to keep them in line.
The Charest government has chosen the track of repression rather than the track of discussion, Leo Bureau-Blouin, president of the moderate FECQ student group, told reporters before the violence broke out Tuesday evening.
© Copyright IBTimes 2023. All rights reserved.
FOLLOW MORE IBT NEWS ON THE BELOW CHANNELS