Suicide Blast Near US Base In Afghanistan Reportedly Kills At Least 17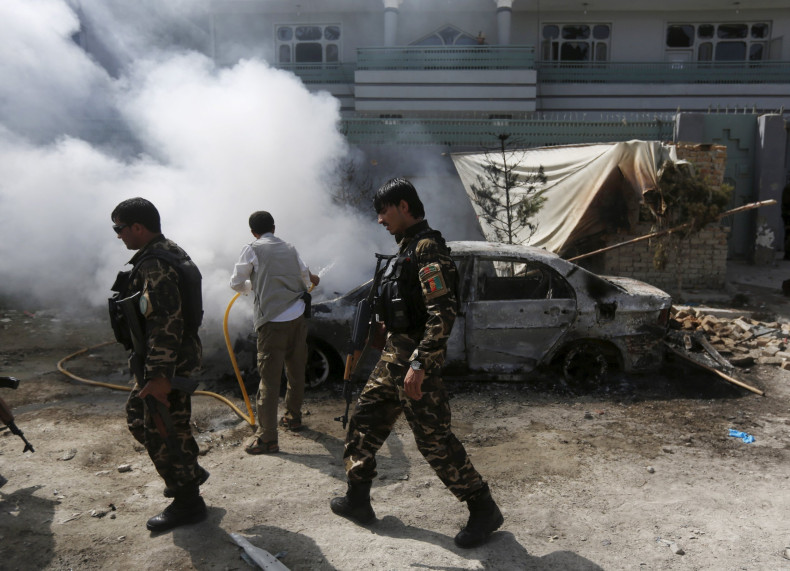 A bomb detonated near a U.S. military base in eastern Afghanistan, near the Pakistani border, killing around 20 people people Sunday, news agencies reported. Afghan police told reporters a suicide car bomb went off in Khost province, near the Camp Chapman base, which houses Afghan and U.S. military forces. Faizullah Ghairat, police chief of Khost city, told Agence France-Presse the bomb went off near the base's entrance. The blast occurred around 7 p.m., local time, as residents were breaking their fast for Ramadan, Al Jazeera reported.
There were conflicting accounts of the number of casualties: Ghairat estimated the death toll at 25, while a Khost doctor told AFP there were 18 deaths counted. Meanwhile, the Associated Press cited the province's health director, Dr. Hedayatullah Hamedi, who reported 17 deaths, among them several women and children. Six additional civilians are wounded, two of them in critical condition, Hamedi added. Officials have not yet revealed the identities of those killed, but Al Jazeera reported all of those killed are believed to be Afghan.
NATO offocials earlier told the AP it knew of an explosion but did not comment further on the nature of the incident.
No groups have yet claimed any responsibility for the attack, which comes months after the Obama administration declared an end to the U.S. combat mission in Afghanistan. The White House is planning a complete withdrawal of U.S. troops from the country by the end of 2016, leaving security in the hands of Afghan forces.
Camp Chapman came under attack in 2009 in a suicide operation that resulted in the deaths of seven employees of the U.S. Central Intelligence Agency, including five officers and two contractors. The Pakistani Taliban and al-Qaeda claimed responsibility for that attack.
© Copyright IBTimes 2022. All rights reserved.