Suicide Rates More Than Doubled Among Soldiers Serving The Israel Defense Forces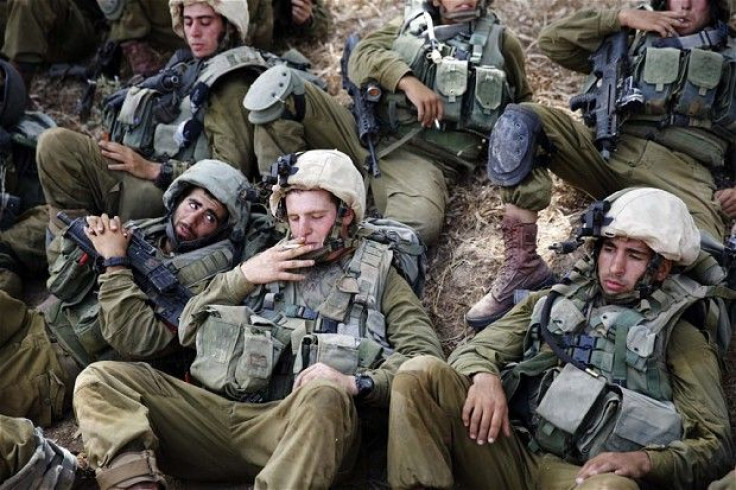 The total number of soldier suicides in the Israel Defense Forces has more than doubled in 2014 -- one year after the soldier suicide rate fell to a historic low, according to a report released Friday. The Israeli military denied any connection between the sharp increase and the Israel-Gaza conflict, the Jerusalem Post reported.
Seven Israeli soldiers committed suicide in 2013. Since then, 15 soldiers have taken their own lives, according to the military's latest figures. Officials told local media there's no evidence that links the growing rate to last summer's Gaza war. "We have not noticed any link between cases of suicide and army operations," a senior officer in the IDF's Personnel Directorate reportedly said, adding that the army is "doing all it can" to prevent suicides.
The IDF claimed that the overall trend in suicide cases has dropped. The Israeli army reported the lowest suicide rates in IDF history last year, during which the number of suicides reduced by half from the previous year. Excluding the latest figures from 2014, there has been a 75 percent decrease in IDF soldier suicides since 2010, when 28 soldiers took their own lives, according to the Jerusalem Post. An analysis of 2009-2011 data showed the primary cause of death among IDF soldiers was suicide, Haaretz reported.
"Our activities, including a computerized system giving commanders preliminary information about a soldier, reducing availability to weapons, [and] passing on values and messages to choose life, are what reduced the phenomenon of suicides to its lowest point ever," Brig.-Gen. Moshe Alush, the IDF Personnel Directorate's chief of staff, told the Jerusalem Post last year.
Israel launched an offensive operation in the Hamas-controlled Gaza Strip on July 8, with the goal of stopping Palestinian rocket fire into Israeli territory. Hamas, a Palestinian Islamic organization deemed a terrorist group by several countries, including Israel and the United States, "strives to raise the banner of Allah over every inch of Palestine," according to the group's 1988 covenant.
More than 2,000 Palestinians -- mostly civilians -- and 63 IDF solders were killed during Operation Protective Edge. Israeli airstrikes in Gaza have devastated the area and displaced about 425,000 people, according to Reuters. "We will continue to seek out and target Hamas leaders anywhere, and everywhere -- wherever they are," Israeli Defense Minister Moshe Ya'alon reportedly said over the summer.
© Copyright IBTimes 2023. All rights reserved.
FOLLOW MORE IBT NEWS ON THE BELOW CHANNELS