Abbas: Palestine To Join International Criminal Court, Will Seek War Crimes Charges Against Israel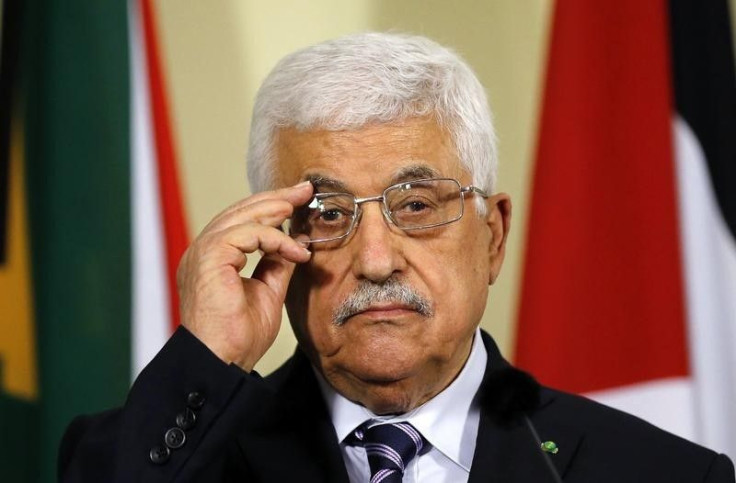 Palestine has joined the International Criminal Court and will seek war crimes charges against Israel for its actions in Gaza over the summer, Palestinian President Mahmoud Abbas said Wednesday, according to the Associated Press. He signed the Rome Statute, the founding document of the ICC, and 19 other international conventions, a day after the United Nations Security Council failed Tuesday to adopt a resolution calling for Israeli withdrawal from Palestinian territory.
Israeli Prime Minister Benjamin Netanyahu threatened in response to "take measures," without specifics, Reuters reported, and Palestinian leaders did not specify when or how they will pursue a case against Israeli leaders, or which Israelis they will seek charges against. The ICC calls itself "a court of last resort" that specifically hears cases of "serious international concern" like genocide, crimes against humanity and war crimes. The ICC member parties unanimously recognized Palestine as an observer state earlier this month.
More than 2,000 Palestinians and 66 Israelis died in the 50-day conflict in the Gaza Strip from July to August of this year. Most Palestinian victims were civilians, while most Israelis who died were soldiers. The U.N. Office for the Coordination of Humanitarian Affairs reported that around half a million Gazans were displaced from their homes. Amnesty International accused Israel of war crimes for a series of actions during the conflict, which Amnesty said were "carried out deliberately and with no military justification," according to the BBC.
Israel is not a party to the ICC and warned that if Palestine joined, it would complicate peace negotiations. The Palestinian Mission to the U.N. maintains that it is committed to peacefully and diplomatically resolving its decades-old conflict with Israel.
Palestinian Ambassador to the U.N. Riyad Mansour called joining the ICC "a legal step, a diplomatic, political, civilized, peaceful step – in order to seek accountability and seek justice for our people and follow Israeli leaders who are responsible for committing crimes against the Palestinian people, including war crimes," according to the Jerusalem Post.
© Copyright IBTimes 2023. All rights reserved.