Summer Olympics 2024: Why Experts Warn Los Angeles' Proposed Budget Is Unrealistic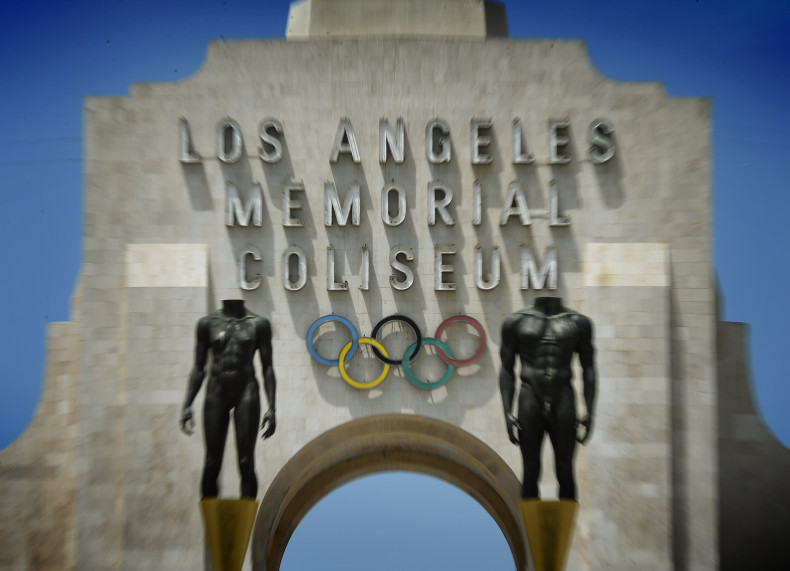 As the U.S. Olympic Committee prepares to select an American city to compete for the right to host the 2024 Summer Games, Los Angeles officials are confident they can once again make history. With an austere $4.1 billion bid, Mayor Eric Garcetti said the City of Angels can replicate its profitable 1984 games and host an Olympics that remains under budget, with little additional cost to local taxpayers.
Hosting the Olympics is increasingly a losing proposition, thanks to budgetary complications and the International Olympic Committee's expectation of lavish facilities and ceremonies. London's budget to host the 2012 Summer Olympics rose from an initial $5 billion projection to about $15 billion, and other recent hosts have experienced similar cost overruns.
Los Angeles' bid includes the use of existing high-end sporting venues and relies on sponsorship and broadcast revenue to cover costs, the Los Angeles Times reported. Even so, experts are warning that the city's projections are unrealistically low.
"If you're talking about a democratic country, where the books are open and so on, everybody's underbid," said Jonathan Crompton, a university distinguished professor at Texas A&M's Department of Recreation, Park and Tourism Sciences. "They've always underestimated the amount."
The USOC was forced to seek other options after officials in Boston -- the city initially chosen to represent the country in the 2024 bidding process -- dropped their bid. Like Los Angeles, Boston's pitch placed the city's expected budget at between $4 billion and $5 billion. Almost immediately, the local electorate expressed concern that the budget could balloon. Ultimately, Boston Mayor Marty Walsh was unwilling to sign the IOC's charter, which requires host cities to cover budget overruns.
With Boston out of the running, the USOC reopened the competition to the cities that previously lost out -- Los Angeles, Washington and San Francisco. This week, Garcetti confirmed Los Angeles would once again seek 2024 hosting rights, with a $4.1 billion budget that included a $400 million contingency to cover any overages, the Associated Press reported. U.S. Olympic officials have until Sept. 15 to present an American city's bid to the IOC.
Garcetti's Olympics team isn't just confident in its ability to stay on budget -- it actually predicts a $150 million surplus, thanks to projected windfalls from sponsorships and broadcast rights deals.
Los Angeles has a major advantage over recent Olympic host cities like Athens, Greece, and London, which saw initially frugal budgets expand out of control due to the construction of entirely new Olympic stadiums. Athens' projected budget more than doubled to between $10 billion and $15 billion before the 2004 Summer Games, only for its new stadiums to fall largely out of use after the two-week extravaganza ended. London experienced similar problems amid attempts to upgrade infrastructure in its East End neighborhood.
Unlike those cities, Los Angeles has a network of existing stadiums that should be ready for use after some simple renovations. The city's initial 2024 bid identified the L.A. Memorial Coliseum -- which served as the main arena for the 1932 and 1984 Summer Games -- the Staples Center and the Stubhub Center in nearby Carson, California, as just a few of the venues that could host Olympic events. In all, Los Angeles projects it will need about $1.5 billion to perform upgrades on about 30 prospective sites, the Los Angeles Times reported.
The reuse of existing facilities allowed the Los Angeles-hosted 1984 Summer Olympics to achieve a surplus, which made the city one of the few in Olympic history to turn a profit on the games. As long as Los Angeles sticks to its frugal budget and doesn't attempt to match the lavish ceremonies of Beijing's 2008 Summer Olympics, there's no reason to believe the city won't achieve a similar outcome if awarded hosting rights in 2024, said Lisa Delpy Neirotti, an associate professor of sports management at George Washington University in Washington, D.C.
"They've done it before. They made $250 million [in 1984]," Neirotti said. "The money that's flowing in to the Olympics is even more than it was in '84, and I'm pretty sure they can come in and make a lot of money again."
Of course, past hosts of the Summer Olympics didn't expect to go over budget, either. Any number of issues -- from an unexpected need to overhaul local transit systems to construction delays to security -- can cause costs to expand beyond expectations. Olympic security regularly costs hundreds of millions of dollars, especially in today's uncertain political climate.
Officials in Rio de Janeiro, Brazil, site of the 2016 Summer Olympics, have already begun to feel the financial crunch. Rio's bid included vows to clean up the city's decades-old water pollution problem and to upgrade transportation infrastructure. Less than 365 days from the 2016 opening ceremony, the city has fallen far short of its environmental goals, even as its Olympic budget rose from $2.3 billion to more than $13 billion.
The Southern California Committee on the Olympic Games said projected expansion of Los Angeles' rail system would allow "80 percent" of Olympic spectators to arrive at the Games through public transportation, bid documents say. But what if those systems aren't ready for use, or aren't equipped to handle the masses of humanity that flood an Olympic host city?
For Olympic cities, cost overruns have become the rule, not the exception. Even Garcetti, for all his optimism, admitted they were possible. He told the Los Angeles Times that he "cannot eliminate risk," but added, "On a one-to-five hot scale, one being the coldest, my personal assessment, for what it's worth, is about a one."
Los Angeles has the track record to back up its boasts. But the city has yet to provide a step-by-step plan as to how it will specifically prepare to host the 2024 Games, and it wouldn't have a real idea about the accuracy of its proposed budget until it's in the thick of preparations, said Stefan Szymanski, co-director of the University of Michigan's Center for Sport Management, and noted expert on the economics of the Olympics. And at that point, it would be too late to make a difference.
"Since it is suspended in thin air, without any supporting description, as far as I can see at the moment, of how, what, where, you just can't take it terribly seriously," Szymanski said. "When there's a plan, when we see a document, then we can start to have a genuine discussion whether this will work and what the pitfalls might be. But at the moment, if he says $5 billion, it could be $25 billion."
© Copyright IBTimes 2022. All rights reserved.