Sunita Williams, Expedition 33 Crewmates All Set To Descend On Earth (VIDEO)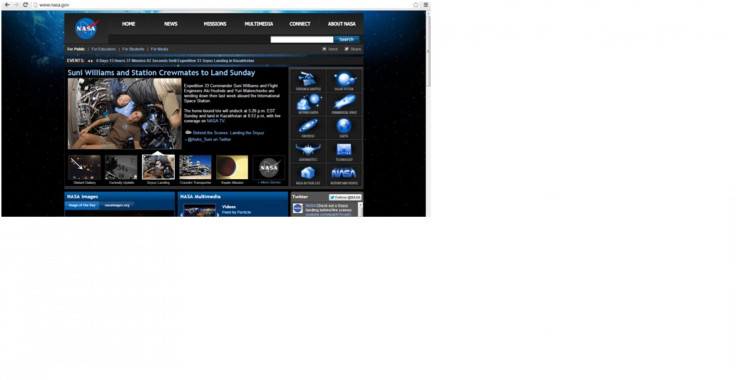 Sunita Williams, commander of International Space Station Expedition 33, ceremonially handed over command of the Station to fellow NASA astronaut Kevin Ford Saturday, on the eve of her departure from the complex to Earth.
"We have left the ship in good shape and am honored to hand over to Kevin as we are going soon home and the ship is again in good hands," Williams said while handing over the command, according to the Press Trust of India (PTI).
Along with Aki Hoshide of the Japan Aerospace Exploration Agency and Russian Soyuz Commander Yuri Malenchenko, Sunita Williams is scheduled to undock from the Space Station at 5:26 p.m. EST Sunday.
Setting the record for woman astronaut with the longest stay in space, Sunita Williams spent her afternoons preparing hardware to upgrade wireless access plugs for station's network at the local area, Truthdive has reported, adding, she had a radio chat with science students in Gujarat, India, while readying for the departure.
Earlier, the mission chiefs completed review of Soyuz TMA-05M for landing. Ford, who has served as an Expedition 33 flight engineer since arriving at the station Oct. 25, will become commander of Expedition 34, NASA said in a statement, adding that Soyuz TMA-05M carrying Williams, Hoshide and Malenchenko is scheduled for landing in the steppe of Kazakhstan several hours later.
Their return wraps up 127 days in space since their launch from Kazakhstan on July 15, including 125 days spent aboard the station.
NASA Television is all set provide coverage throughout Sunday of Expedition 33 crew's departure and landing. The schedule as shared in the NASA statement reads:
1:45 p.m. EST -- Farewells and hatch closure (hatch closure scheduled at 2:10 p.m. EST)
5 p.m. EST -- Undocking (undocking scheduled at 5:26 p.m. EST)
7:30 p.m. EST -- Deorbit burn and landing (de-orbit burn scheduled at 7:58 p.m. EST; landing scheduled at 8:53 p.m. EST, 7:53 a.m. Monday, Kazakhstan time)
10 p.m. EST -- Video File of hatch closure, undocking and landing activities
Ford and his crewmates, Flight Engineers Oleg Novitskiy and Evgeny Tarelkin, comprising Expedition 34 will tend to the station as a three-man crew until December.
NASA astronaut Tom Marshburn, Canadian Space Agency astronaut Chris Hadfield, and Russian Federal Space Agency cosmonaut Roman Romanenko are scheduled to launch from the Baikonur Cosmodrome Dec. 19 and dock the station two days later for a five-month stay marking the beginning of Expedition 35.
<script type="text/javascript" src="http://cdn-akm.vmixcore.com/vmixcore/js?auto_play=0&cc_default_off=1&player_name=uvp&width=512&height=332&player_id=1aa0b90d7d31305a75d7fa03bc403f5a&t=V0bkiZMmRDpqVtL8HwzFaig1xkLa-IwDhM"></script>
© Copyright IBTimes 2023. All rights reserved.