Sunni Insurgents Seize Mosul, Iraq's Second Largest City [PHOTO]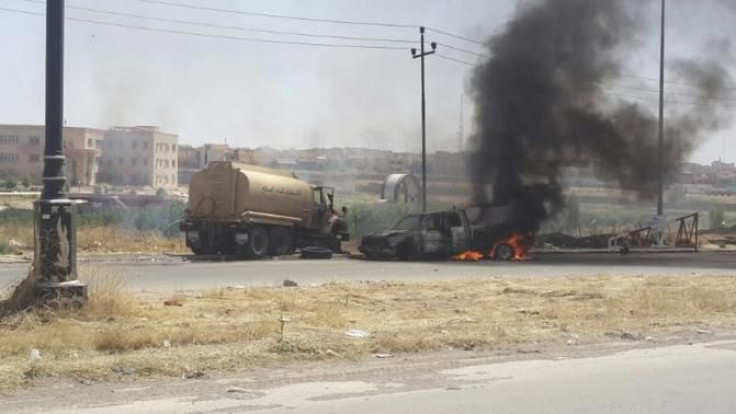 UPDATE 11:43 a.m. EDT: Iraqi Prime Minister Nouri al-Maliki offered weapons and equipment to Iraqis who pledge to battle insurgents in Mosul, Al Aribiya News reported. In a televised address, al-Maliki said his cabinet "created a special crisis cell to follow up on the process of volunteering and equipping and arming."
UPDATE 11;35 a.m. EDT: The UN-affiliated International Organization for Migration in Iraq estimates that 500,000 Iraqis evacuated Mosul and surrounding areas since the weekend. "As of the morning of [June 10], IOM sources located in Mosul have reported that 500,000 Iraqis have fled the city after the complete takeover of the city by [armed opposition groups], and fear of increasing violence" the organization reported in a situation update.
UPDATE 10:41 EDT: About 150,000 Mosul residents were beleived to have left the city following the seige, according to the BBC. Camps have been set up for the refugeees in nearby towns.
Photos showed the chaotic scene as some residents decided to abandon their cars:
Another photo shows a group leaving the city as smoke billows in the background:
Original story:
Sunni insurgents took control of Iraq's second largest city Tuesday as Iraqi police officers and soldiers abandoned their weapons, vehicles and uniforms during the operation.
Militants believed to be with the al-Qaeda-linked extremist group Islamic State of Iraq and the Levant reportedly controlled Mosul in northern Iraq by noon Tuesday, the New York Times reported. The Sunni militants seized army bases, the provincial governor's building and a jail, freeing inmates, Iraqi soldiers told the newspaper.
"They took control of everything, and they are everywhere," a soldier named Haidar, who only gave his first name, told the Times.
The Sunni militants, numbered in the hundreds, were armed with rocket-propelled grenades, sniper rifles and machine guns. They destroyed police station and also seized control of the airport, the BBC reported.
Iraqi soldiers and police reportedly fled their posts and even shed their uniforms as they tried to escape as the insurgents got closer to their positions, according to the Washington Post. Osama Nujaifi, Iraq's speaker of parliament, went so far as to say all of Mosul was under insurgent control.
"When the battle got tough in the city of Mosul, the troops dropped their weapons and abandoned their posts, making it an easy prey for the terrorists," he told a news conference in Baghdad. "Everything is fallen. It's a crisis. Having these terrorist groups control a city in the heart of Iraq threatens not only Iraq but the entire region."
Militants began their assault on Mosul Friday, with thousands of citizens fleeing Iraq's second largest city in the wake of that attack. Thousands more citizens fled late Monday night as the insurgents started taking the upper hand in their clash with Iraqi soldiers and police officers.
Nujaifi urged the international community for support to retake Mosul.
"This will reach every corner of Iraq if it doesn't stop," he said. "We need a fast reaction to stop this terrorism."
Iraqi Prime Minister Nouri al-Maliki urged parliament to declare a state of emergency in wake of the attack, Reuters reported.
© Copyright IBTimes 2023. All rights reserved.
FOLLOW MORE IBT NEWS ON THE BELOW CHANNELS