Super Bowl 2020 Ratings: How Many People Will Watch Kansas City Chiefs vs. San Francisco 49ers?
Super Bowl LIV will undoubtedly be the most-watched television show in the United States in 2020. But exactly how many people will watch the game between the Kansas City Chiefs and San Francisco 49ers?
Sunday's viewership will be in the neighborhood of 100 million people. The game itself might determine whether or not the final number surpasses nine digits.
The New England Patriots and Los Angeles Rams played one of the worst games in Super Bowl history a year ago, combining to score a record-low 16 points. The 2019 Super Bowl drew 98.19 million TV viewers and a 41.1 rating, according to Sports Media Watch, marking the game's lowest viewership in 11 years.
The 2015 Super Bowl is considered by many to be the greatest of all-time. The Patriots came back from a 10-point deficit in the fourth quarter to beat the Seattle Seahawks 28-24. The contest went down to the wire as Russell Wilson threw a goal-line interception to Malcolm Butler. A record 114.4 million viewers tuned in on television.
Super Bowl viewership has declined each year since the 2015 Super Bowl.
The Denver Broncos' 24-10 win over the Carolina Panthers drew 111.86 million TV viewers in 2016. The viewership was nearly the same in 2017 when 111.32 million people watched the Patriots beat the Atlanta Falcons in overtime. Viewership plummeted to 103.39 million in 2018, despite an exciting 41-33 game between the Philadelphia Eagles and Patriots.
Over 100 million people watched the Super Bowl on TV each year from 2010-2018. Each of the last 29 Super Bowls has drawn a rating north of 40.0.
Streaming numbers have steadily increased since they started being tracked in 2012. The 2019 Super Bowl surpassed 100 million viewers if those numbers are included.
Just over two million people streamed the 2018 Super Bowl. That number moved to 2.6 million in 2019.
NFL ratings for the 2019 regular season rose about five percent from the previous season. That increase wasn't reflected in the conference title games.
The 2020 AFC Championship Game drew 41.1 million viewers, compared to the 53.9 million people that watched the year prior. The NFC Championship Game went from 44 million viewers in 2019 to 43.6 million viewers this year.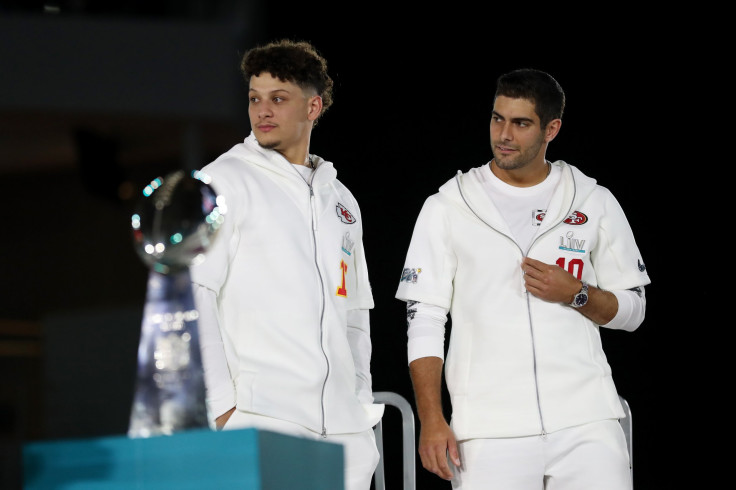 © Copyright IBTimes 2023. All rights reserved.
FOLLOW MORE IBT NEWS ON THE BELOW CHANNELS