Super Typhoon Haiyan Aftermath In Photos: Typhoon Yolanda Devastates Philippines, Leaves Trail Of Destruction In Its Wake [PHOTOS]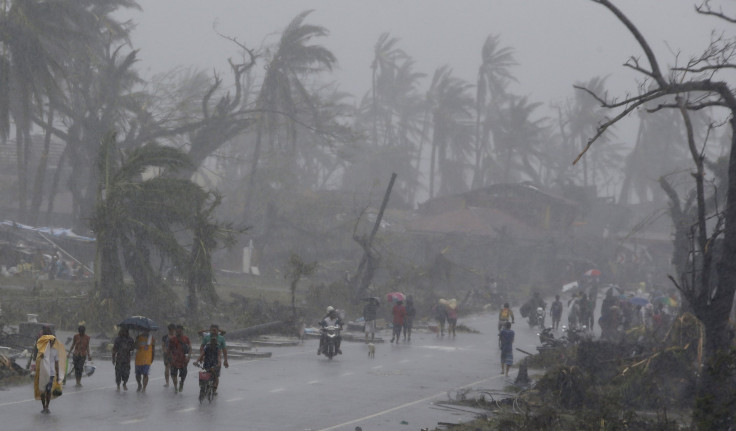 Super Typhoon Haiyan tore through the Philippines Friday, flattening entire neighborhoods, washing away homes and buildings, cutting power and scattering debris for miles. The massive typhoon, one of the worst storms ever recorded, affected more than 4.28 million people in 270 towns and cities, according to the Philippines Social Welfare and Development Department. The death toll is expected to exceed 10,000 people. Hundreds of thousands more have been displaced.
Typhoon Haiyan, also called Typhoon Yolanda, hit the Philippines' eastern seaboard on Friday. Winds reached 235 kmh (147mph), with gusts even higher, and waves were as high as 15m (45ft), The BBC reported. The storm brought nearly 400mm (15.75 inches) of rain in some places.
According to The Associated Press, the hardest hit region of the Philippines was Leyte Island, whose provincial capital of Tacloban was left devastated by the powerful storm. "Yolanda cut through Tacloban like a scythe, sending walls of water across the downtown area in a furious rush, toppling power lines and felling houses, wrecking trucks and cars totally and, in many cases, ending lives," Philippine Daily Inquirer reported.
According to The BBC, city officials in Tacloban are struggling to bring aid to the people who need it most. Residents were beginning to bury their dead in mass graves, and there is no clean water, electricity and little food for those who did survive the storm surge.
"Tacloban is totally destroyed. Some people are losing their minds from hunger or from losing their families," high school teacher Andrew Pomeda told AFP. "People are becoming violent. They are looting business establishments, the malls, just to find food, rice and milk... I am afraid that in one week, people will be killing from hunger."
According to NBC News, authorities with the National Disaster Risk Reduction and Management Council, or NDRRMC, of the Philippines, have begun to list the dead by their names and regions. They cite the causes of death in most cases as drowning, falling debris or electrocution.
"We had a meeting last night with the governor and the other officials. The governor said, based on their estimate, 10,000 died," chief superintendent Elmer Soria, a regional police director, told Reuters on Sunday. "The devastation is so big."
"The devastation is … I don't have words for it, it is really horrific," the country's interior minister Mar Roxas said in Tacloban, according to NBC News. "All systems, all vestiges of modern living, communications, power, water, all are down." If the death toll from Typhoon Haiyan is confirmed, it would be the Philippines' deadliest natural disaster on record, according to USA Today.
President Obama expressed his condolences to the victims of the typhoon. "Michelle and I are deeply saddened by the loss of life and extensive damage done by Super Typhoon Yolanda," he said in a statement. "The United States is already providing significant humanitarian assistance, and we stand ready to further assist the government's relief and recovery efforts. Our thoughts and prayers go out to the millions of people affected by this devastating storm."
The storm has now reached Vietnam, but has weakened. USA Today reported that winds had dropped to 75 mph, and is forecasted to miss much of the country.
© Copyright IBTimes 2023. All rights reserved.