Supreme Court Gay Marriage Ruling: What Al Sharpton, Civil Rights Leaders Said About Decision Legalizing Same-Sex Unions Across The US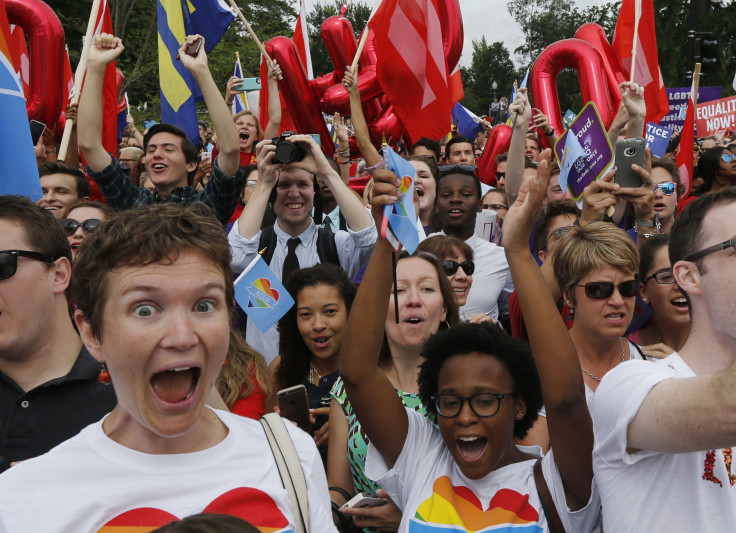 The civil rights community on Friday welcomed the decision from the U.S. Supreme Court legalizing same-sex marriage nationwide and linked the ruling's relevance to a larger struggle for racial and socio-economic equality. On a day that many of the leaders were in Charleston, South Carolina, to attend the funeral of Clementa Pinckney, the pastor killed in a hate-fueled shooting there last week, activists also said the battle for true equality was far from over.
"Today we can celebrate that the principles of justice and equality under the law won," the Rev. Al Sharpton, president and founder of the National Action Network, said in statement released after the court's 5-4 ruling on marriage.
On Friday, the justices ended a nearly two-decade battle between the lesbian, gay, bisexual and transgender community and religious conservatives over marriage equality, ruling that the 14th Amendment to the Constitution requires all states to grant marriage licenses to same-sex couples, and to recognize same-sex unions legally performed in other states. But that victory for the LGBT community came as the nation continued to mourn the nine black worshippers gunned down June 17 by a white, professed racist at Charleston's Emanuel African Methodist Episcopal Church.
Sharpton was in Charleston for Pinckney's funeral, which President Barack Obama, first lady Michelle Obama and other dignitaries were expected to attend. "We still have a long way to go, and as the tragedy in South Carolina last week devastatingly showed, the march toward progress and civil rights nationwide continues," Sharpton said in the statement. "As a nation, we must carry the momentum from the highest court in the land and fight against discrimination in all its forms and make sure that all Americans -- no matter whom they love, their class or color -- can exist freely and equally."
Leaders of the National Council of La Raza (NCLR), the country's largest Hispanic civil rights organization, said they were pleased that the court sided with a majority of Americans who believe gay and lesbian couples should have all the rights, benefits and protections that straight couples have under the law.
"The decision handed down today ends once and for all an injustice that millions of Americans have endured," Janet Murguía, the president and CEO of NCLR, said in a statement released Friday. A 2012 NCLR study found a majority of Hispanic-Americans were as tolerant, "if not more tolerant," of same-sex marriage and civil unions than the general population. The study also showed Latinos were increasingly supportive of legal protections for hate crimes and job discrimination against LGBT individuals.
Wade Henderson, president and CEO of the Leadership Conference on Civil and Human Rights, heralded the Supreme Court decision Friday as "a transformative day in American history." But he noted that it was still not against federal law or the laws of more than two dozen states to discriminate against LGBT individuals because of sexual orientation and gender identity.
"While today's ruling ushers in a new era of acceptance and family security for LGBT Americans, it also highlights the blunt denial of basic rights -- in access to employment, housing, public accommodations, education, and credit -- that are still being denied in too many states across the nation," Henderson said Friday in a statement.
"Civil rights can only be measured by a single yardstick and our nation can no longer settle for piecemeal solutions to the second-class citizenship of LGBT Americans," he added.
© Copyright IBTimes 2023. All rights reserved.
FOLLOW MORE IBT NEWS ON THE BELOW CHANNELS