Supreme Court Will Consider Legalizing Gay Marriage In January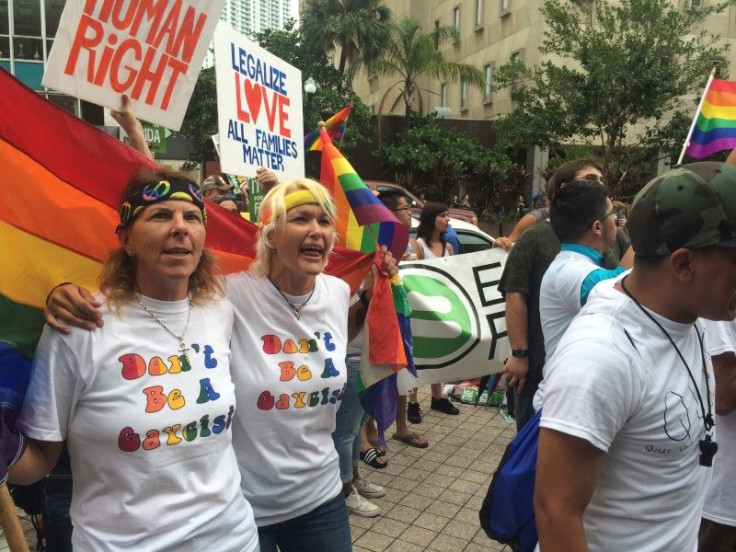 The U.S. Supreme Court will announce whether it will consider legalizing same-sex marriage nationwide as early as January. Supreme Court justices are to meet privately Jan. 9 to debate whether to review five marriage equality appeals, according to an update Tuesday of the court's online docket. If the justices take on one of the five pending cases, a ground-breaking decision on the national issue could be expected by June, Bloomberg News reported.
Cases in Ohio, Michigan, Kentucky, Tennessee and Louisiana are testing gay marriage bans. Same-sex couples can legally marry in 36 U.S. states -- most recently in Florida -- plus the District of Columbia.
In October, the Supreme Court declined to decide whether states can prohibit gay marriage. The high court rejected appeals in cases involving five states that had outlawed same-sex marriage, which allowed lower-court rulings that overturned those bans to take effect in Utah, Oklahoma, Wisconsin, Indiana and Virginia. The nine justices did not explain why they refused to take on the cases, Reuters reported. However, the high court's decision not to hear the appeals allowed the court essentially to sidestep the underlying problem, which requires a national ruling on same-sex marriage to resolve the constitutional issue definitively.
Justice Ruth Baeder Ginsburg has said she sees no need for the high court to review marriage equality cases right now because lower courts have ruled unanimously for the freedom to marry. "If there had been a court of appeals on the other side, we probably would have taken that case," Ginsburg said at the 92nd Street Y in New York City. "But up until now, all of the courts of appeal agree, so there is no crying need for us to step in."
But advocates on both sides of the debate are pursuing Supreme Court review of the matter, Bloomberg News reported. State officials defending their bans argue the U.S. Constitution does not determine how states should interpret marriage. Marriage equality activists argue gay marriage is a constitutional right and laws barring same-sex marriage violate the Constitution.
U.S. President Barack Obama opposed gay marriage until 2012 when he said his views were "evolving" and states should decide the issue, CNN reported. Recently, Obama said he believes same-sex marriage should be a constitutional right for all Americans across state lines.
"Ultimately, I think the Equal Protection Clause [of the U.S. Constitution] does guarantee same-sex marriage in all 50 states," Obama told the New Yorker in October. "But, as you know, courts have always been strategic. There have been times where the stars were aligned and the court, like a thunderbolt, issues a ruling like Brown v. Board of Education, but that's pretty rare. And, given the direction of society, for the court to have allowed the process to play out the way it has may make the shift less controversial and more lasting."
In a historic 4-3 split decision, the Massachusetts Supreme Court ruled Nov. 18, 2003, that there was no legitimate reason to prohibit same-sex couples from marriage. As a result, Massachusetts became the first state to legalize same-sex marriage.
"The marriage ban works a deep and scarring hardship on a very real segment of the community for no rational reason," Margaret Marshall, the court's chief justice at the time, wrote in the decision. "Limiting the protections, benefits, and obligations of civil marriage to opposite-sex couples violates the basic premises of individual liberty and equality under law protected by the Massachusetts Constitution."
© Copyright IBTimes 2022. All rights reserved.
FOLLOW MORE IBT NEWS ON THE BELOW CHANNELS