Massachusetts Gay Marriage Anniversary: An Oral History Of A Court Ruling That Changed The Nation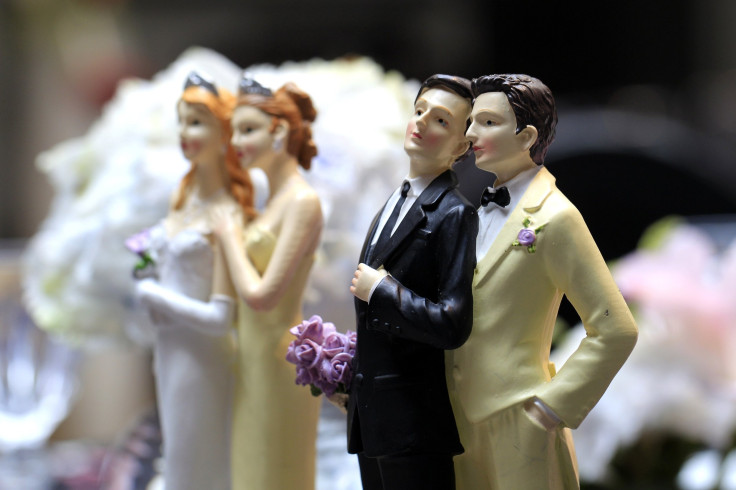 Eleven years ago, Hillary Goodridge checked the Massachusetts Supreme Judicial Court website at 8 a.m., like she had done every morning for months. She and her partner Julie had their interview outfits picked out, knowing it could be any day. As summer faded into a brisk fall, they traded in their linen suits for wool. On Nov. 18, 2003, Julie was getting ready to take their daughter Annie to school when Hillary checked the webpage at 8 a.m. for the court's daily decision postings. "I clicked the button and there it was," Hillary said.
On April 11, 2001, the Goodridges filed a lawsuit with six other same-sex couples against the Massachusetts Department of Public Health, after being denied marriage licenses. While each couple was different -- some were men, some were women, some had children together -- they all had one thing in common: They loved each other.
In a 4-3 split decision, the Massachusetts Supreme Court ruled there was no legitimate reason to ban same-sex couples from marriage. "The marriage ban works a deep and scarring hardship on a very real segment of the community for no rational reason," Margaret Marshall, the court's chief justice at the time, wrote in the decision. "Limiting the protections, benefits, and obligations of civil marriage to opposite-sex couples violates the basic premises of individual liberty and equality under law protected by the Massachusetts Constitution."
The decision changed the nation. Today, same-sex marriage is legal in 33 states plus the District of Columbia. It's constitutionally banned in 17 states.
Prosecuting attorney Mary Bonauto, of Gay and Lesbian Advocates and Defenders, said it took many years and prior cases before Massachusetts was ready to take on gay marriage. "My first week on the job (in 1990), I got a call from two women in Massachusetts who wanted to marry. I turned them down because I thought it was way too early to bring a case at that point," Bonauto said.
Massachusetts was the first state to legalize gay marriage, but before the 2003 ruling there were other hints of change brewing in the United States. Following a 1993 decision by the Hawaii State Supreme Court that ruled refusing marriage licenses to same-sex couples as discriminatory, voters in 1998 approved a constitutional amendment that defined marriage in Hawaii for "one man and one woman," exclusively. The amendment invalidated the 1993 decision and made it impossible to dispute the state's ban on same-sex marriage.
In 1997, Bonauto and two other GLAD attorneys filed a lawsuit in Vermont on behalf of three same-sex couples seeking marriage. Although the Vermont Supreme Court ruled in the couples' favor, the state Legislature was asked to legislate a solution. The solution was the controversial civil unions law in 2000, which granted same-sex couples in Vermont a non-religious, state-sanctioned partnership similar, but unequal to marriage. While the court ruling was ultimately not what they had hoped, Bonauto said it reignited the national discussion on gay marriage rights.
"It was partly disappointing but also extremely important," she said. "It re-engaged people who had made their mind on marriage that there really was a fairness issue here."
Former Boston Phoenix news editor Susan Ryan-Vollmar recalled Bonauto marching into her office on Brookline Avenue in Boston with a folder six-inches-high full of documents. Bonauto had just filed the Goodridge lawsuit and was hoping the alternative newsweekly would cover the case. "She impressed all of us," Ryan-Vollmar said. "But it was one thing in a sea of many things we were covering. We thought, 'OK this is interesting, we'll keep an eye on it' but we figured it would result in civil unions."
Ryan-Vollmar was moved when Bonauto shared the Goodridges' story and it became clear why the Suffolk county couple were chosen to be lead plaintiffs. In 1994, Julie gave birth to Annie via cesarean section with Hillary by her side. But there were complications during the birth and Annie had to be rushed into the neonatal-intensive-care unit. Hillary went to see Annie in the NICU but was denied access because she wasn't considered next-of-kin and the nurses wouldn't recognize her as the mother.
The couple, who met in 1985, didn't consider marriage until after Annie was born when, one night, Hillary was tucking her into bed. "We were talking about love," Hillary said. "I asked her, 'Well, who do we know who loves each other?'" Annie, who was 4-years-old at the time, began naming heterosexual couples. "I said, 'Well what about Ma and Mommy?'" And she said, "'Well, you two don't love each other. If you did, you would be married.' And I thought, wow, she's kind of right," Hillary said.
At the time, the rational for same-sex marriage was based on rights and benefits. But marriage is more than that, Ryan-Vollmar said. "That's not why people want to get married. People get married because they love each other," she said.
Word of the Goodridge lawsuit caught on quickly and ignited a political firestorm in Massachusetts. "The most amazing thing about the case wasn't necessarily the ruling; it was the fight at the Statehouse that unfolded over several years. That was crazy," Ryan-Vollmar said. Mobs of people from all across the state turned up each day at the Suffolk County courthouse to voice their opinion on same-sex marriage. Boston quickly became a politicized epicenter, with passions running high on both sides. "It was a movement that we had never seen before in Massachusetts," Ryan-Vollmar said. "We thought, holey moley this might result in something. When it finally did, we were confused."
On the morning of Nov. 18, 2003, the ruling on Goodridge v. Department of Public Health was posted on the Massachusetts Supreme Court webpage. But the decision wasn't immediately clear to legislators, the media and the public, alike. In the official decision, Marshall concluded: "We declare that barring an individual from the protections, benefits, and obligations of civil marriage solely because that person would marry a person of the same sex violates the Massachusetts Constitution." The decision goes on to state that "entry of judgment consistent with this opinion" would be stayed for 180 days to allow the state Legislature "to take such action as it may deem appropriate in light of this opinion."
Many interpreted the 180-day stay of ruling as an invitation for the state Legislature to implement civil unions as a solution rather than grant marriage licenses, like in the case of Vermont. Ryan-Vollmar, who is now a communications consultant, said she and a Boston Phoenix reporter ran out into the parking lot and listened to a car radio to hear how other newscasters were reporting the decision. Hillary and Julie changed into their interview outfits and called Bonauto for clarification, who picked up a hard copy of the 50-page ruling at the courthouse. Upon studying the full document, Bonauto understood what it meant and called the plaintiffs. "It was earthshaking," Bonauto said.
"Now when I read it, it's perfectly obvious what it's saying and it's absolutely beautiful," Hillary, who is the program director for the Unitarian Universalist Funding Program, said. "She got to the crux of the issue and it was gorgeous."
Massachusetts 180 days later became the first state to officially legalize gay marriage. While there has been immense progress since then, Bonauto said there's still much work to be done. "We haven't won marriage," she said. "We're not going to say we won it until we've won it."
The Goodridges, along with the other six plaintiffs, received their marriage licenses on May 17, 2004, as soon as they were permitted. Although they have since divorced, Hillary and Julie remain close in raising their daughter Annie, who is now 19-years-old.
"Everything that happened [with the lawsuit], we were so focused on that. Of course, it changed us and how could it not," Hillary said. "But we're always going to be Annie's mother."
FOR FREE to continue reading
✔️ Unlock the full content of International Business Times UK for free
offer available for a limited time only
✔️ Easily manage your Newsletters subscriptions and save your favourite articles
✔️ No payment method required
Already have an account?
Log in
© Copyright IBTimes 2023. All rights reserved.