Surface Duo Specs Leaked: Here's What Device Reportedly Features
KEY POINTS
A new report claims to reveal the Surface Duo's alleged specs
The report says the device will have an old SoC because of certain reasons
The report adds that the device will only have one camera
A new report claiming to know the Surface Duo's specs has surfaced on the internet, revealing the upcoming dual-display device's innards for all the world to see. What does it feature?
Previous reports revealed that while Microsoft won't release a dual-display device running on Windows 10X anytime soon, the company is still on track to release the Surface Duo, a dual-display device that runs on Android.
While Microsoft has remained tight-lipped about the Surface Duo's internal components and features, a new report from Windows Central has surfaced, and it claims to know the device's specs and other interesting features. The site acquired this information from unnamed sources. Here's what they said:
Processor
The Surface Duo, unlike most flagships today, will be powered by a Snapdragon 855, not the newer Snapdragon 865. This is because the company didn't know of a certain requirement needed in order to use the 865.
Windows Central's sources said Qualcomm requires tech companies who plan to use the 865 to make room for a 5G chip. Microsoft finalized the Surface Duo's internal design without knowing this requirement, and failed to make room for a 5G modem. Redesigning the device to accommodate such a component will mean throwing away much of the progress Microsoft made.
Some might think of this as a bad thing, but the report says it shouldn't because the 855 is "still an excellent chip with great performance and efficiency." And since it's an older chip, it might lower the device's price also. What's more, the SoC is backed by 6GB of RAM and either 64GB or 256GB of storage.
Camera
Previous reports said Microsoft promised that the Surface Duo will have a "world-class camera." Windows Central's sources, however, said the device will only have one 11MP sensor that will be used for selfies and rear-facing photos and videos. The camera is located above the right display.
Battery
The Surface Duo is said to feature a 3,460 mAh battery. While the number indicates that it is small, Windows Central's "contacts" said it is capable of making the device last through the day. This battery can be fast-charged via USB-C, but current test units don't have wireless charging capabilities.
OS
The device will come running on Android 10, but the sources said it will be updated to Android 11 quickly.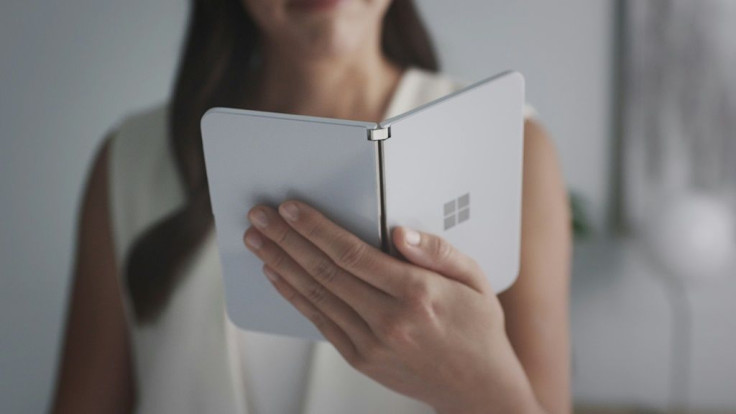 © Copyright IBTimes 2023. All rights reserved.