Surgeon General Nominee Dr. Vivek Murthy Confirmed By Senate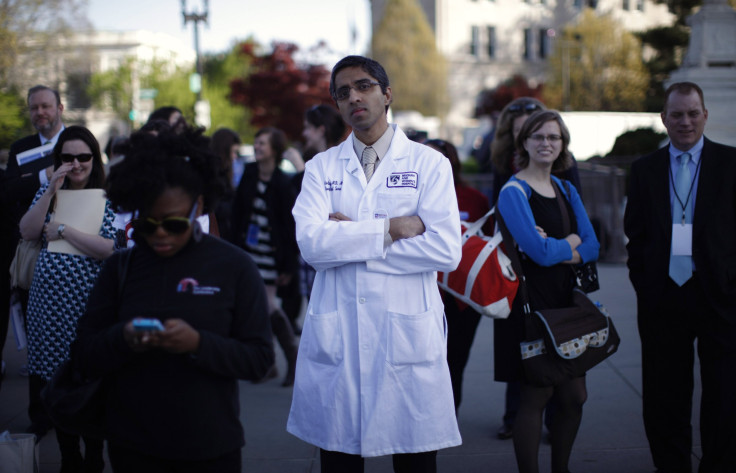 America has a surgeon general for the first time in more than a year after the U.S. Senate confirmed Dr. Vivek Murthy to the post Monday. Murthy's nomination suffered setbacks after he said guns are a public health issue, which fueled Republican opposition. Murthy was confirmed by a vote of 51-43.
"Vivek's confirmation makes us better positioned to save lives around the world and protect the American people here at home," President Barack Obama said in a statement.
There hasn't been a permanent surgeon general since July 2013, when Murthy was first nominated, although Boris Lushniak is acting surgeon general. As "the nation's doctor," the surgeon general is the country's top health advocate and advises Americans on ways they can improve their health.
Murthy's confirmation vote was held up because his stance in favor of gun control angered the National Rifle Association. The powerful lobbying group would have made re-election tougher for Democrats in red states had a vote on Murthy been held before Election Day. Republicans argued that Murthy would politicize the office of surgeon general and that his public views had no place in that job. Murthy was the co-founder of the group Doctors for Obama, which campaigned for then-Sen. Obama's election in 2008. In 2012, he tweeted that he was "tired of politicians playing politics w/ guns, putting lives at risk b/c they're scared of NRA. Guns are a health care issue," according to the New York Times.
Before the vote, Connecticut's two senators implored the body to confirm Murthy. Sandy Hook Elementary School in Newtown, Connecticut, was the scene of the mass shooting where gunman Adam Lanza killed 20 children and six adults in an incident that further fueled debate over gun control.
U.S. Sen. Richard Blumenthal, D-Conn., urged his colleagues to "reject the slick smoke screen that has tried to stop" Murthy's nomination. "That smoke screen about gun violence should not have blocked him and should not impede this body," he said. "He will contribute enormously to make Americans safer and healthier in this country."
U.S. Sen. Chris Murphy, D-Conn., agreed saying there should be no question that Murthy can separate his views on gun control with his duties as surgeon general. But he also said that Murthy's comments – that gun violence is a problem -- weren't controversial.
"Let's agree to agree that Dr. Murthy is right -- that gun violence is a problem we should be addressing no matter how we get there," he said. Murphy added that it should come as no surprise that Obama would nominate someone who agrees with his views on issues.
U.S. Sen. Joe Manchin, D-W.Va., indicated before the vote that he would be against the nomination. Manchin represents a state where guns are an important part of the culture. He was one of just three Democratic senators to vote against Murthy's nomination. Manchin was joined by Sens. Joe Donnelly, D-Ind., and Heidi Heitkamp, D-N.D.
"Our surgeon general serves as America's leader on public health services and chooses what health policies we should prioritize," Manchin said in a statement, according to Roll Call. "For that reason, I don't believe it's appropriate for America's number one doctor to participate in political activism."
Murthy's predecessor, Regina Benjamin, resigned in July 2013 after holding the post for nearly four years.
© Copyright IBTimes 2023. All rights reserved.